Some might be asking the question, "is SNAP stock a good buy?" The answer may be for investors to dump shares of Snap Inc (NYSE:SNAP) and position with a long bear put spread position instead. Let me explain.
Halloween came and went for the onetime social media darling whose ghost logo embodies Snap's ephemeral photo-sharing service. But the real scare has been in November.
SNAP stock has put together its own version of a disappearing act following its earnings report earlier this month. And if you want a chilly forecast, I'm here to say don't bet on a Merry Christmas for Snapchat buyers — well, for bullish investors at least.
Bottom line where there is none: Snapchat may still win surveys for popularity with teens, but the reality of continued losses, weakening daily average users and massive sales misses spurred by competition like Facebook Inc (NASDAQ:FB) is putting Snapchat stock one step closer to vanishing from the radars of investors.
SNAP Stock Daily Price Chart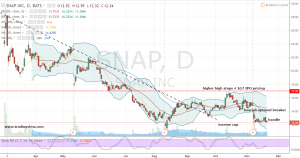 Click to Enlarge When I last wrote about SNAP stock in October, hope was in the air for bullish investors.
A longstanding downtrend line had been successfully broken and shares had established an uptrend by putting together a series of higher lows and highs.
Our view was Snapchat shares were actually readying to pull off another trick on bulls. The building uptrend was stopped by psychological resistance associated with the company's $17 IPO pricing, which for us was a concern.
Coupled with a weak investment narrative and an overbought situation, it appeared a good time for scarier price action to return to the fold.
SNAP did wind up trading aggressively lower by about 23%. Now and into a typically jollier time of year for stocks, the observation is Snapchat remains a bearish short. The warning is backed up by an inverse cup with handle pattern which should take shares to new lows in the weeks ahead.
SNAP Stock Bear Put Spread
Reviewing Snapchat's options and shares at $12.34, once again I like using a bearish out-of-the-money vertical. This preference is due to the spread's ability to reduce and limit risk to a defined amount while offering terrific profit potential and flexibility to adjust along the way.
One favored combination is the Jan $11/$10 put spread for 23 cents. The price keeps risk under 2% of shorting SNAP stock outright, which is a nice insurance policy in the event we're wrong.
If we're correct, the vertical is stationed nicely for a potential pattern breakdown. Should that occur, momentum could easily assist the spread in capturing its max payout potential of 77 cents, or return of 335% below $10 at expiration.
Investment accounts under Christopher Tyler's management do not currently own positions in any securities mentioned in this article. The information offered is based upon Christopher Tyler's observations and strictly intended for educational purposes only; the use of which is the responsibility of the individual. For additional market insights and related musings, follow Chris on Twitter @Options_CAT and StockTwits and feel free to click here to learn more about how to design better positions using options!