In the stock market, U.S. equities bounced around the unchanged line on Monday, consolidating the gains earned in the holiday-shortened session on Friday.
In the end, the Dow Jones Industrial Average gained 0.1%, the S&P 500 lost a fraction, the Nasdaq Composite lost 0.2% and the Russell 2000 lost 0.4%
Treasury bonds strengthened, the dollar outperformed, gold gained 0.6% and crude oil fell 1.4% on worries about the OPEC cartel meeting later this week — with fears an expected extension of last year's supply freeze agreement won't be enough to keep prices high amid the steady decline in U.S. shale production costs.
Defensive utility stocks led the way with a 0.5% gain while energy was the laggard, down 1% on the OPEC concerns. Barracuda Networks Inc (NYSE:CUDA) gained 16.5% after being acquired by Thoma Bravo for $1.6 billion. Time Inc (NYSE:TIME) gained 9.5% after being acquired by Meredith Corporation (NYSE:MDP) for nearly $3 billion.
Retail stocks gained 0.2% as a group on upbeat headlines surrounding Black Friday shopping as shoppers continue their shift towards online spending.
On the downside, Square Inc (NYSE:SQ) lost 16.1% on a downgrade from analysts at BTIG citing valuation concerns.
Conclusion
The week ahead will be busy. Jerome Powell, President Trump's pick to be the next Federal Reserve Board Chair, will face the Senate as his confirmation process kicks off.
Legislators also have mere weeks to complete tough legislative action on things like the debt ceiling, the budget and tax reform. Also on the macroeconomic front will be updates on inflation data, an OPEC cartel meeting, and a meeting between Trump and Congressional leaders.
But history suggests these possible negative catalysts aren't likely to spook the market. Any valuation and policy-based reckoning is unlikely before 2018. The folks at the Almanac Trader note that since 1987 the S&P 500 has logged post-Thanksgiving gains in 22 out of 30 years through New Year's Day.
Checking in with Jason Goepfert at SentimenTrader, he points out conflicting signals between narrow market breadth and positive seasonality and momentum signals. Volatility has been an anomaly as well, with stocks powering through the normally turbulent months of September and October like they weren't there.
There has also been a recent upward surge in Goepfert "Smart Money Confidence" indicator, something that has presaged further gains during this bull market in today's stock market: The S&P 500 was higher a month later 70% of the time by an average of just under 1%.
But troublesome signs remain in the stock market today. This is one of the longest and most expensive bull markets ever. A growing number of stocks are pushing to new lows — setting off a cluster of ominous-sounding technical patterns including "Hindenburg Omens" and "Titanic Syndromes."
Consumer confidence is off the charts and financial conditions are pushing to new levels of easiness (something the Fed isn't happy about). And cash levels are low.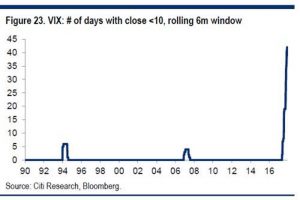 Click to Enlarge Just check out the chart from Citigroup above, which shows the level of complacency or persistent strength, depending on your bent, illustrating the number of consecutive days the CBOE Volatility Index "Fear Gauge" has been below 10.
Looks like a chart of bitcoin, which is blasting toward $10,000 — taking its market cap above $156 billion, larger than Merck & Co., Inc. (NYSE:MRK), Walt Disney Co (NYSE:DIS) and General Electric Company (NYSE:GE).
Check out Serge Berger's Trade of the Day for Nov. 28.
Today's Trading Landscape
To see a list of the companies reporting earnings today, click here.
For a list of this week's economic reports due out, click here.

Tell us what you think about this article! Drop us an email at editor@investorplace.com, chat with us on Twitter at @InvestorPlace or comment on the post on Facebook. Read more about our comments policy here.
Anthony Mirhaydari is the founder of the Edge (ETFs) and Edge Pro (Options) investment advisory newsletters. Free two- and four-week trial offers have been extended to InvestorPlace readers.