Shares of Walt Disney Co (NYSE:DIS) have been trading well since reporting earnings last week. After bouncing around in the upper $90s for a few months, the Walt Disney stock price jumped to nearly $105. It's now up 7.5% over the past month.
Does this make Walt Disney stock a buy? No, because it was a buy before then. This action only reiterates that position, as investors now have a bit more clarity about the House of Mouse going forward.
Trading Walt Disney Stock
We used a weekly chart, given how range bound DIS stock has been over the past few years. Stuck between the low $90s and $115-$120, Disney stock has been unable to break out of this $20 to $30 range. On the charts, it was easy to see how vital the $103 level is. This area has continually acted as support or resistance, depending on the circumstance. Same with the $98 level.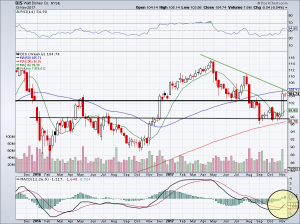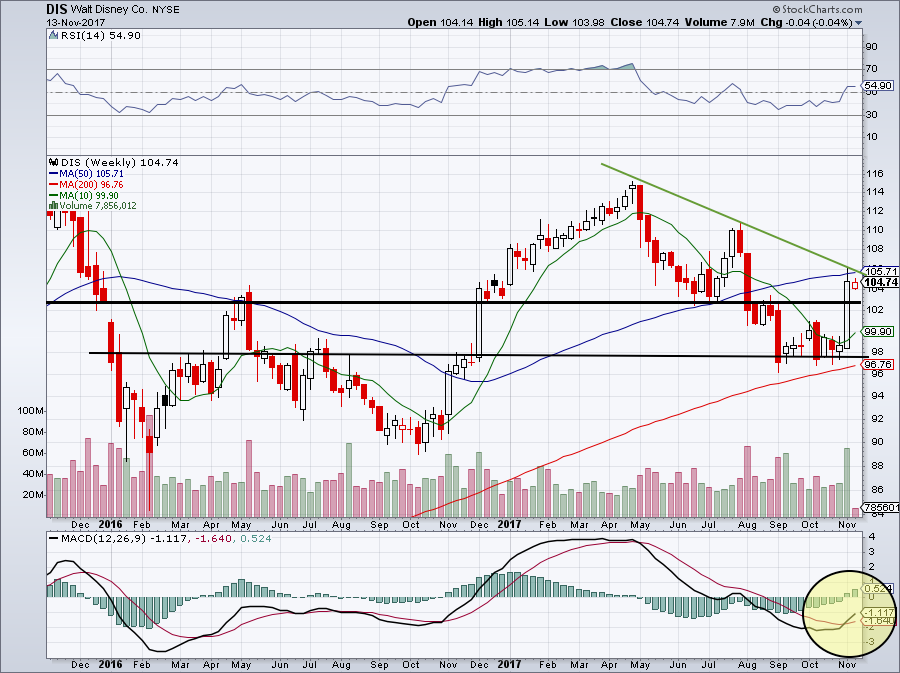 Click to EnlargeThe 200-day moving average (not pictured, but the blue 50-week moving average is in roughly the same spot) temporarily rejected Disney stock. It would be bullish to see DIS stock push above this level. In order for Disney to stay in a bullish mood, it also needs to stay above support near $103 (black line). It can tread water for a few days, but needs to hold this spot.
Additionally, the MACD has turned bullish (yellow circle). This reading measures a stock's momentum, and Walt Disney stock just turned bullish with its latest rally. The one thing to worry about? Downtrend resistance (green line). If Walt Disney stock can push through this level and the 200-day moving average, it will set up a larger rally to the upside. If the downtrend stays intact, it could knock DIS below support and back into the upper $90s.
Disney Earnings
Disney actually missed on earnings per share and revenue estimates for the fourth quarter, as sales sank 2.7% year-over-year. Media sales fell 3%, causing a 12% decline in segment profit. Studio was also a bummer, with sales down more than 40%.
So why did Disney rally? First remember that an unusual barrage of hurricanes didn't help matters. Several cruises were cancelled, while Disney's parks were closed in Florida for several days. And in the lead-up to the storms, do you think many people were going to the movies? Neither do I.
Touching on movies, there wasn't much on the slate for Disney, but that's changing now. Thor continues to do well in the box office, and the new Star Wars film should be another billion-dollar hit in December. Coco, a Pixar movie, will be released later this month.
However, Walt Disney stock started moving higher as management talked about its future plans on the conference call. New streaming services are on the way, like ESPN Plus in the spring and Disney's other direct-to-consumer offering in 2019. The latter will include content from Pixar, Star Wars, Disney and Marvel. Remember, the company cut off Netflix, Inc. (NASDAQ:NFLX) and is instead taking on the streaming world on its own. Pricing for these services will be quite interesting. Will it be enough to offset the issues it's seeing in subscriber loss via pay TV?
For now, all we know is that it will be "substantially cheaper than Netflix," which could be good for initial signups. The real positive though? While there are still Star Wars films on the slate, the company announced a fresh trilogy beyond this. That means billions and billions more for Disney's top and bottom line, just what we like to see.
The Bottom Line on DIS Stock
Walt Disney stock price rallied despite the company missing on top- and bottom-line estimates and reporting another drop in ESPN subs. Seeing a stock rally in the face of bad news is encouraging, although admittedly, the conference call showed more positives than negatives.
A strong movie slate, solid theme park business and a plan to take on the future of content consumption has investors feeling good. We still don't know how the future will shake out, but in the end, content is (hopefully) king. At least that's what they say. That's also why investors are interested in Disney's potential play to buy most of Twenty-First Century Fox Inc (NASDAQ:FOX, NASDAQ:FOXA).
Yielding 1.5% and trading at just 16 times forward earnings estimates, DIS stock looks like a solid long-term hold going forward.
Bret Kenwell is the manager and author of Future Blue Chips and is on Twitter @BretKenwell. As of this writing, Bret Kenwell held a long position in DIS.