It's funny how a stock can flip from bearish to bullish on seemingly no news in the matter of one day. That's exactly what JD.Com Inc(ADR) (NYSE:JD) did a few weeks ago, and since making the move, JD stock hasn't looked back.
So what happened? $38 had been support all year for JD.com stock, which is why we outlined a low-risk trade based on that level. In late October though, that level gave way. Instead, JD stock price was determined to "fill the gap" it made in May when it jumped from $35.80-ish.
In the matter of one day, JD stock price fell to that level and reversed, rocketing higher. It grinded up to $40 and is trading well since the company reported earnings this week and charged through Single's Day over the weekend.
So what do we make of JD.com now?
JD.Com Earnings and 11/11
Nov. 11 marked Single's Day in China. While all the attention generally falls to Alibaba Group Holding Ltd (NYSE:BABA), JD.com moves a respectable amount of gross merchandise value (GMV) as well. The JD.com news was positive this year, as sales hit $19.1 billion (127.1 billion yuan) for its 2017 Single's Day haul. That's up 50% year-over-year (YoY).
The numbers aren't really comparable, though. The headline results show that JD came up just short of Alibaba's $25.4 billion mark. But consider that JD's total began counting from the beginning of the month, whereas BABA's are from one 24-hour period. It really shows how impressive BABA has become over the years, not to the discredit of JD.com.
No matter how you tally the score though, JD had good results. It only added fuel to the fire a few days later when the company beat on earnings per share and revenue estimates. Sales grew nearly 40% YoY, while earnings came in 130% above analysts' 10 cents per share consensus estimate.
Gross profit jumped 50% and while analysts were looking for a 10-cent-per-share profit, they were ultimately looking for a net loss of about 213 million yuan. Instead, JD delivered a 1 billion yuan profit on the bottom line. EBITDA more than doubled and guidance is calling for full-year revenue growth of 35% to 39%.
There's a lot to like in the quarter.
Trading JD.Com Stock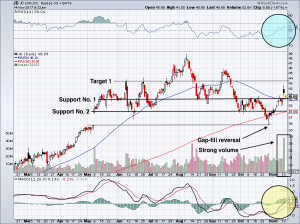 Click to Enlarge With a slight pullback, JD stock price would be closer to $40. Thanks to prior price action, this level has been decent support in the past. I wouldn't go all in, though. Instead, strong support sits just below at $38. I would be a buyer somewhere in between these two levels.
Additional support will likely come into play from the 200-day moving average, also at $38. On a close below $36, I would stop-out. That does set us up for a 5% to 6% loss should that happen. Admittedly, not the greatest risk/reward in the whole world.
However, a rally back to its 52-week highs near $49 certainly shouldn't be out of the question. Momentum — as measured by the MACD (yellow circle) — is bullish. The Relative Strength Index (RSI) that measures how overbought a stock is, does not indicate that to be the case yet, (blue circle). Volume was incredibly strong earlier this week.
In short, the JD stock chart is setting up to be an attractive buy on a larger pullback.
The Bottom Line on JD Stock Price
With over 300 million middle-class consumers in China, it's clear why the JD.com news is so positive. To put that in perspective, consider that the U.S. has a total population of about 323 million. That paints a very strong long-term secular picture for the e-commerce giant. I think if JD was putting up this type of growth in the U.S. and investors were more familiar with the name, its market cap would be far larger than $58 billion. It trades at just 1.2 times its trailing sales.
That's behind Amazon.com, Inc. (NASDAQ:AMZN), BABA and even three times smaller than eBay Inc (NASDAQ:EBAY).
The fundamentals are strong and the JD.com news is positive. JD stock price has been consolidating for some six months, since May. A strong story plus a strengthening stock bodes well for investors. Let's see if JD.com stock can push higher and retest those old highs, more than 20% above current levels.
Bret Kenwell is the manager and author of Future Blue Chips and is on Twitter @BretKenwell. As of this writing, Bret Kenwell did not hold a position in any of the aforementioned securities.