Can investors trust Wednesday's bullish price action in Citigroup Inc (NYSE:C)? This strategist doesn't think you can bank on it with FDIC-like protection. However, conditions do look good for C stock and even better for opportunistic options traders using a limited-risk collar spread.
Let me explain.
Sometimes one day can make a trend. Wednesday offered that type of appreciation for C stock and fellow large-cap financials as part of a swift sector rotation in banking stocks.
For its part, Citi finished up 1.82%, the Financial Select Sector SPDR Fund (NYSEARCA:XLF) tacked on 1.71%, while the NASDAQ Composite slumped 1.2%. Behind the move in C stock and other financials, was that the value argument grew noticeably more chipper with favorable tax legislation continuing to move forward on Capitol Hill.
The latest driver for C stock was word Wednesday that a couple on-the-fence budget committee members are now on board with the Trump Administration's tax plan. As such, a Senate vote is now expected to pass and put us one step closer to helping overhaul America's tax code for the neediest — or in this case, large corporations like Citigroup.
Shares of Citi and other financials also benefited from the incoming Federal Reserve Board Chief Jerome Powell. On Tuesday, the nominee apparently offered friendly dialogue with Wall Street, implying that the Fed is set to raise rates at the December FOMC meeting, which in turn would stand to further benefit banks.
Lastly, and on the C stock chart, unlike some days of yore when Citi simply looked bad, the value argument can certainly be made technically for getting long.
C Stock Monthly Price Chart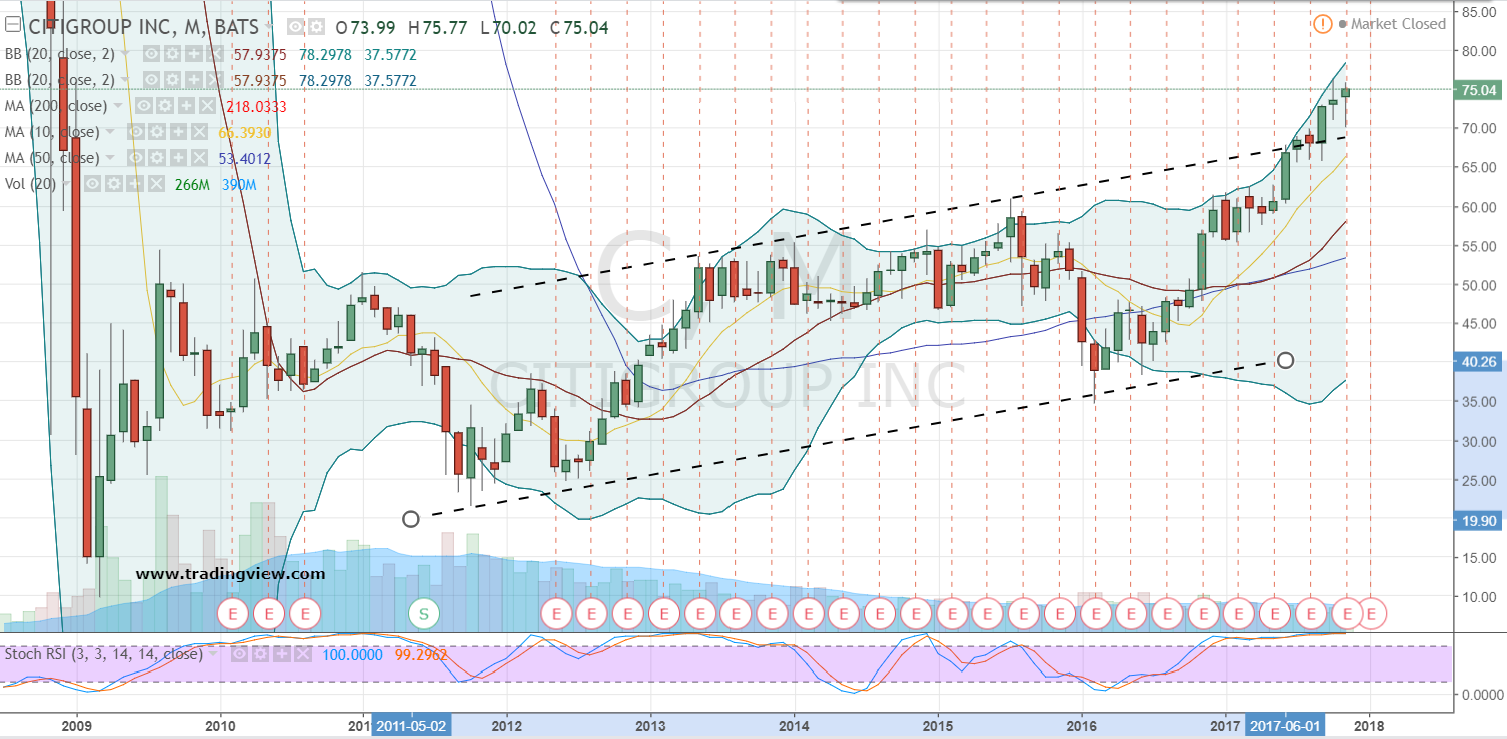 Looking at the longer-term monthly chart of C stock and it's easy to appreciate an uptrend that has grown increasingly tenacious. Since 2016, shares of Citigroup have been moving firmly higher and in the process, they've changed their character to one of more confidence.
Most recently, and as part of that bullish progression, Citi shares cleared longer-term channel resistance a couple months back. Now and with Wednesday's move in hand, C stock looks poised to break out of a high-level, double-bottom base of nearly two months in length and trade to new intermediate-term highs.
C Stock Collar Spread
Much like Morgan Stanley (NYSE:MS), which I discussed earlier this week, a collar strategy, which offers defined downside risk, flexibility to trade and profit from a continued bullish trend and the ability to collect additional income from C stock's dividend, is favored.
Reviewing Citigroup's options, I specifically like the Jan $70 / $80 combination. With shares at $75.04, the collar is priced a couple pennies cheaper than C stock for $75.02 using mid-market pricing.
The guaranteed protection offered by the purchased put amounts to downside risk of 6.7%. That's nice insurance, especially when traders are getting paid to have the policy with the collar's modest, below-market price. And in my view, it's even more attractive, if like me, you respect the current chart pattern low of $70.02 and realize that technically there are no guarantees, today's narrative continues to be jolly.
Disclosure: Investment accounts under Christopher Tyler's management currently own positions in GS stock and its derivatives. The information offered is based upon Christopher Tyler's observations and strictly intended for educational purposes only; the use of which is the responsibility of the individual. . For additional market insights and related musings, follow Chris on Twitter @Options_CAT and StockTwits and feel free to click here to learn more about how to design better positions using options!