Bricks and mortar may not be fully back in style, but it does appear consumers and investors are enjoying the shopping experience at Kohl's Corporation (NYSE:KSS). But before trying on Kohl's stock, this strategist suggests taking in some store credit with an out-of-the-money bull put spread. Let me explain.


Since staging a "drop-until-they-shop" buying spree in the immediate aftermath of a slightly-delayed, better-than-feared earnings reaction, KSS stock has gained more than 26% from its bargain-basement bottom price of $37.97.
Today's heftier price tag of $48.14 and a share price which had retailed as much as $51.47 this past Monday, has enjoyed a few other supports as well. First, much ado has been made of Kohl's stock being a logical target for Amazon.com, Inc. (NASDAQ:AMZN).
Most deal talk is simply smoke and mirrors. Yet, given Kohl's existing pilot partnership with Amazon, the tech giant's recent acquisition of Whole Foods and "budding affinity for brick and mortar retailing," as well as the company's interest in growing its own clothing brand—hopeful buyers may have a bit more than usual to dream about.
Also helping, Kohl's and other retailers have also enjoyed better-than-expected holiday sales beyond the last rites ceremony Wall Street was preparing for most everybody other than Amazon.
Lastly, there's the highly anticipated gift of the tax reform package, which investors have been giddily pricing in for companies and of which KSS stock, in theory, would be a dual beneficiary at both the corporate and retail levels.
Kohl's Stock Weekly Chart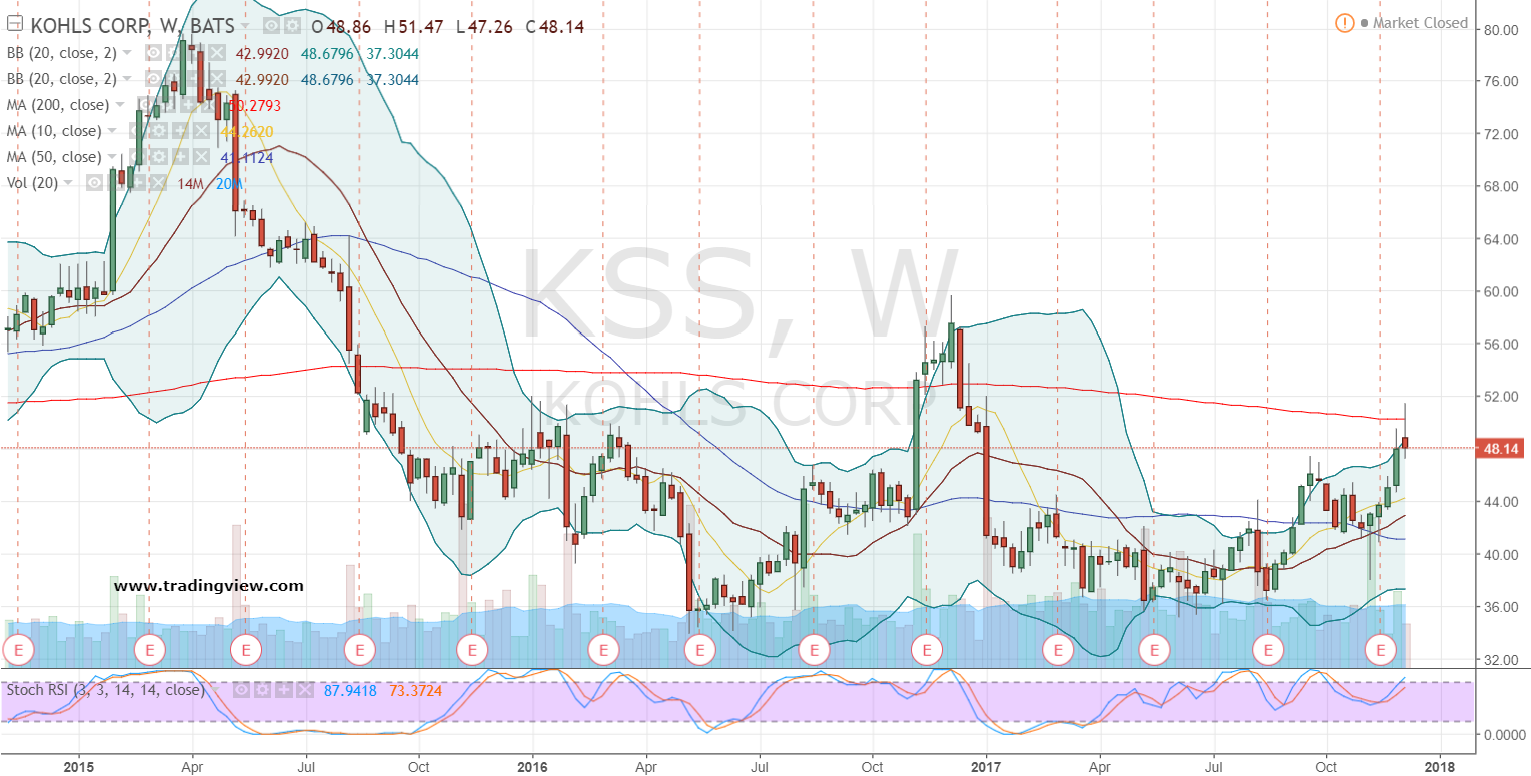 As alluded to above, Kohl's stock has enjoyed a nice relative and absolute strength performance over the past month or so since reporting its quarterly earnings. The net technical action has also resulted in shares establishing a third higher-high pattern out of a lengthy bottoming pattern.
That's the good news.
The bad news? The same lengthy bottoming pattern dating back to late 2015 could in fact be a nastier and Grinch-like, bearish continuation head and shoulders pattern. There's also this week's still in-the-making topping candle which essentially failed at the 200-week simple moving average.
Time will eventually tell how KSS resolves itself in the months to come. I'm in favor of bottoming personally. But in respecting the possibility of the other pattern influencing shares modestly, an out-of-the-money bull put spread looks sensible in lieu of purchasing Kohl's stock.
KSS Stock Bull Put Spread
Reviewing the Kohl's stock options board, one bull put spread of interest is the Jan. $45/$40 put vertical. The spread is priced for 90 cents with shares at $48.14 and for potential buyers, amounts to a nice credit to own KSS shares at a later date for a discount.
This particular combination maintains a margin of safety of 8.4% or down to $44.10 before losses begin to build at expiration. Above $45 and the full credit of 90 cents is captured. Nice, right?
If KSS stock moves aggressively, the trader is ultimately protected by the $40 put. And as the spread can only widen to $5.00, after accounting for the credit the net risk of $4.10 is only realized if shares fall more than 16.9% below the fully-hedged strategy.
And truthfully, that's probably a better time to be shopping for a long stock position in Kohl's.
Investment accounts under Christopher Tyler's management do not currently own positions in any of the securities or their derivatives mentioned in this article. The information offered is based upon Christopher Tyler's observations and strictly intended for educational purposes only; the use of which is the responsibility of the individual. For additional market insights and related musings, follow Chris on Twitter @Options_CAT and StockTwits.