U.S. equities drifted lower on Tuesday as Wall Street continues to respond rather tepidly to the outcome of the over-the-weekend passage of the GOP's tax reform proposal. The cause? Some of it is sector rotation out of low-tax areas like technology (the site of recent upward price momentum) into high-tax areas like telecoms, consumer staples and retailers (all of which have been laggards lately).
And come of it is an embarrassing realization that the Senate GOP sort of screwed up — a consequence of hurriedly passing a near-500-page bill in the middle of the night — and left in the 20% corporate "alternative minimum tax" rate when the cut the regular statutory rate to 20%.
This means many would actually pay a higher tax rate than the GOP intended, diminishing the benefit of the reforms in the first place. Thankfully, the House version of the bill dumps the AMT. So the hiccup will likely be removed in conference before a final bill passes both chambers.
In the end, the Dow Jones Industrial Average lost 0.5%, the S&P 500 lost 0.4%, the Nasdaq Composite lost 0.2% and the Russell 2000 lost 1%. Treasury bonds were mixed, the dollar strengthened, gold lost 1% and crude oil climbed 0.3%. Key Big Tech stocks like Microsoft Corporation (NASDAQ:MSFT) remain weak.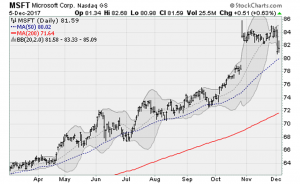 Click to Enlarge Breadth was negative, with mid-day decliners outpacing advancers by a 1.7 to 1 ratio. Technology led the way with a 0.2% gain while telecoms were the laggards, down 1.8%, in a reversal of near-term trends.
Regal Entertainment Group (NYSE:RGC) gained 9.4% after agreeing to be acquired by Cineworld in a $5.8 billion deal representing an 11% premium to Monday's close. On the downside, Toll Brothers (NYSE:TOL) lost 7.4% on weaker-than-expected results on the slowest order growth in six quarters.
Conclusion
The sector rotation dynamic is likely to continue through the end of the year as Congress works to get a final copy of its tax legislation to President Trump's desk. UBS analyst Keith Parker, writing back on Nov. 30 after the passage of the House's tax bill but before the Senate version, estimated just a 20% to 40% probability the cut had been priced into markets.
Figure that number is around 50% now, leaving room for more.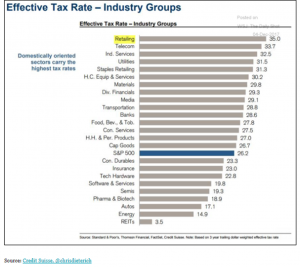 Click to Enlarge Overall, he sees 9.5% earnings per share upside for the S&P 500 from the legislation. Individual high-tax sectors are poised to benefit more, with retail in particular ready for a possible rebound from post-Amazon.com, Inc. (NASDAQ:AMZN) levels.
Rebounds that will benefit from the fact that institutional investors like mutual funds and hedge funds are underweight these areas — and outright net short in some cases — which would result in forced buying and short covering.
There is some nervousness as well surrounding rising odds of a government shutdown later this month, with a need for at least a short-term funding bill by Dec. 8.
Check out Serge Berger's Trade of the Day for Dec. 6.
Today's Trading Landscape
To see a list of the companies reporting earnings today, click here.
For a list of this week's economic reports due out, click here.
Tell us what you think about this article! Drop us an email at editor@investorplace.com, chat with us on Twitter at @InvestorPlace or comment on the post on Facebook. Read more about our comments policy here.
Anthony Mirhaydari is the founder of the Edge (ETFs) and Edge Pro (Options) investment advisory newsletters. Free two- and four-week trial offers have been extended to InvestorPlace readers.