For contrarian-minded traders, Momo Inc (ADR) (NASDAQ:MOMO) is once again offering investors opportunity no matter what Wall Street's next move is. Let me explain.
Life can be unfair. I stated as much a month ago in opening up a bullish article at InvestorPlace on MOMO stock as shares appeared to be unjustifiably in the doghouse.
The fact remains the former one-trick pony known for its online dating portal has transformed itself into a much more diverse communications platform with enviable growth. Yet Wall Street remains incredibly skeptical Momo could continue to improve as evidenced by the company's deep corrective tumble in the latter half of 2017.
Investors still have another month before learning if those fears have been misplaced or not with Momo earnings due in early March. And now the broader market is, let's just say less optimistic as well.
As much, some might see this as a good time to wait for a bit more clarity or the proverbial dust to settle before making any decisions on MOMO stock. Not me, though.
Personally, and after taking another look at the Momo price chart and appreciating investors' often nearsighted ways, MOMO stock looks increasingly well-positioned for a bullish limited-risk position.
MOMO Stock Daily Price Chart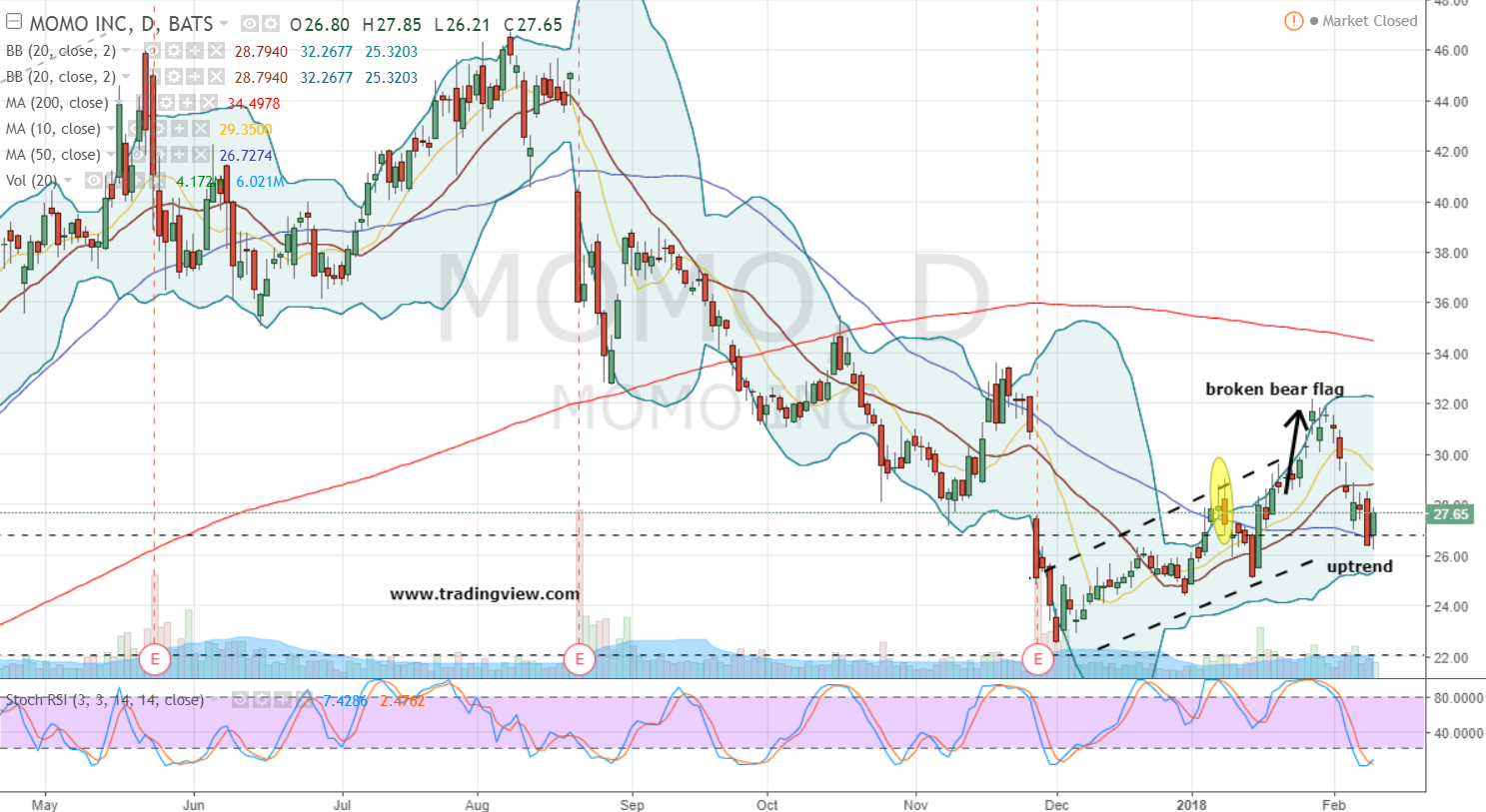 Since penning my bullish, contrarian-leaning article on Momo shares, contrasting periods of building enthusiasm followed by heightened and bearish price anxiety has followed. But far from a bad thing, the technical picture is looking decidedly up for MOMO stock.
The net price action for the period finds shares less than 2% from where I left off. It's not a big price change in the scheme of things, but the situation has grown increasingly bullish and less reliant on a contrarian position for bullish Momo investors.
Following an upside, albeit brief breakout from a discussed bearish flag, Momo shares have developed a higher-low pattern that's finding support from the 50-day simple moving average as stochastics crosses over in oversold territory.
Net, net MOMO stock appears to be building a constructive uptrend on the heels of last year's deep corrective move and should support higher prices from here.
Momo Stock Modified Bullish Spread
With MOMO stock's increasingly supportive chart (and one which I'd like to see last week's technical low hold or risk shares reverting back into the contrarian-value arena of investing), a lower cost, slightly out-of-the-money, shorter-term March bull call spread makes sense.
The point with this type strategy is there's potentially less value in buying into MOMO on continued technical weakness if last week's low fails. Ultimately, there may be something fishy in Denmark or China in this instance, and we don't want to be left holding the bag with increased downside exposure. That's one way to play Momo for sure.
Personally, I still favor holding a position through and past next month's earnings event. And truthfully, given enough of a price decline in MOMO stock, the technical picture remains secondary to owning shares on extreme weakness.
As much and with the price of our previously discussed April $35/$40 call and April $22.50/$20 put combination once again trading for roughly even money to a small credit, I see that as the stronger, limited-risk play.
Investment accounts under Christopher Tyler's management currently own positions in MOMO stock and its derivatives. The information offered is based upon Christopher Tyler's observations and strictly intended for educational purposes only; the use of which is the responsibility of the individual. For additional market insights and related musings, follow Chris on Twitter @Options_CAT and StockTwits.