Oracle Corporation (NASDAQ:ORCL) stock is not reacting well to third-quarter earnings results. In pre-market trading Tuesday, ORCL stock fell 9.9% to $46.80. This comes despite in-line revenue results and an impressive bottom line figure. Is this a red flag for investors or a green light to buy more stock?
On the surface, this report seems pretty darn solid. Earnings of 83 cents per share came in 11 cents or 15% ahead of analysts' expectations. Revenue grew 5.5% from the same period a year ago. Cloud software as a service (SaaS) grew 33% year-over-year (YOY), while Oracle saw an increase of 32% in total cloud revenues.
GAAP operating income jumped 15%, far outpacing the company's sales growth. This allows operating margins to widen, which hit 35% in the quarter. Profit margins widened too, as non-GAAP net income grew 21% YOY. Oracle points out its non-GAAP results because it took a $6.9 billion one-time charge due to the new tax code, severely impacted its GAAP income.
Ultimately, these results were pretty good. Unfortunately though, guidance could have been better. Management expects total revenue growth of 1% to 3% for the fourth quarter. At the midpoint, this 2% growth is below that of the 2.5% growth analysts are looking for. Further, management is looking for total cloud growth of 19% to 23%, with a midpoint of 21%. This falls notably below analysts' expectations of 27% YOY growth.
While earnings (non-GAAP) guidance of 92 to 95 cents per share came in ahead of the 90 cent per share consensus, it wasn't enough to offset the concern over revenue growth.
Valuing ORCL Stock
While earnings should do well next quarter, revenue growth could come in below expectations. Further, the cloud isn't growing as quickly as we thought. Considering the strong numbers from salesforce.com, inc. (NASDAQ:CRM), Microsoft Corporation (NASDAQ:MSFT) and Amazon.com, Inc. (NASDAQ:AMZN), perhaps ORCL's weakness surprised some investors.
Finally, Oracle hasn't shown the leverage of scale in its cloud business the way some had expected.
With revenue growth beginning to taper off in the upper-20% range, some thought gross margins would increase more quickly from the 60% range to the 80% target set by management. This quarter, cloud margins came in at 67%, up from 65% a year ago. But questions linger over when exactly management will ratchet up the earnings power from this segment.
Despite some of these woes though, Oracle stock remains a solid name. As we said in the beginning, operating income and net income continue to perform well. Given how well earnings are doing, it wouldn't be surprising to see Oracle earn $3.00 or more this year. That's despite consensus expectations calling for earnings of $2.94 per share in fiscal 2018, up 7.3% YOY. With Tuesday's pre-market slide, ORCL stock trades at about 16 times 2018 earnings estimates.
Analysts currently expect about 5.1% sales growth this year and another 3.6% growth in fiscal 2019. That goes along with 8.5% earnings growth next year as well. All in all, the valuation is somewhat reasonable when you consider the moderate growth and margin potential Oracle stock has. Finally, Oracle pays out a 1.5% dividend yield.
Trading Oracle Stock
With the decline, Oracle stock now finds itself near support. Whenever we can keep it simple, it's usually best to do so. Resistance is up near $51 to $52 (blue rectangle) while support rests between $47 and $48.50 (green rectangle). Currently closer to the latter, interested buyers may consider a long position.
For those that believe in the long-term story, there's little reason to be overly bearish. Sure, cloud and revenue guidance could have been better. But the 8.5% haircut ORCL stock got before the open accounts for that lower growth.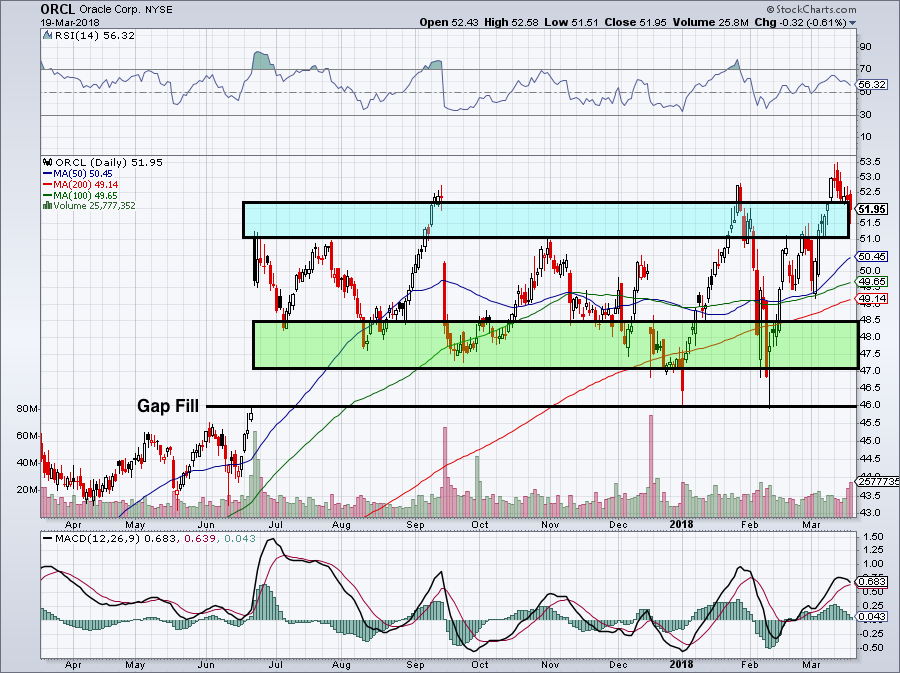 Again, let's keep it simple. Within or above the green rectangle, bulls can buy Oracle stock. Below this level and they have to worry about a retest of $46.
Notably, ORCL stock looks likely to open below its three major moving averages — the 50-day, 100-day and 200-day. Finally, continue to expect resistance near the blue rectangle.
For those that want a cloud stock with some mojo, consider MSFT or CRM.
Bret Kenwell is the manager and author of Future Blue Chips and is on Twitter @BretKenwell. As of this writing, Bret Kenwell held a long position in CRM.