Shopify Inc (NASDAQ:SHOP) isn't known for a robust dividend or low valuation. It's a momentum growth stock, plain and simple. And right now, Shopify stock has got plenty of momentum to go around. The question is, will it help propel the SHOP stock price to even more new highs, or will it fade into support?
Both scenarios are possible, but the higher Shopify stock goes, the worse the risk/reward becomes. As a trader looking to play Shopify, risk/reward is all it comes down to. Because of that, let's look at the charts.
Trading Shopify Stock
SHOP stock had pretty strong support from May 2017 until the start of the year. But rather than seeing that support fade in 2018, it turned out to be gasoline on the fire. In other words, Shopify stock began rocketing higher at a faster and faster rate.
The way Shopify stock has been setting up, new highs over $150 shouldn't be a surprise. It's clearly got the wind at its back right now. The highest price target on Wall Street currently sits at $160. That's about $10 per share or 6.6% above current levels.
However, I'd rather wait for a pullback and buy for even more upside. Here's the rationale: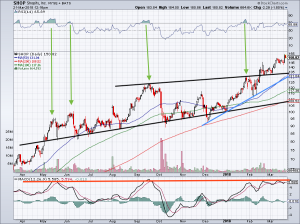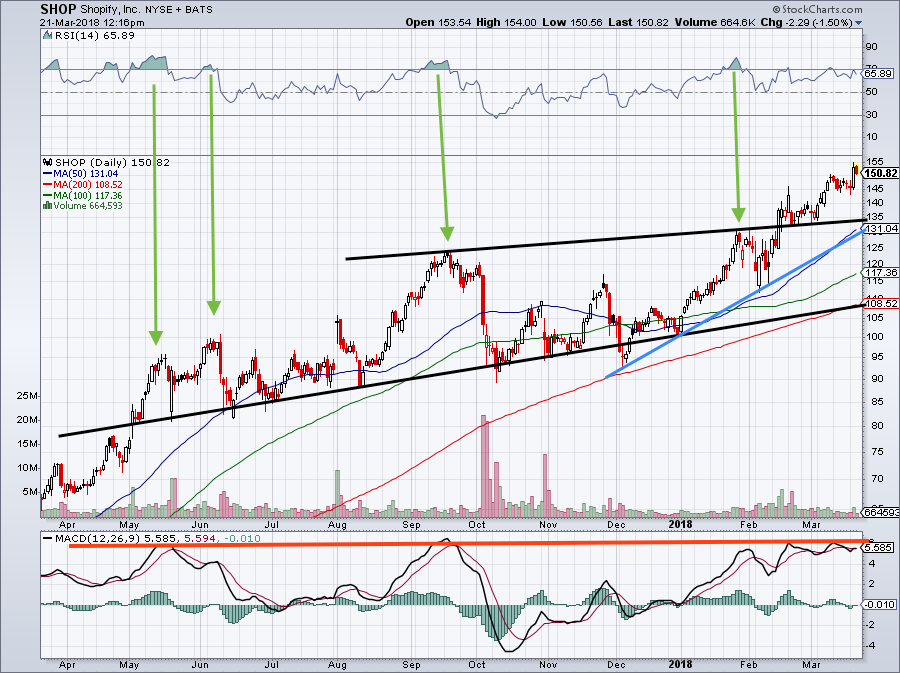 Click to Enlarge
We can see the previous channel (black lines), where prior resistance has now become support. However, a separate and steeper level of trend-line support has formed, too (blue line).
If SHOP stock pulls back, both levels could act as great buoys of support. Despite it requiring a 7% to 10% pullback to get there, it would be very bullish to see a decline to these levels and for support to kick in.
Rallies followed by pullbacks into support often lead to longer and more sustainable rallies. Especially when compared to stocks that rally significantly too far, too fast.
Additionally, the stock's RSI, which measures how overbought or oversold a stock is, is closer to the former than the latter. While currently at just about 66, it admittedly needs to go higher to signal an overbought condition. That said, it's not necessarily low at the moment, either. Also, SHOP's MACD (orange line at the bottom of the chart) signals that momentum could be fading.
Breaking Down SHOP Stock
Like I said, new highs wouldn't be surprising. Maybe Shopify stock will surge to $160 before ultimately pulling back. Remember both new highs and a pullback are possible. However, the probabilities just don't favor buying Shopify stock right now. The risk is too high, and the reward is too low, plain and simple.
Fading momentum near overbought levels and notably far from support does not signal a buy sign. At least in my mind.
I don't mind chasing a stock if I love the fundamentals. Despite how great the growth is at Shopify, I just can't pile into the stock with confidence like I could with salesforce.com, inc. (NASDAQ:CRM) or Apple Inc. (NASDAQ:AAPL).
Analysts expect a whopping 48% sales growth this year and another 37% in 2019. That's amazing growth that shouldn't be overlooked. But valuing a company at $15.5 billion for just under $1 billion in sales is a high valuation. Particularly for a company that's not profitable on a GAAP basis. While gross profit surged 82% in 2017, Shopify sports gross margins of just 56%.
Admittedly, these aren't terrible gross margins. But for the valuation, better margins would surely be welcome.
For instance, Splunk Inc (NASDAQ:SPLK) sports gross margins of 80%, while most of its costs are tied up in marketing and sales expenses. In other words, it grosses an insane $80 out of every $100 in revenue. It then pours a bulk of that back into growing its sales channel even more to bolster its future profit.
Bottom Line on Shopify Stock
All of this isn't to say Shopify is a bad company — only that for its valuation and steep stock rally, I do not feel compelled to chase it at these levels. Instead, I'd rather wait for a pullback into support. If it holds, I'm a buyer of SHOP stock.
Bret Kenwell is the manager and author of Future Blue Chips and is on Twitter @BretKenwell. As of this writing, Bret Kenwell held a position in AAPL and CRM.