This morning, I'm recommending a bearish trade on the Target Corporation (NYSE:TGT).
The S&P 500 continued its push higher yesterday, setting a new all-time closing high of 3,122, but I still think traders should be prepared for a pullback with a few downside positions.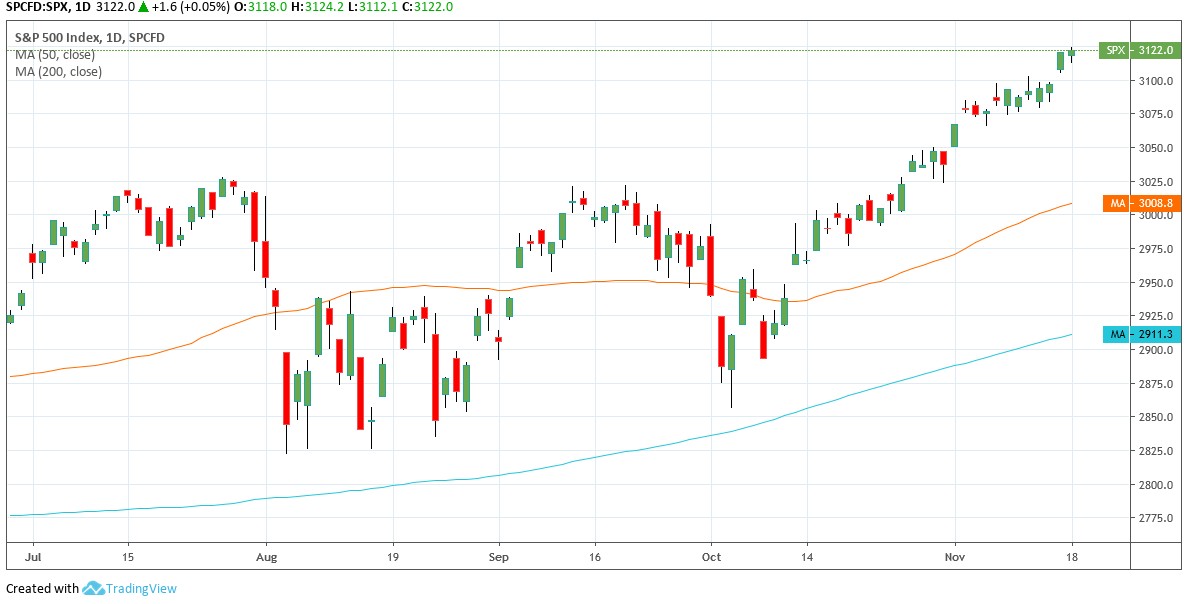 Daily Chart of the S&P 500 — Chart Source: TradingView
Last week we got some positive news about the strength of the U.S. consumer, and that positive news has given a boost to stocks like TGT. However, many of the larger retailers, including TGT, still need to release their earnings for the quarter. It's difficult to know just how strong these company's reports will be.
TGT's Earnings Will Cover a Weak Period for the Sector

According to Zacks, analysts are expecting TGT to post earnings per share (EPS) of $1.18 when the company reports tomorrow, before market open. That would be an increase from third-quarter EPS last year, when the market was fresh off a substantial drop in October.
There have been positive developments for retail stocks as recently as last week. The Census Bureau released its retail sales report for October, 2019, and retail sales grew by 0.3%. That is small, but it beat analyst estimates.
However, TGT's earnings report won't just cover the month of October. And a quick review of the retail sales report will remind traders that September wasn't such a good month for retail. Sales fell by 0.3% that month.
And looking at the breakdown of retail sales, traders can also see that October sales at department stores fell by 4.9% since last year.
I still think we are in for a strong holiday shopping season, but based on the performance of the rest of the sector, TGT's earnings report may not support its recent bullish run higher.
The Lower End of TGT's Trading Range

Below, you can see that TGT gapped higher after its last earnings report. The company performed well, and it jumped from under $90 per share to over $100. Over the past few months, it has gradually pushed higher, forming up-trending support.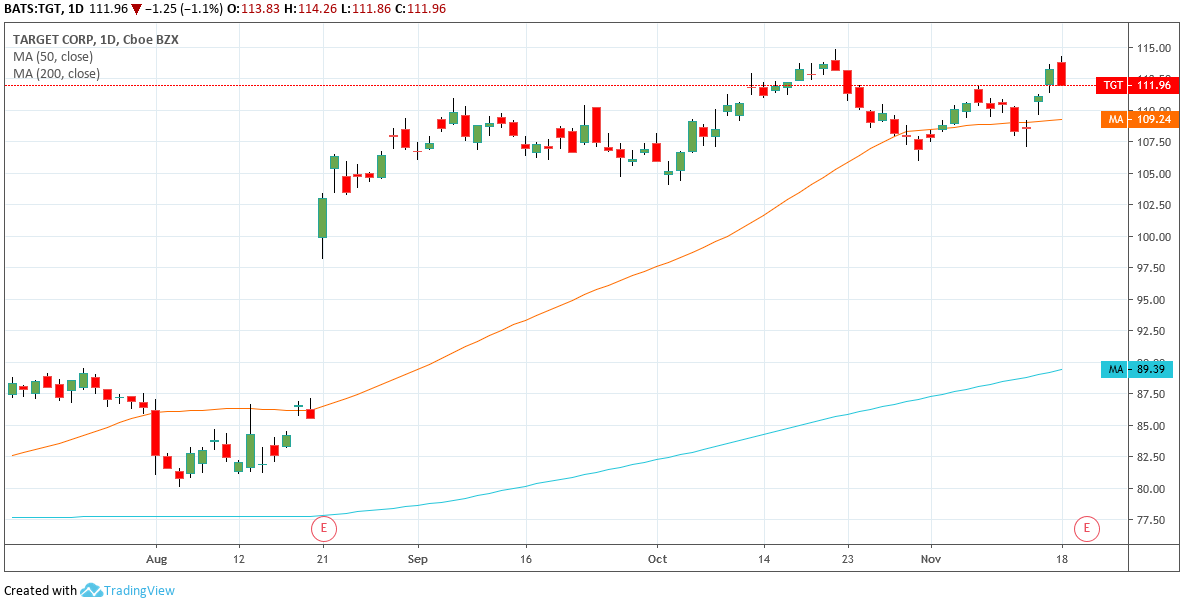 Daily Chart of Target Corportaion (TGT) — Chart Source: TradingView
Any sign of weakness over the last quarter could dampen investor enthusiasm. I don't believe TGT will drop below $100 per share on weaker-than-expected earnings. We are still expecting a strong holiday shopping season despite flat consumer confidence last month.
But weakness in the retail sector may have crept into TGT without investors realizing, and after such a strong push higher, I wouldn't be surprised to see some people take their profits off the table, pushing the stock to the lower end of its $100-$112 trading range.
Using a spread order, buy to open 1 TGT Dec. 20th $106 put and sell to open 2 TGT Dec. 20th $100 puts for a net debit of about $0.20.
Note: Be sure you are opening the monthly TGT options that expire on Friday, Dec. 20, 2019.
About Ratio Put Debit Spreads

A ratio debit spread is simply a way to lower the cost of buying options, as the two options that you sell to open (short) help offset the cost of the option that you buy to open. Therefore, this ratio put debit spread is a way to lower the cost of establishing a bearish put option trade. Many brokers will require the use of margin and/or a set amount of reserved capital to execute a ratio debit spread; contact your broker directly for specific requirements.
Because you are short a naked put in this ratio put debit spread, the risk is that you could be obligated to buy 100 shares of TGT at the $100 strike price for every 1 contract that you are short of the TGT Dec. 20th $100 puts. So, this is inherently a higher risk play.
InvestorPlace advisor Ken Trester also brings you Power Options Weekly, which delivers 5 new options trades and his latest trading advice to you each Friday. Trester has been trading options since the first exchanges opened in 1973 with a winning streak that goes back to 1984 with money-doubling average annual profits since 1990.