Following some hard-hitting backtracking, is Fastly (NYSE:FSLY) worth the risk of owning ahead of earnings? Let's see what's happening off and on the Fastly stock chart, then offer a stronger risk-adjusted determination on how to approach shares without becoming a third strike statistic. Let me explain.
Are you looking for the next Amazon (NASDAQ:AMZN), Apple (NASDAQ:AAPL) or Netflix (NASDAQ:NFLX)? For more than a few growth investors, Fastly, an 'edge cloud' platform for developers to build, secure and deliver digital experiences, was certainly looking the part of Wall Street's new bulletproof kid on the block poised for spectacular, generational greatness.
But recently, FSLY suffered a cracking blow to its armor. Earlier this month shares plunged 27% in a single session after hitting record highs two days earlier. The problem? Fastly's management warned Q3 sales would come in lighter than previously forecast. The reduced guidance was attributed to weaker-than-expected traffic volume from its largest customer, China's ByteDance, which owns social media sensation and controversial national security threat TikTok.
By the numbers, FSLY trimmed estimates to a range of $70 to $71 million versus prior guidance of $73.5 to $75.5 million. On the surface it appears an overreaction, but the modest drop in forecasted revenues wasn't the worst of it.
Fastly also warned of reduced revenues from other customers removed from TikTok's contentious spotlight. And when you're priced for perfection like FSLY shares, bad things can happen quickly.
Things Don't Look Great
Bottom-line, being mired in consistent red ink and negative cash flow is never healthy. And Fastly has been so for more than a couple years. But when the stock also sports a large-cap valuation after climbing nearly 600% in 2020. and is celebrated like the second coming of Apple by momentum investors; that's a certain investment disaster. Especially when combined with negative sequential sales declines like the one facing FSLY.
And if that wasn't enough, the bad news kept coming.
October wasn't the company's first strike regarding softer guidance. In August, as the company released its second quarter results, management reduced its Q3 revenue outlook as well. Can management be trusted?
It's a question that has likely crossed the minds of investors. Causing more anxiety to this month's fallout, FSLY also elected to pull its full-year 2020 guidance and open the door to even greater uncertainty.
Fastly Stock Weekly Price Chart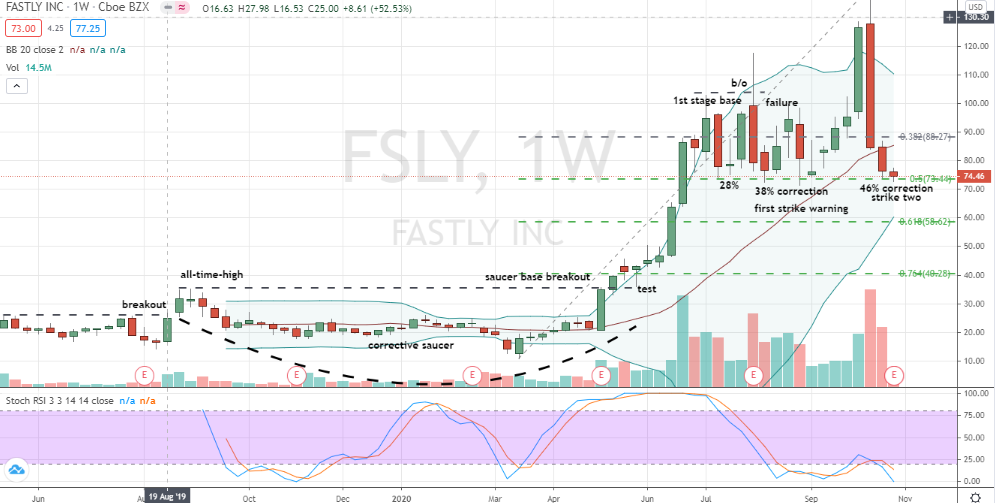 Source:
Charts by TradingView
At the end of the day, Fastly can be summarized as a simple but often repeated case of Wall Street mistakenly overly-promoting the next Apple, Amazon or Netflix. And as a result, a 'good' growth story craters as it inevitably falls short of wildly ambitious, over-the-top short-term expectations.
Still, it's difficult to feel too sorry for many of Fastly's shareholders. Despite October's and August's painful gaps, which put decided monkey wrenches into traditional stop-losses, Fastly stock is still up more than 256% in 2020.
Looking forward, after two strikes can Fastly recover? In front of earnings I'd recommend erring on the side of caution. I wouldn't initiate a new purchase. However, a well-positioned holding with decent gains may want to collar shares going into the report and into 2021 for that matter.
Heading into Wednesday's report FSLY will have to earn back a bit of trust with investors. And reasonably, that could take a quarter or two but almost certainly it won't occur overnight. Moreover, with FSLY's October warning still very fresh, a bullish bottom or top-line surprise Wednesday evening is less likely.
Lastly, while the stock is somewhat technically appealing as FSLY's 50% year-to-date retracement level is challenged, there's no indication from stochastics of a low at hand. The catalysts to incite buyers right now aren't there.
Longer-term? FSLY is another story. My best guess is the stock stands a reasonably strong chance of resonating with investors sometime down the road. Barring a lower probability value grab opportunity if shares tumble in the report's aftermath, there's better opportunities going into 2021 than owning shares of Fastly.
On the date of publication, Chris Tyler does not hold, directly or indirectly, positions in any securities mentioned in this article.
Chris Tyler is a former floor-based, derivatives market maker on the American and Pacific exchanges. The information offered is based on his professional experience but strictly intended for educational purposes only. Any use of this information is 100% the responsibility of the individual. For additional market insights and related musings, follow Chris on Twitter @Options_CAT and StockTwits.