In case you haven't had your fill of special purpose acquisition companies or SPAC's, here's one more to add to your watch list. CIIG Merger (NASDAQ:CIIC) is a shell company that's making a move into the electric vehicle space. Consequently, CIIC stock is a red-hot item nowadays.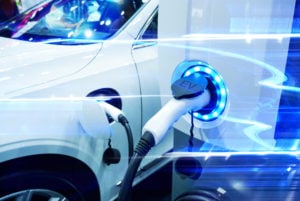 Specifically, CIIG announced that it has reached an agreement to merge with electric vehicle company Arrival Group. This is currently tradable through CIIC stock, though the newly combined company will at some point "arrive" (sorry about the pun) on the Nasdaq stock exchange under the ticker symbol ARVL.
Based in the U.K., Arrival Group has two factories, including one factory in South Carolina. That's a modest beginning, but CIIG has strong growth potential as it's entering into an addressable market that's expected to scale up in the coming years.
The bullish thesis should gain momentum as we delve further into CIIG's interesting pipeline of automotive products. Along the way, we might even reveal a well-known commentator's take on this emerging electric vehicle niche competitor.
A Closer Look at CIIC Stock
For much of 2020, CIIC stock was magnetized to the $10 level. Since there wasn't much news to report about the company, CIIC shares mostly just moved sideways.
If you've been following other electric vehicle SPAC stocks, then you can probably guess what happens next. If you guessed that the CIIC stock price shot up like a rocket, then you're 100% right.
From Nov. 17 to Nov. 24, CIIC stock zoomed from $10 and change to the $25 area. The next few trading days provided a cooling-off period. After all, stocks don't just go up in a straight line.
CIIC stock settled at $27.24 on Dec. 4, somewhat lower than the 52-week high of $33.50. It's still too early to determine a consistent price range or a reasonable price target for CIIC, but for the time being, it appears that the bulls are in charge.
Pipeline Timeline
I wouldn't recommend investing in CIIC stock unless you believe in the future of Arrival. And, that means believing in the potential of Arrival's product pipeline.
What I personally like about Arrival is the way the company has presented a very specific timeline for its upcoming automotive products. These vehicles are designed to be high-margin, zero-emission and autonomous-ready.
Here's the expected production timeline for the Arrival automotive pipeline, in a nutshell:
Fourth quarter of 2021: Electric buses with a range of 240 to 400 kilometers
Third quarter of 2022: Electric vans with a range of 150 to 340 kilometers
Q3 of 2022: Large electric vans with a range of 190 to 400 kilometers
Q3 of 2023: Small electric vehicles with a range of 100 to 300 kilometers
Some Famous Names
Clearly, Arrival is gearing up to make a big splash in multiple electric vehicle niche products markets. Adding to the excitement and anticipation is the report that Arrival has already received $1.2 billion in orders.
But wait, it gets better as that backlog of orders includes a pre-order for 10,000 electric vans from none other than United Parcel Service (NYSE:UPS).
Ready for more famous corporate names? If so, then you'll be glad to know that Arrival has institutional backing from from Hyundai (OTCMKTS:HYMTF) as well as from BlackRock (NYSE:BLK).
And now, I'll add one more famous name to the mix as financial commentator Jim Cramer has proclaimed that Arrival has the "best claim to be the son of" Tesla (NASDAQ:TSLA).
It's an unusual phrasing, but Cramer's an unusual guy, and his pronouncement sounds quite bullish to me.
The Bottom Line
It's too early in the game to provide a confident, definitive price target for CIIC stock.
Yet, at least we can appreciate Arrival's ambitious electric vehicle pipeline timeline, along with the automaker's backing from some very well-known names.
On the date of publication, David Moadel did not have (either directly or indirectly) any positions in the securities mentioned in this article.