Earlier this year, a presidential decree led Westwater Resources (NASDAQ:WWR) to make a hard pivot toward graphite. But while this change may be good for the U.S., would-be WWR stock investors are urged to proceed with caution — or better yet, walk the other way. Let me explain.
As a country, we're still facing challenges from the coronavirus. Early on, as part of the effort to combat the disease, President Donald Trump's administration invoked an executive order on the Defense Production Act. In a nutshell, businesses were told to produce necessary supplies, such as personal protective equipment (PPE) to fight Covid-19. Famously, both General Motors (NYSE:GM) and Ford (NYSE:F) pivoted to make critical life-saving ventilators for the population's most ill. Thank you to both of them.
More recently in this year most of us would like to put in the rearview mirror, the president signed a new executive order. This time, a mandate was signed to increase the United State's mining of critical minerals and reduce its heavy reliance on foreign countries.
Can you say China?
And Westwater Resources, not unlike what we saw with fly-by-night biotechs pivoting to become coronavirus drug plays, was ready to jump into action! But much like with iBio (NYSEARCA:IBIO), which received my skepticism at InvestorPlace for its too-cool-for-school-sounding approach to cracking Covid-19, don't say you haven't been warned about WWR.
To be fair, Westwater is a miner. Well, kinda. It has properties, at least. And WWR has pledged to drop its focus on uranium production in favor of a full-blown commitment to develop its Coosa Graphite Deposit in Alabama. The property's namesake element is critical for Americans who are ever-reliant on a range of electronics, mobile devices and battery-operated toys. That includes EVs, such as those made by powerhouse Tesla (NASDAQ:TSLA). Cool, right?
Now for the bad news. Call me a skeptic again, but I'm worried. An easy look under the hood of WWR stock reveals what has been a losing proposition for everyone other than its employees, some fast-money algorithms and possibly a few daytraders.
WWR Stock Daily Price Chart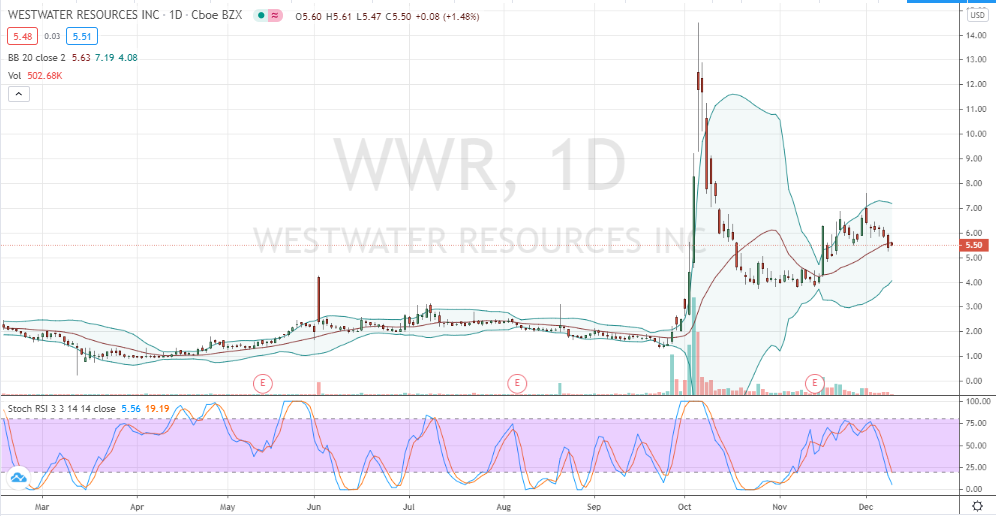 Source: Charts by TradingView
I'm not immune to a nice-looking pullback on the price chart. Price declines can offer calculated opportunities where the rewards are skewed favorably relative to the risks. And looking at WWR's daily price chart, the case for that could be made.
But I'd warn against even trying in Westwater Resources. Fibonacci? Trendlines? Or some other kind of technical support to fend off bears? Not on this chart. It's my view that those type of buy decisions should be for stocks backed by something other than red ink and press releases alerting investors to big things to come.
Investors, of course, are free to do what they're going to do. But turning a blind eye to Westwater's consistent profitless sieve, donut-like "N/A" revenues, short interest of 10%, miniscule float of less than 16 million shares and valuation of around $100 million, looks like a longer-term mistake.
Bottom line, if it looks and walks like a duck, it's probably a duck. And would-be investors of WWR are likely better served to "duck" out and walk the other way rather than invest here long-term.
On the date of publication, Chris Tyler does not hold, directly or indirectly, positions in any securities mentioned in this article.
Chris Tyler is a former floor-based, derivatives market maker on the American and Pacific exchanges. The information offered is based on his professional experience but strictly intended for educational purposes only. Any use of this information is 100% the responsibility of the individual. For additional market insights and related musings, follow Chris on Twitter @Options_CAT and StockTwits.