Love it or hate it, bitcoin (CCC:BTC) is here to stay. The best known cryptocurrency has been red hot in recent months. A number of institutional investors and respected Wall Street veterans who normally track growth stocks are taking stakes in the digital currency that was founded in 2008.
Some pretty respected names are even claiming that bitcoin could eventually replace gold as a safe haven for investors.
The frenzy around bitcoin sharply elevated its price. Since March 2020, bitcoin's price rose 625%, from $5,024 each to $36,433 recently. At one point in recent weeks, a single bitcoin was worth $40,675.80, its highest level ever.
Yet there are some growth stocks that have produced better returns than bitcoin over the past year, and that could continue to outperform the cryptocurrency throughout 2021. Here are four growth stocks that are better than bitcoin.
Growth Stocks That Are Better Than Bitcoin: Nio (NIO)
Is Nio the next Tesla? A lot of investors are betting that the Chinese company is capable of challenging Elon Musk for supremacy in the fast growing electric car market. NIO stock has risen an astounding 1,584% in the past 12 months. That return dwarfs the 625% earned on bitcoin since January 2020.
This time last year, NIO stock was trading at $3.72 a share. It's now at $62.32, and climbing. Since the end of December, the stock jumped 41%. Investors continue to get behind the Chinese electric vehicle maker and its growth potential. That potential got a boost recently after the company unveiled its new ET7 electric sedan that is capable of travelling 600 miles on a single battery charge, which outperforms Tesla's current 450-mile battery range.
As Nio ramps up deliveries of its vehicles, investors seem to be getting even more excited about the stock. In October 2020, Nio delivered 5,055 vehicles, up 100% from October 2019. Bank of America forecasts that Nio will turn a profit by 2023.
Where the stock goes from here is anyone's guess, but Wall Street remains bullish. Analysts have a median price target on NIO stock of $374.07 a share, with a high estimate of $645.75 and a low estimate of 98.10. Even the low estimate on the stock represents a 57% increase from the current price per share.
Riot Blockchain (RIOT)
Investors looking for exposure to bitcoin who don't want to shell out more than $35,000 or stomach the cryptocurrency's volatility should consider taking a position in Riot Blockchain.
The company, based in Colorado, is a digital currency company that purchases cryptocurrency and blockchain technology companies. Blockchain is the database on which bitcoin and other cryptocurrencies are created.
RIOT stock climbed along with Bitcoin over the past year, outpacing the cryptocurrency in terms of returns to investors. In January 2020, Riot Blockchain's stock was worth $1.36 a share. It was a bottom feeder among penny stocks. Since then, the stock appreciated 1,655%. Incredible! Yet, despite that massive growth, the stock today trades under $25 a share, making it quite affordable for investors.
And the stock is likely to continue moving higher as bitcoin and other cryptocurrencies gain broader acceptance among retail and institutional investors.
PayPal (PYPL)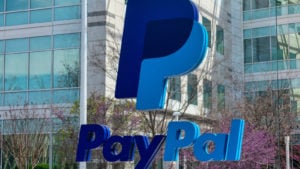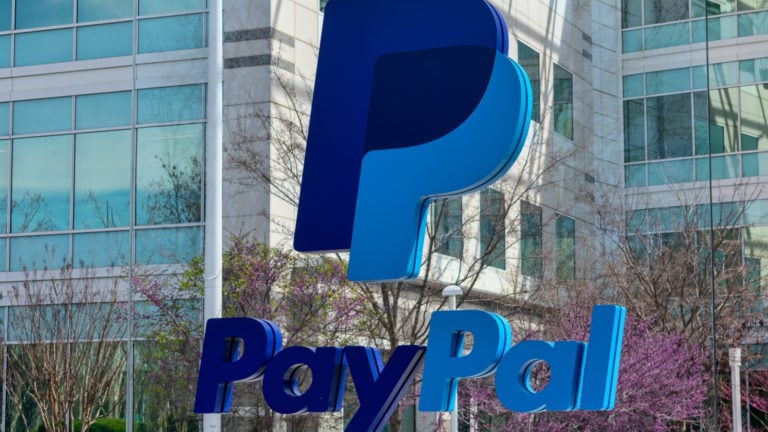 Online payments company PayPal offers another way for investors to benefit from the rapid growth of bitcoin. And it is even safer and less volatile than the aforementioned RIOT stock.
PayPal now enables users in the U.S. to buy, sell and hold various cryptocurrencies on its site. People can also view and track cryptocurrencies using the PayPal app. Furthermore, PayPal allows its more than 25 million merchants to use cryptocurrency as a legitimate form of digital currency. The Palo Alto, California-based company that was co-founded by Elon Musk is doing as much as any organization to help bring cryptocurrencies such as bitcoin into the mainstream.
PYPL stock was doing well before it announced its move into cryptocurrencies last fall. But since then, the stock surged higher, up 37% since the start of November at $244.90 a share. Since global stock markets crashed last March, PayPal stock increased just under 200%.
And while excitement over the availability of bitcoin and other cryptocurrencies has given the stock a charge, the shares are also benefiting from the increasing use of online payments during pandemic lock downs around the world. PayPal is on many analysts' lists of stocks to buy in 2021.
GameStop (GME)
For gigantic growth that has outperformed bitcoin in the last year, look to video game retailer GameStop. The Dallas, Texas-based company's stock increased 1,020% since March 2020 when it was then trading at $2.80 a share. Today, GME stock is changing hands at $31.40 a share and continues to defy the expectations of investors large and small. On Jan. 13, the company's share price jumped 57% in a single trading session after it announced new members on its board and reported that holiday same-store sales rose 4.8% and digital sales surged 309%.
The traditional brick-and-mortar retailer is increasingly focusing its efforts on sales of online and digital video games. The company attracted a number of activist board members and gotten interest from some well-known investors too. Chewy (NYSE:CHWY) co-founder Ryan Cohen took a 13% stake in GME stock last year and Michael Burry of the "Big Short" fame is also a vocal shareholder.
GameStop also signed a deal with Microsoft (NASDAQ:MSFT) that will see the retailer receive a share of digital sales from game downloads and subscription plans on any and all Xbox consoles sold at its chain of stores.
GameStop seems to be heading in the right direction and continued growth could follow.
On the date of publication, Joel Baglole held long positions in NIO, RIOT and MSFT.