Nobody really knows who invented Bitcoin (CCC:BTC-USD), the most famous crypto of all.
Satoshi Nakamoto is the name used by the developer. But it's a pseudonym. We can't be sure of whether Satoshi is a person or a group of people.
Instead of existing in a server in a building somewhere, Blockchain and Bitcoin is a decentralized community. It is a network of thousands of computers that are linked together all around the world.
Nakamoto claims that he started writing the code for Bitcoin in 2007. In August 2008, he created a website and registered the domain name bitcoin.org.
Then in January 2009, Nakamoto released the first version of Bitcoin and launched the network. He worked with other developers until mid-2010. After that, he turned the control and code over to other people within the Bitcoin community.
And then Nakamoto disappeared into obscurity. He hasn't been heard from since.
Bitcoin has become synonymous with cryptocurrency. But that shouldn't be the case. There are now more than 1,000 other cryptocurrencies. Here are just a few to consider:
Bitcoin (CCC:BTC-USD)
Ethereum (CCC:ETH-USD)
Litecoin (CCC:LTC-USD)
NEO (CCC:NEO-USD)
Stellar Lumens (CCC:XLM-USD)
Bitcoin Cash (CCC:BCH-USD)
Ripple (CCC:XRP-USD)
Bitcoin and Other Cryptocurrencies: Bitcoin (BTC-USD)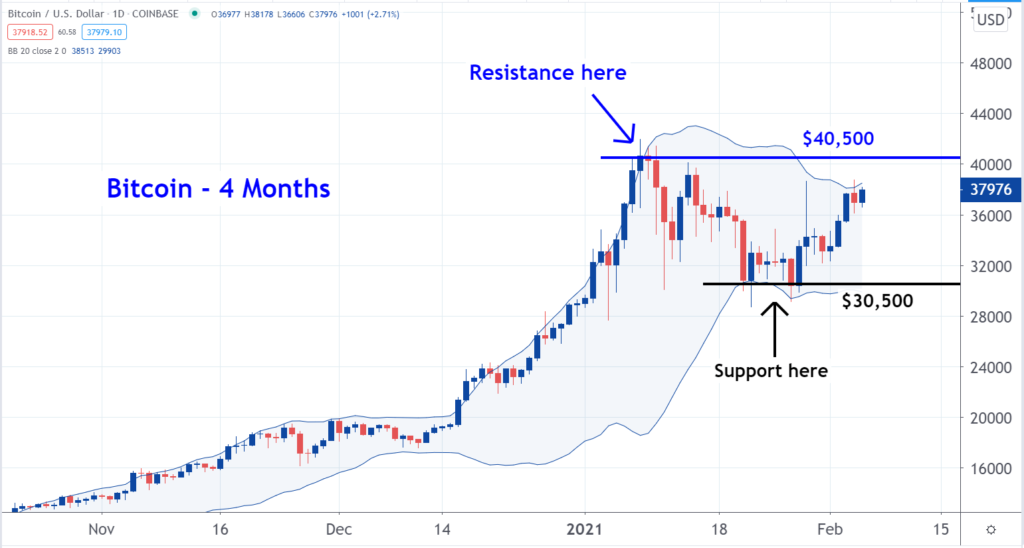 As you can see on the above chart, Bitcoin recently hit resistance around the $40,500 level in early January. This was an all-time high.
Then in late January, it found support around the $30,500 level. Since then, it has been trending higher.
Some analysts believe that in the long run, Bitcoin won't last. There are some important disadvantages when compared to other cryptocurrencies.
Bitcoin uses tremendous amounts of power. It is estimated that on an annual basis, the Bitcoin network uses more electricity than the country of Chile. The power used for just one transaction could run the average U.S. household for over three weeks. In addition, a transaction could take up to 24 hours to be completed.
Some have said that Bitcoin was designed just to be a blue print and starting point for cryptocurrencies.
Other cryptos could be considered Bitcoin with added or different features. These are called "alternative coins" or "alt-coins."
Ethereum (ETH-USD)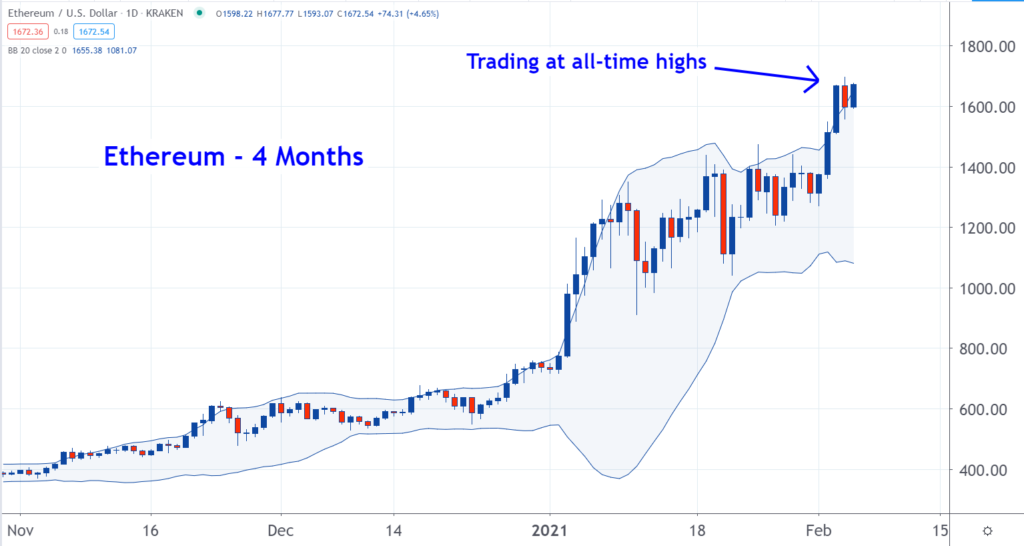 Ethereum first hit the scene in 2013. As you can see on the above chart, ETH is trading at all-time highs.
This crypto has the same philosophy and blockchain technology as Bitcoin, but it was created for a different purpose.
Ethereum is designed as a decentralized platform that runs smart contracts. These contracts allow users to make agreements almost themselves. There is no middleman. These contracts are then validated by Ethereum's blockchain network.
Financial companies like J.P. Morgan (NYSE:JPM), Credit Suisse (NYSE:CS) and other institutions are using Ethereum for certain tasks. Technology companies like Microsoft (NASDAQ:MSFT) and Intel (NASDAQ:INTC) are using it as well.
The Ethereum Enterprise Alliance is an organization whose objective is to promote the use of Ethereum and the Ethereum blockchain technology. It has more than 100 members. The membership consists of established Fortune 500 companies as well as cutting-edge startups.
Litecoin (LTC-USD)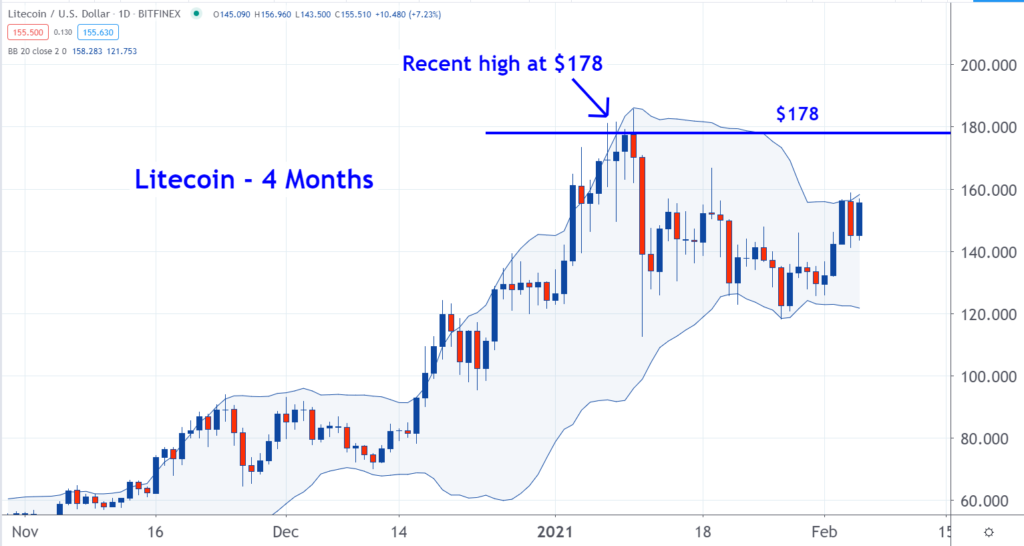 Litecoin is similar to Bitcoin. It was actually created by a hard fork from Bitcoin. This means that some Bitcoin developers decided to make a crypto that was easier to create and use.
Cryptocurrencies are made by a process called mining. The people who mine Bitcoin need to solve complex cryptological puzzles in order to do so. As a reward for solving the problem and making new coins, the miners are given new coins for themselves.
As the Bitcoin network grows and evolves, these puzzles become increasingly harder to solve. They require extremely strong computers — and these computers use tremendous amounts of electricity and power.
Litecoin is much easier to mine. It can be done on regular computers. This means that it probably isn't as secure as Bitcoin. But the network is much faster and it doesn't use nearly as much power.
NEO (NEO-USD)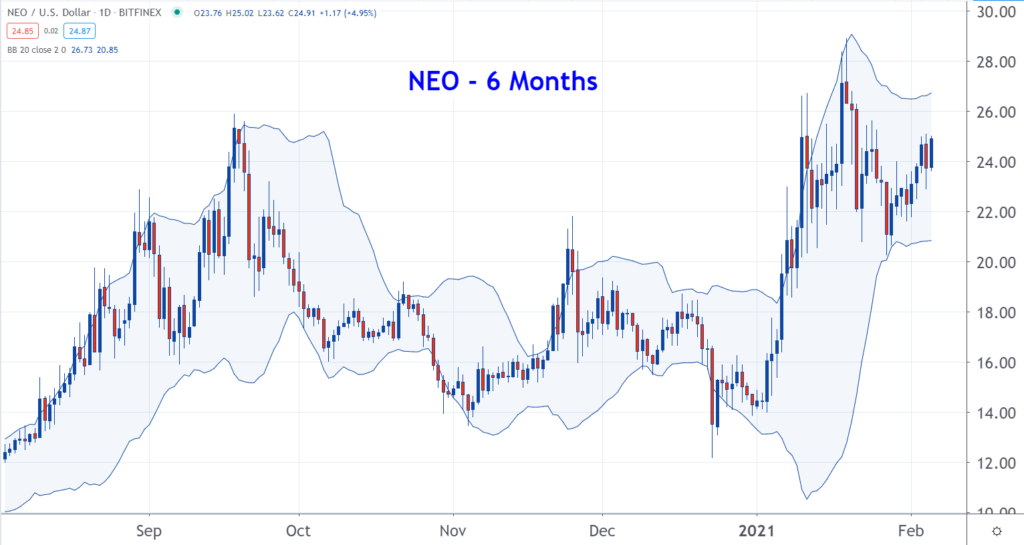 NEO was launched in June 2014. It is a smart contract system that is similar to Ethereum.
At one time it was the most common cryptocurrency in China, where it was created. It is also the reason why it has been called the Chinese or Eastern Ethereum.
However, the network has more than two million users worldwide, and there are NEO communities in seven countries.
NEO is much faster than Bitcoin. It has the ability to process 10,000 transactions per second. It also just announced that it will be upgrading its network. This could be the reason for the recent rally in the price.
As you can see on the chart, the price of NEO has almost doubled since the beginning of the year.
Stellar Lumens (XLM-USD)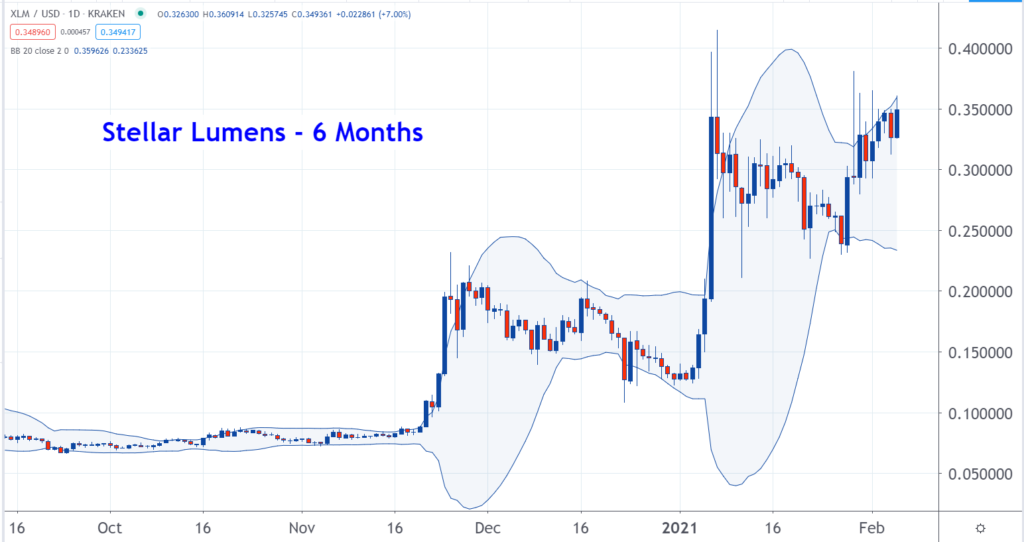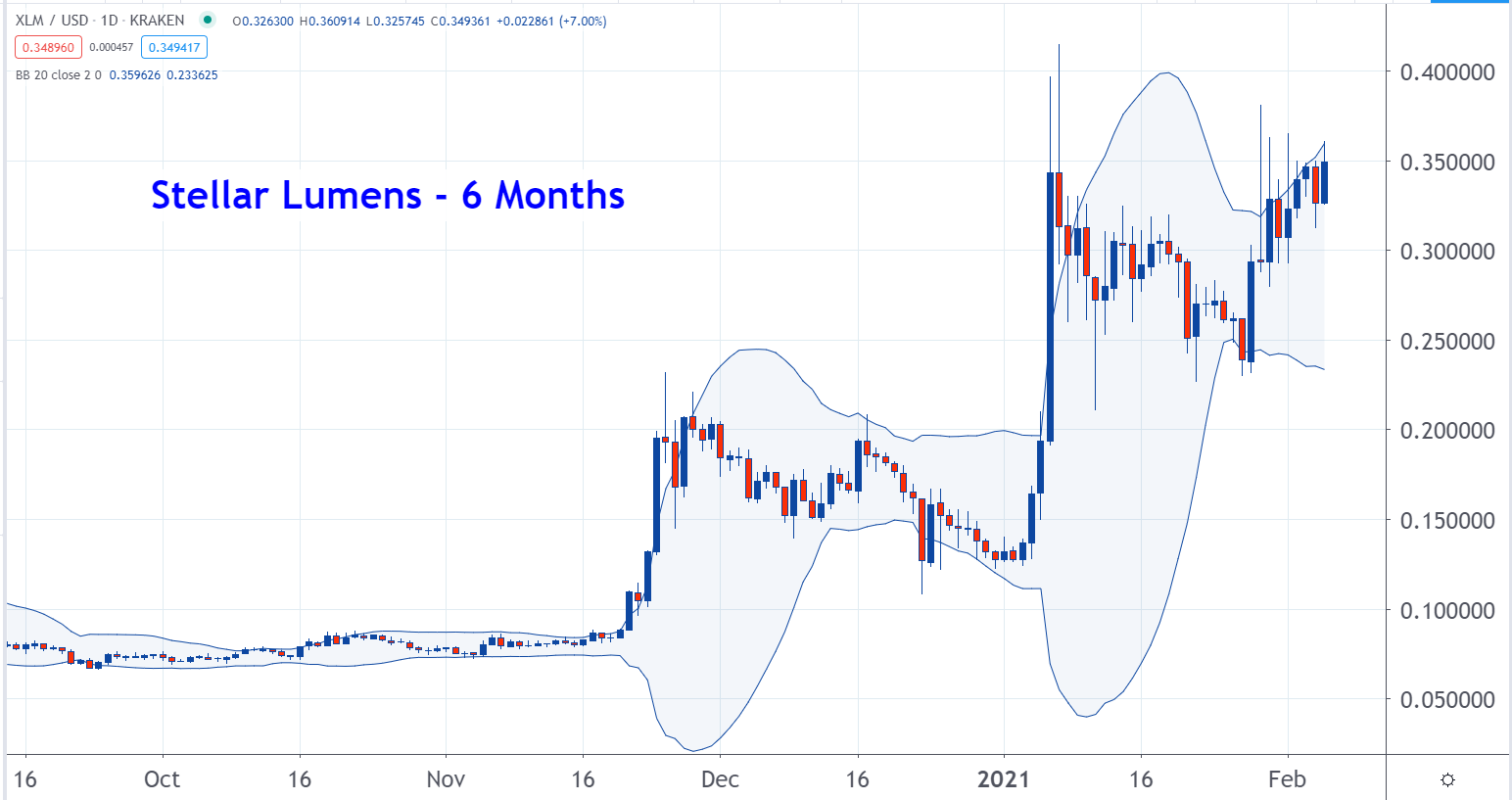 The market for Stellar Lumens could end up being enormous. It is an open platform for financial products.
It is estimated that about three billion people don't have access to banks or traditional banking services. They can't get credit cards, wire money or have savings accounts.
But more than half of these people have access to cellular phone services. A cryptocurrency could be a viable (and better) alternative to traditional banking for this market.
A crypto like Stellar could also provide services for people who do have access to banking as well. People around the world could make transactions very rapidly without the cost and paperwork that would be needed for traditional banks.
As you can see on the chart, XLM is currently trading around 35 cents. In November it traded as low as 8 cents. The all-time high was in January 2018 at 94 cents.
Bitcoin Cash (BCH-USD)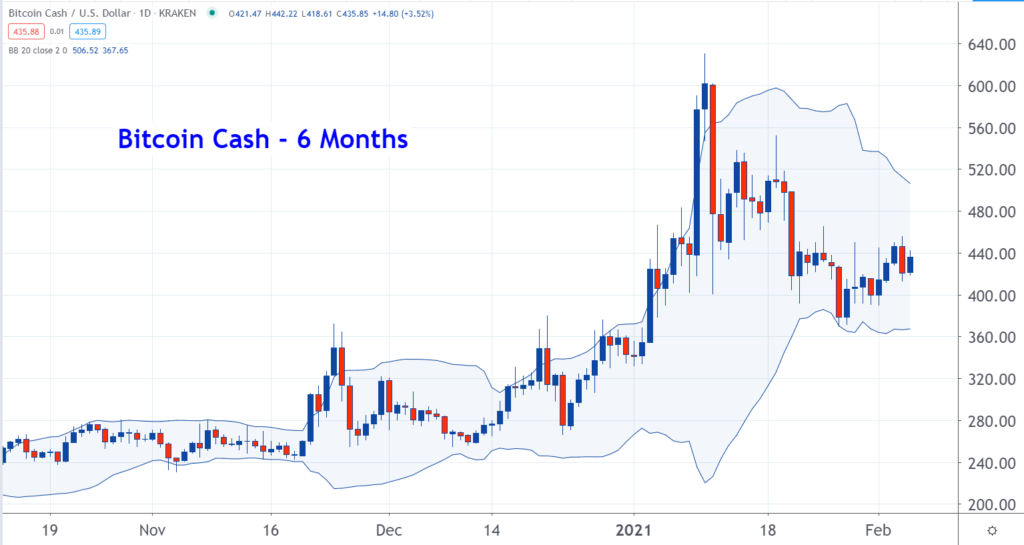 Bitcoin Cash is a result of a fork, or separation, from Bitcoin. Back in 2017, a group of Bitcoin developers couldn't decide on what the size of a block should be. Some people in the community wanted to increase it.
Each block could hold 1 MB of data. Some developers wanted to increase this to 2 MB. Others wanted to increase the capacity even more. Some wanted it to go to as high as 32 MB.
After a decision couldn't be reached, some of the group decided to break away and develop a new crypto. Thus, Bitcoin Cash was born. While Bitcoin stayed with 1 MB, the new crypto was developed with 8 MB of data capacity per block.
As a result, Bitcoin Cash is much more scalable than Bitcoin. It can process transactions faster and at a cheaper rate.
Ripple (XRP-USD)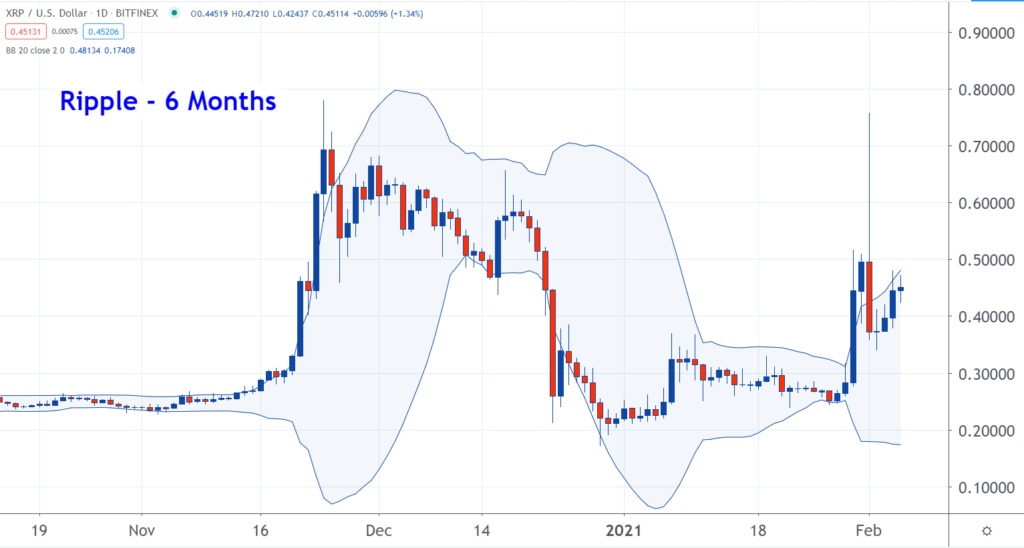 Ripple has been around since 2012. It is designed to be used by financial institutions. As you can see on the chart, this crypto is very volatile and low-priced.
There are some significant differences between Ripple and Bitcoin. Some people think that Riple isn't a true cryptocurrency. Ripple Labs is a private company, and XRP is its currency. The company provides payment and settlement solutions for financial institutions around the world.
Nevertheless, Ripple is much faster than Bitcoin. XRP can make transactions in mere seconds, while a single transaction in Bitcoin could take hours. In addition, the energy costs used by XRP are minimal.
Because Ripple is a private company, XRP isn't mineable. No new coins can be created. There are 100 billion coins in circulation that are in use by members of Ripple's network. This limited supply could cause the price to rise if demand for the crypto increases.
At the time of this publication, Mark Putrino did not have any positions (either directly or indirectly) in any of the aforementioned securities.