Shares of Switchback Energy (NYSE:SBE) were a gift for investors in 2020. But can the SPAC-on-tap continue to supercharge investors' portfolios? Let's take a look at what's happening off and on the price chart of SBE stock, then offer a risk-adjusted determination aligned with those findings.
Amid this past year's wave of special purpose acquisition companies (or SPACs) bringing EV-related stocks into the public market, SBE was a standout. Sure, auto stocks Tesla (NASDAQ:TSLA) and Nio (NYSE:NIO) brought home larger bounties for their investors with gains of around 700% and 1,100% respectively. Still, when all was said and done, SBE investors had little to complain about.
From the time SBE's blank-check reverse merger with ChargePoint was announced in September, shares ballooned by roughly 300% in stock price. On its own, it's a solid performance. But appreciatively, in a frenzied thematic trade which also witnessed canary-like stock warnings in QuantumScape (NYSE:QS), Nikola (NASDAQ:NKLA), Hyliion Holdings (NASDAQ:HYLN) and others, Switchback's stock performance is even more impressive.
But that's in the rearview mirror, right? More important, are shares still worth a test drive or good for long-term ownership? This strategist continues to see enough reasons for strategically buying into the SBE narrative for the short term.
Charging Ahead
Later this month shares of SBE will, after a lengthy wait, begin to trade under the CHPT ticker as the reverse merger is finalized. It's been a long time coming. More important, and unlike many of its conceptual peers, ChargePoint is the market leader in charging technology.
SBE stock's umbrellaed ChargePoint already offers home charging units. The company also continues to build out its self-named, sorely-needed electric vehicle charging infrastructure that one day could allow consumers to charge up automobiles as easily as their fossil-fuel predecessors. Nice, right? But there are potential roadblocks to larger and more lasting commercial success.
To take a non-partisan walk across the aisle, ChargePoint is far from alone in this necessary EV niche. There's competition from Blink Charging (NASDAQ:BLNK) and EVGo's blank-check alter ego Real Impact 1 Acquisition Corp (NYSE:CLII). Let's not forget Tesla's own in-house charging stations either. As well, there are others undoubtedly looking to make their mark in this emerging market.
OK, so SBE's ChargePoint can't rest on its laurels with today's nearly 110,000 charging stations? Correct. But the company's best efforts to fend off the competition may not be its biggest challenge.
Alternatively, there's simply the risk that surging demand for battery-charging stations goes the way of VHS or CD-ROMs. The thing is other technology from hydrogen or even a Jesus battery could disrupt SBE and today's liquid electrolyte-driven EV's before they ever come close to upending the transportation market's combustion engine.
SBE Stock Daily Price Chart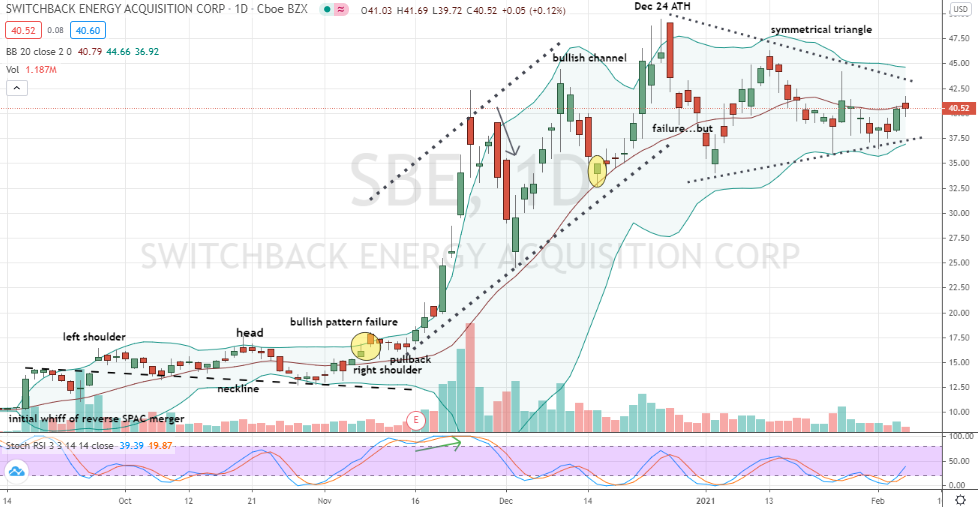 Source:
Charts by TradingView
Obviously SBE and an in-tow ChargePoint have their work cut out for them. As the disclaimer goes, past returns are no guarantee of future performance seems a timely caveat. Still, SBE stock is making the right moves on the price chart in front of CHPT's debut later this month. And I think it's an opportunity for a shorter-term trade to capture fast upside profits.
Technically, SBE shares are trading inside a symmetrical triangle pattern. This base type is generally associated with price consolidations that lead to breakouts in the direction of the underlying trend. With the pattern following a bullish up-channel into an all-time-high on Christmas Eve, the trading edge favors an upside reaction out of the triangle. Further, with stochastics signaling a bullish crossover out of oversold territory, an imminent bullish breakout appears even more likely.
Bottom line, and to take stronger, leveraged advantage of this kind of bullish outcome in SBE stock, while also positioning more defensively in the event of a pattern failure, the March $45/$55 Bull Call Spread is a favored strategy in lieu of today's presented evidence off and on the price chart.
On the date of publication, Chris Tyler held, directly or indirectly, positions in Nio (NIO) and its derivatives, but no other securities mentioned in this article.
Chris Tyler is a former floor-based, derivatives market maker on the American and Pacific exchanges. The information offered is based on his professional experience but strictly intended for educational purposes only. Any use of this information is 100% the responsibility of the individual. For additional market insights and related musings, follow Chris on Twitter @Options_CAT and StockTwits.