After toppling off last year's podium stand, Nio (NYSE:NIO) is turning the corner for investors. Let's look at recent developments in NIO stock, then offer a well-aligned, risk-adjusted way to ride a more bullish trend, while avoiding further and always possible crash-test dummy demonstrations.
During much of 2020 and following the market's brief but punishing novel coronavirus bottom last March, shares of NIO were on autopilot in rally mode.
It wasn't unique. Most everything from A to Z or rather Apple (NASDAQ:AAPL) to Zoom (NASDAQ:ZM) gained ground. But NIO stock's near 1,200% surge was one of the more impressive bids.
EVs, of course, became a hot commodity on Wall Street led by 800 pound gorilla Tesla (NASDAQ:TSLA). The action may have seemed perverse given the pandemic and its raft of stay-and-work from home restrictions.
But while Main Street wasn't driving nearly as much, acceptance from investors – buoyed by more and more greener vehicles parked in driveways and readying to hit the road after Covid – helped fuel the group's extraordinary gains. It also assisted in pulling the plug in NIO.
A Bear in Nio
Not surprisingly, the once unimaginable happened to greedy NIO stock investors overstaying their welcome.
Shares of NIO have gotten crushed in 2021. This past year's incredibly well-conditioned blue skies determination yielded to an abrupt U-turn off early January's all-time-high of $66.99. Currently, that's about 70% above today's market price near $39.25 a share. Again though, not that Nio has been a unique casualty.
ChargePoint Holdings (NYSE:CHPT). Xpeng (NYSE:XPEV). Fisker (NYSE:FSR). Arrival (NASDAQ:ARVL) or QuantumScape (NYSE:QS) and most anything EV-related have tumbled hard this year. Chalk it up to a rotation driven by rising interest rates, an unavoidable counter strike to over-the-top animal spirits, sell-the-Biden-news or what have you. Much like the well-justified reasons on the ride up, the crash lower is best left for idle talk around the office water cooler.
Good News in NIO Stock
Today, it's time to let bygones be bygones in NIO and take the dismissed good amid yesterday's bearish drags weighing on shares in order to fully appreciate what's still under the hood. One key item lost in Nio's price decline was the outfit's recent March deliveries data.
Monthly and year-over-year numbers were nothing short of terrific. And mind you, Nio's proffered street-beating double-digit growth occurred despite tons of worries a semiconductor chip supply chain disruption for auto manufacturers would wreak havoc. And investment bank Mizuho doesn't think those bullish trends are anywhere close to being finished.
Earlier this week, analyst Vijay Rakesh reiterated his "buy" rating and $60 price target on NIO ahead of next week's earnings announcement. Behind the update, the premise is the company's 2021 deliveries outlook will be raised by management when it reports. And based on what today's price chart is saying, that kind of bullish stock potential has just left the starting gate.
More Good News in NIO Stock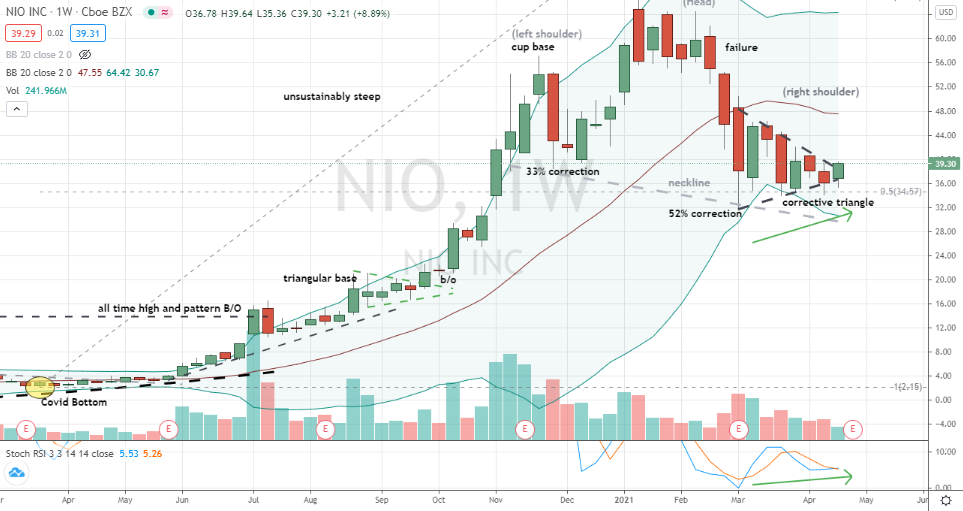 Source:
Charts by TradingView
Corrections happen all the time. And the one affecting NIO, or the broader EV universe for that matter, is far from unique. Today though, there's solid evidence Nio shares are putting the bearish cycle in the rearview mirror.
On the provided and well-illustrated weekly chart, we can see Nio is staging an upside breakout from a corrective triangle pattern that's successfully held the 50% retracement level. And while stochastics has yet to crossover, a so-close-you-can-taste-it signal aligned with today's marginal, but bullish triangle resolution, is sufficient grounds for buying in.
For long exposure the June $35/$50 collar combination looks attractive. Priced for $1.10 over NIO stock, this trend-following and fully-adjustable strategy also smartly avoids fast-fading, in-the-background "head" or rather fatal neckline breaks. And in our estimation, that's a great way to stay in the investment game for the long haul.
On the date of publication, Chris Tyler and his accounts indirectly hold positions in Tesla (TSLA) and Nio (NIO) vis-à-vis the First Trust Clean Edge Green Energy ETF (QCLN) and its derivatives, but no other securities mentioned in this article.
Chris Tyler is a former floor-based, derivatives market maker on the American and Pacific exchanges. The information offered is based on his professional experience but strictly intended for educational purposes only. Any use of this information is 100% the responsibility of the individual. For additional market insights and related musings, follow Chris on Twitter @Options_CAT and StockTwits.