@Jack isn't known to play by Wall Street's rules or grooming standards. I'm referring to Square (NYSE:SQ) CEO Jack Dorsey. But when it comes to the fintech itself, high-powered growth in Square's payments business and what's visible on the price chart bode well for SQ stock and today's investors. Let me explain.
Jack does this, Jack does that. And a lot of what Jack is doing or rather, what you hear most about, is tied to Jack Dorsey's social media platform Twitter (NYSE:TWTR). That's no surprise of course. Twitter is popular and as controversial as ever following the Trump era and other parasites still plying their trade 280 characters at a clip. Then there's that crazy beard.
Yet for investors — and removed from hashtags and other silliness — what's most important and trending meaningfully today is Jack's strongly positioned digital payments disruptor Square.
Much of SQ current success has the outfit's highly profitable Cash App to thank. Quite simply, the gains have been ginormous.
SQ Stock Rises From Pandemic Crash
Most recently, Square's first-quarter results released last month saw revenues climb a staggering 266% year-over-year on sales of more than $5 billion. Of course, in 2020 Covid-19 was just hitting U.S. shores and folks everywhere were being introduced to lockdown orders. And to be sure, it's a low base for making comparisons. But still, right? Right!
Just over a year ago when shares initially struggled off the market's March 2020 bear market bottom, most pundits were reading SQ stock its last rites on worries the failure of the company's important smaller merchant base would drag Square down with them. The reality turned out much differently.
Cash App has been a large part of that success generating gross profits of nearly $500 million on growth of 171%. And now SQ appears to have a couple more aces up its sleeves.
As InvestorPlace's resident growth maven Louis Navellier recently discussed, Square has committed itself to building a U.S.-based open-source, solar-powered Bitcoin (CCC:BTC-USD) mining facility. Along with the project reported to be a proof-of-concept effort, Square is looking to solve well-known challenges tied to Bitcoin's egregious energy consumption and proof-of-work standard.
It's a bold move, according to Louis. More important, @Jack's decision to move down that path is one which could offer huge long-term value for Square.
Today, though and for SQ stock investors, shares are solving another sort of green challenge. And they're doing with an old-fashioned proof-of-work standard that's under development on Square's weekly price chart.
SQ Stock Weekly Price Chart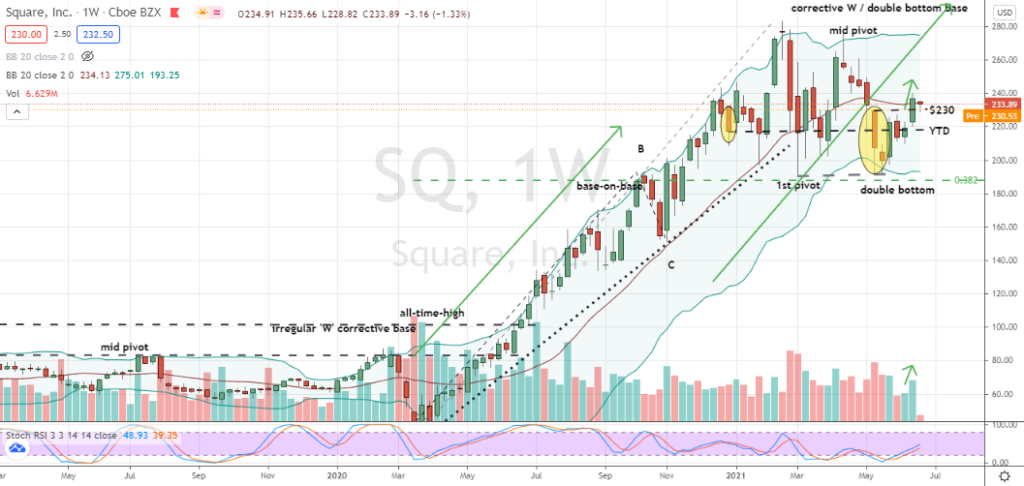 Source: Charts by TradingView Click to Enlarge
It's classic and proof of bullish investors hard at work amid a corrective cycle. I'm referring to a popular ally of growth stock followers known as a high-level double-bottom or "W" base. And right now SQ stock is beginning to rally out of the pattern's second pivot.
Specifically, shares of Square confirmed the pattern following four-plus weeks of 'mostly' inside consolidation when shares broke out last week on above-average volume through the high of this critical pivot candlestick.
Many investors who monitor growth stocks for this type of base will wait to buy until shares successfully clear the pattern's mid-pivot and secondarily, the base's high. In the case of SQ, both are still some ways above the current market price. But I'm upbeat and see SQ stock as a buy today.
Bottom-line, investors face compromises regardless of the style they use when purchasing a stock. And in our observation, buying Square stock within 2% of the bottoming candle's $230 confirmation price, and having that purchase supported by a bullishly trending stochastics, looks compelling.
One favored, defined and reduced risk approach to ensure this 'early' pattern buy decision shows investors the money without taking on larger downside exposure in the event of a base failure is an adjustable July $240/$260 collar combination priced for around 2% risk in SQ stock.
On the date of publication, Chris Tyler had (either directly or indirectly) positions in Grayscale Bitcoin Trust (GBTC). The opinions expressed in this article are those of the writer, subject to the InvestorPlace.com Publishing Guidelines.
Chris Tyler is a former floor-based, derivatives market maker on the American and Pacific exchanges. For additional market insights and related musings, follow Chris on Twitter @Options_CAT and StockTwits.