Last Friday, I introduced Momentum Master — a concept of buying cryptocurrencies using a simple set of technical analysis rules.
In short, don't buy momentum assets if they don't have… well… momentum.
That explains #SafeMoonSqueeze's muted reception last week. Much like last April's #DogeDay event on Twitter (NYSE:TWTR), the concerted effort was met with a big fat investor yawn. Creating memes is one thing. Getting others to commit real-life money to a made-up asset is quite another.
I'm not ruling out an eventual return of SafeMoon (CCC:SAFEMOON-USD). Stranger things have happened. But SafeMoon needs far more than a wily Twitter campaign to restart interest.
Today, we're going to take a look at five alt-Doge coins that might do better.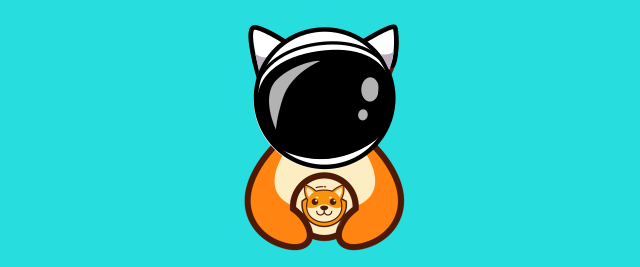 Rising Stars: The Alt-Doge Revolution
Earlier this month, crypto investor Chris Williamson became an accidental trillionaire after a Coinbase (NASDAQ:COIN) glitch misquoted his $20 Rocket Bunny investment by a decimal point or 10. While Coinbase soon corrected the error, many other alt-Doge investors have seen similarly lopsided gains.
There are always realists, of course. Tyler Cowen at Bloomberg recently published a piece titled "What the Crypto Crowd Doesn't Understand About Economics.
"Many of you do not understand monetary economics very well," he pooh-poohed. "First, the dollar is not on the verge of collapse, nor will it be replaced by a crypto asset. … A second point, oft neglected in the crypto community, is that crypto prices won't continue to go up forever at high rates." And perhaps that's true for mega-cap Boomer Coins.
But people buying altcoins (particularly Sh*tcoin aficionados) aren't exactly trying to act like economists. Consider Exhibit 1.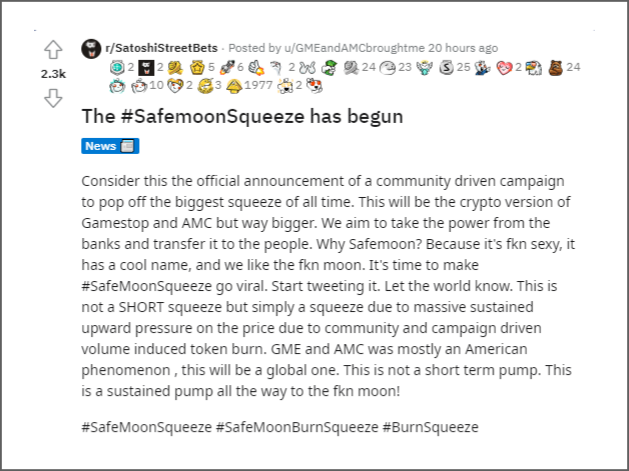 Instead, these speculators are buying lottery tickets. It hardly matters that these tokens have virtually no real-world use. If it looks like the next 1,000x Dogecoin (CCC:DOGE-USD) or Safemoon, punters will wager whatever they have.
I'm not going to pretend as if I can predict the next trillion-dollar winner. There are 1.1 million Ethereum (CCC:ETH-USD) and Binance (CCC:BNB-USD) tokens out globally, and only 705 (or 0.064%) have a market capitalization above $1 million.
But I can give you some patterns that tilt the odds slightly more in your favor. After all, 0.064% is still a one-in-1,560 chance of picking a winner — far higher than the one-in-844,512 odds of winning $50,000 in the Powerball lottery.
Copycat Names. Alt-Doge investors are a strangely conservative bunch when it comes to buying what they know. So Shiba Inu (CCC:SHIB-USD) will naturally outperform something like Lamp888Token.
Cult Following. Tokens rely on content creators to spread the word — the more rabid its fanbase, the greater the chance of creating viral memes.
Momentum. People buy coins that are going up, so I won't touch anything that hasn't shown at least a 40% price increase in recent weeks. (See last Friday's email for more about momentum).
That helps narrow the field considerably.
BabyDogeCoin (CCC:BABYDOGE-USD). "If you like Doge then you'll fall in love with Baby Doge Coin," the token's website proudly states. They certainly have a point; the Binance token has already amassed 50k followers on Twitter and has 100,000 holders. Its relatively small $23 million market cap also gives this a potential 100x upside.
Shikoku Inu (CCC:SHIKO-USD). Crypto copycat developers have wasted no time in creating the next Shiba Inu / Dogecoin lookalike. SHIKO is particularly egregious, copying 97.1% of SafeMoon's underlying code (which itself is a duplicate of RFILIQ). It even brings some of the spelling mistakes of the original work. Perhaps it will have some of that price magic too.
Rabbit Finance (CCC:RABBIT-USD). The leveraged yield farming token has amassed 85k Twitter followers in stunningly short order. With yield farm APRs exceeding 100%, it's not hard to see how crypto speculators might turn this new animal into the mascot of the crypto kingdom.
Goes Up Higher (CCC:GUH-USD). Some developers have fully embraced the shoulder-shrugging reason why cryptos go up. However, GUH's team has taken it to another level. By burning user tokens, GUH should theoretically someday reach Bitcoin's price-per-coin.
Bonus: WTF Token. Walnut.Finance turned heads last week when a tank-top-wearing fan took to the Belgium/Finland Euro 2020 field. "Sporting a swimsuit and promoting a website called 'WTF Coin,' … the woman jumped the gates and jogged onto the field."
Are these coins worth anything? Probably not. It's hard to imagine a world where copycat tokens do much for society.
But is putting in $100 in these a better bet than Powerball tickets? I'd bet so.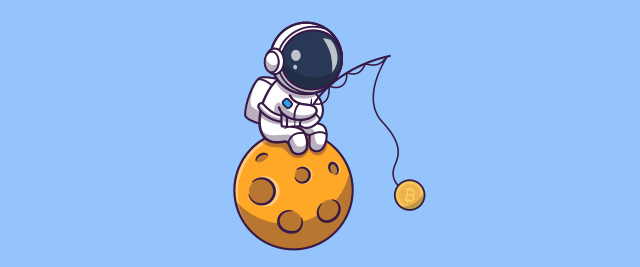 Falling to Earth: Boomer Coins Continue to Slide
It's not just Bitcoin (CCC:BTC-USD) that's feeling blue these days. In the past week, 70 of the top 100 coins by market cap have lost money. The Grayscale Bitcoin Trust's (OTCMKTS:GBTC) $24 billion assets under management (AUM) is barely higher than at the start of the year.
Moonshot investors largely don't seem to care. Their $0.02-$0.07 Dogecoin entry prices mean most early investors are still deep in the black. Only the latecomers are licking their wounds.
But Bitcoin's stagnation could mean a new "crypto winter" for other currencies too. A similar shakeout in 2018 sent altcoins into a multi-year deep freeze as investors pulled money out.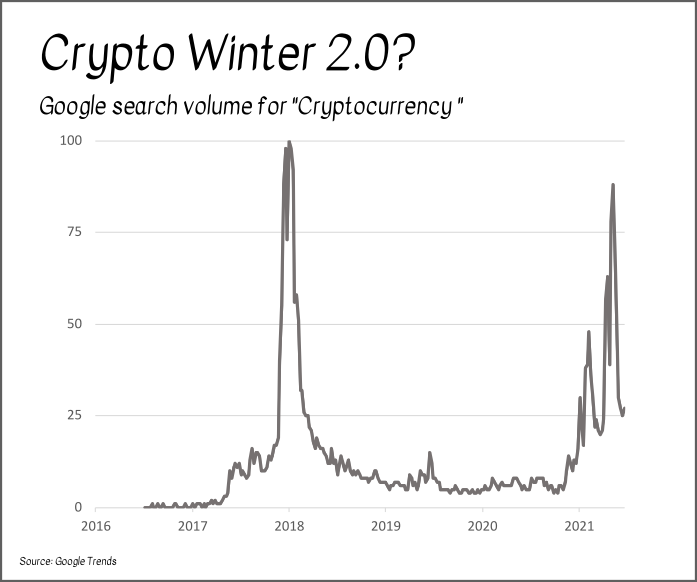 In other words, don't buy "blue chip" cryptocurrencies because they seem safer than altcoins. When a deep freeze happens, not even Bitcoin is secure from the reckoning.
Interesting Reads
Investors could have bought Virgin Galactic (NYSE:SPCE) for $15 in May. Today, it's at $55. Luke Lango and his team take a look at whether it's too late to jump in.
Are you looking to add more risk? Alex Sirois explores 10 new penny stock names that could go 10x.
Will any altcoin eventually eclipse Bitcoin? Chris MacDonald isn't so sure. But he does have some guidance for those seeking the next king of cryptocurrencies.
And finally, can you avoid crypto taxes while saving a developing country? Joanna Makris weighs in on the rise of "Bitcoin citizenship" and gives pointers for anyone who's dreamed of running an under-the-table offshore sportsbook.
By the Numbers: Probability and Payoffs
| | |
| --- | --- |
| $60,000 | Bitcoin target price by J.P. Morgan strategist Nikolaos Panigirtzogloy. "If Bitcoin isn't able to break back above the $60,000 mark soon, momentum signals will collapse, in turn leading to a cascading downdraft," he wrote in April. |
| -36% | Losses seen by Bitcoin investors since Mr. Panigirtzogloy published his note. |
| -69% | Losses by SafeMoon investors had they bought the cryptocurrency at the time. The J.P Morgan note coincided with SafeMoon's peak price. |
| 500% | Gain by investors who bought into FEG (Feed Every Gorilla) Token. Smaller altcoins have replaced more significant tokens and cryptos as the dominant speculative plays in recent weeks. |
Closing Thoughts: Having the Conviction to Sell
When I buy a new investment, I often have a smile on my face. That new holding could one day become worth a new car. Maybe even a new house. It's all possible when that profit-and-loss column still shows "$0." (Those with kids might also have felt that experience before).
But saying "goodbye" to an investment isn't always as easy. Not even for me.
That's because selling involves locking in profits or losses. The moment you've pulled the trigger, all that unlimited potential disappears. It means forever missing out on any future upside.
Yet, Momentum Masters will know that selling is as important as buying. When momentum assets decelerate (or mean-reverting assets go up), it's better to take profits than to sit on a sinking ship.
FREE REPORT: 17 Reddit Penny Stocks to Buy Now
Thomas Yeung is an expert when it comes to finding fast-paced growth opportunities on Reddit. He recommended Dogecoin before it skyrocketed over 8,000%, Ripple before it flew up more than 480% and Cardano before it soared 460%. Now, in a new report, he's naming 17 of his favorite Reddit penny stocks. Claim your FREE COPY here!
On the date of publication, Tom Yeung did not have (either directly or indirectly) any positions in the securities mentioned in this article.
Tom Yeung, CFA, is a registered investment advisor on a mission to bring simplicity to the world of investing.