Crispr Therapeutics AG (NASDAQ:CRSP) has the kind of DNA to become the next big thing in the market. But how does CRSP stock shape up as a purchase for today's investors? Let's take a look at what's happening off and on the price chart, then offer a risk-adjusted determination aligned with those findings.
After a rousing start to the year, 2021 hasn't proven kind to CRSP stock. Shares are off 18%. The loss also compares unfavorably on a relative and absolute basis to the broader averages. Various biotech benchmarks are sporting high single and double-digit gains just off record highs.
Not that long-term CRSP shareholders should be crying.
Since Covid's bear market low in March of 2020 Crispr is up a much healthier and market-beating 300% thereabouts. And at its best, January's all-time-high of $220.20 offered gains approaching 600%.
Yet the fact remains that today shares are offered at a deeply-discounted market price of $126.50.
CRSP Stock and Popularity
So, what gives in gene-editing giant CRSP's shares?
Importantly, if misery loves company there is last year's hot-to-trot fund manager Cathie Wood's Ark Genomic Revolution ETF (NYSEARCA:ARKG) to commiserate with and be mindful of.
Not only is CRSP a portfolio holding, but its closest proxy within the broader biotech universe has also shed about 7.25% of its prior year's enthusiastic momentum.
In a nutshell, the popularity in genomics stocks exploded during the pandemic as investors aggressively embraced the area's ability to fight deadly disease quickly grew on investors.
Today and to put it simply, CRSP and its most immediate genomic peers entered a none-too-surprising, but always challenging cyclical bear market.
This type of cycle of course happens to the best growth narratives. From A to Z or rather Airbnb (NASDAQ:ABNB) to Zillow (NASDAQ:Z) are other current testaments to that.
But a bear market's ability to emerge grows more likely after a period of highly-visible bullish momentum when the story gets so intoxicatingly good that everyone that wants in, is in.
CRSP stock more or less fits that bill.
Throw in this year's broader rotation out of higher-multiple growth narratives and the secret to unlocking CRSP stock's bearish DNA has revealed itself.
In our estimation, the story behind CRSP is that simple. As much and respectfully, don't let others tell you there's more to today's bearish narrative – unless owning one of the market's next big things when growth meets value isn't fully-appreciated.
CRSP Stock Monthly Price Chart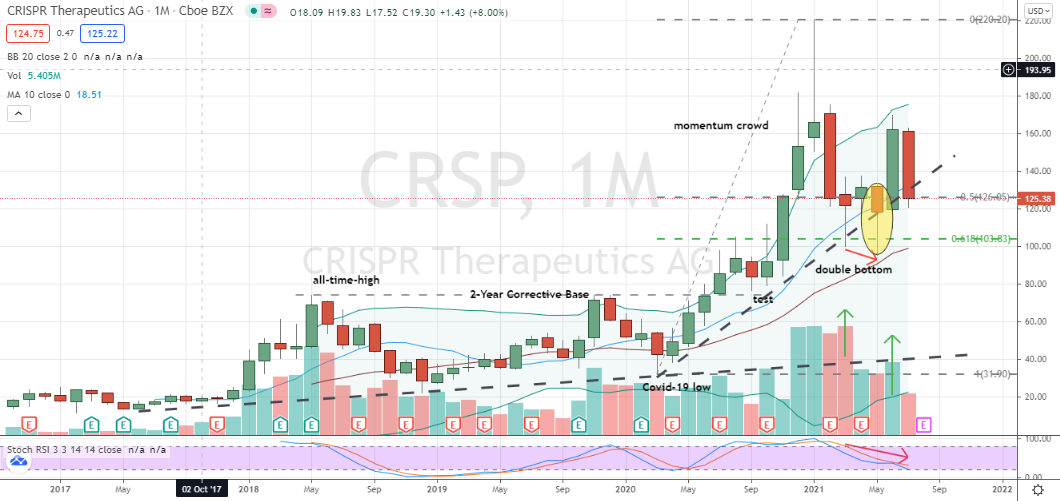 Source:
Charts by TradingView
Today and as CRSP stock's monthly chart reveals, shares are colliding with a key area of support backed by an uptrend dating to Covid's March bottom, 50% retracement level and May's confirmed hammer candlestick which completed a corrective double-bottom pattern.
The proffered technical evidence is rightfully attractive-looking for investors interested in a deeper-discounted purchase. As the chart also shows, monthly volume also appears to support a completion of CRPS's bear market cycle.
Is it a picture perfect set-up for buyers? Not quite.
June's follow-through off the pattern bottom has been completely erased this month. It's a fairly large pullback. And in its own right, the 22% drop in July could be considered a bear market. Still, it's why CRSP is offering today's technical value proposition, right?
Still and not easily ignored, over the last two months, stochastics has failed to confirm the pattern low in Crispr shares.
Given the tug-o-war around the price chart, investors could wait and see what meaningfully happens next. And that could likely occur during the development of August's monthly candle. CRSP stock's next quarterly earnings report is slated for August 11.
But if you're of the mind the market doesn't hand out RSVPs, and you want to own a leading genomics stock with greater certainty of unlocking profits over time, a CRSP stock August $120/$150 collar is a favored approach to beginning that type of operation.
On the date of publication, Chris Tyler holds (either directly or indirectly) positions in Ark Genomic Revolution ETF (ARKG). The opinions expressed in this article are those of the writer, subject to the InvestorPlace.com Publishing Guidelines.
Chris Tyler is a former floor-based, derivatives market maker on the American and Pacific exchanges. For additional market insights and related musings, follow Chris on Twitter @Options_CAT and StockTwits.