Cleveland-Cliffs (NYSE:CLF) shares have been flexing both their absolute and relative strength. But should CLF stock bulls have that same determined conviction going forward? Let's examine what's happening in the steel manufacturer, then offer a risk-adjusted determination aligned with those findings.
In a stock market that's been nothing less than exceptional since Covid-19's bear market bottom in March 2020, steel maker CLF has proven hotter than a blast furnace. From a low of $2.63 shares have climbed more than 800% to July 29's high and returned more than seven-fold the S&P 500's own impressive gain of 94%.
So, what's behind CLF's strength? More importantly for investors, are shares in a position to continue improving that bullish trend? Both off and on the price chart that appears to be the case.
In large part, Cleveland-Cliffs shareholders can thank this past year's acquisitions of steel plays AK Steel and ArcelorMittal USA as driving some of the stock's good fortunes.
The purchases combined to vertically integrate CLF's legacy iron ore business with a pivot to quality-focused steel production for the automotive market. Today, Cleveland-Cliffs is the largest supplier to the industry by a wide margin. And that's good for CLF stock!
Even if you haven't personally been shopping for a car, the industry's rising fortunes led by an insatiable and growing Chinese middle class and burgeoning global EV market has been front page news. Moreover, it's a windfall for CLF with no signs of those trends slowing down.
More of a positive and credit to Cleveland-Cliffs' management, being a key auto supplier hasn't been an easy road to successfully navigate. Yet the company has executed remarkably well. And proof supporting CLF's triumphs are everywhere.
Despite persistent Covid-19-related supply chain challenges within the auto industry often forcing quick product reallocations to the spot market and other clients, CLF's quarterly earnings this past week delivered record-breaking, guidance-topping results for the company's shareholders.
Nice, right? Yup. There's more good news for Cleveland-Cliffs too.
If investors are to believe Cleveland's CFO proffered assessment those burly results "should not be our all-time records for long", there's every indication that CLF stock is working smartly as a forward-looking pricing mechanism worth buying into today.
CLF Stock Weekly Price Chart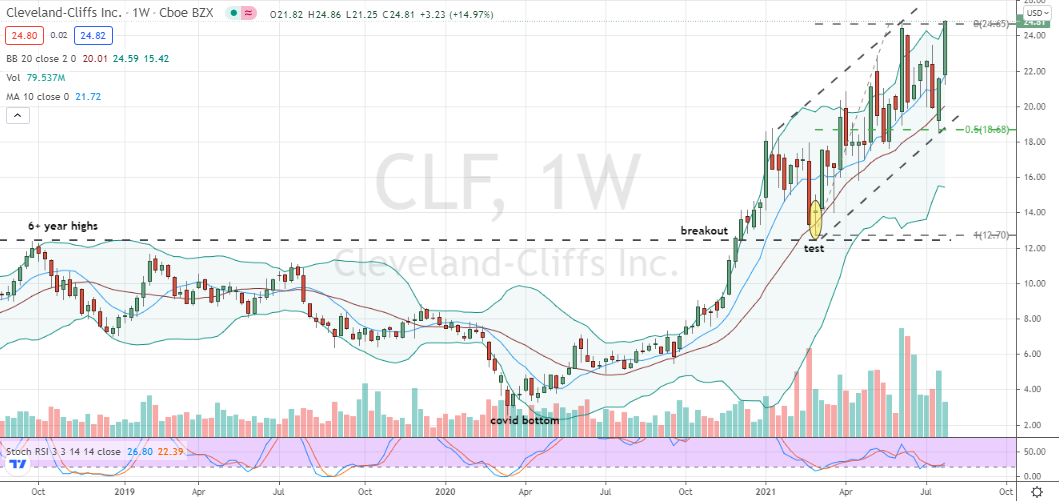 Source: Charts by TradingView
The provided weekly view of CLF stock reveals a very bullish-looking situation. A sustainably-sloping up-channel that began in early 2021 after a successful pullback test of multi-year highs is receiving further validation as shares break out of an embedded corrective base of several weeks in duration.
The healthy-looking price action is also supported by stochastics signaling a bullish crossover and CLF's Bollinger Band's which are opening up after a pinching pattern. All told, there's ample evidence indicating a strong-looking buy opportunity in Cleveland-Cliffs shares right now.
For investors agreeable with purchasing shares and wanting to improve their chance of success, a Sep $25/$30 CLF stock collar is an attractive spot to begin a program of money management through the best and worst of times that always lie ahead.
On the date of publication, Chris Tyler does not hold (either directly or indirectly) positions in any securities mentioned in this article. The opinions expressed in this article are those of the writer, subject to the InvestorPlace.com Publishing Guidelines.
Chris Tyler is a former floor-based, derivatives market maker on the American and Pacific exchanges. For additional market insights and related musings, follow Chris on Twitter @Options_CAT and StockTwits.