When Virgin Galactic's (NYSE:SPCE) Sir Richard Branson blasted off into space last weekend, there was no shortage of critics arguing what "space" meant. 50 miles? 100 miles? (If you stacked the naysayers on top of each other, I'm sure you would have reached whatever altitude they desired).
Sir Branson proved them wrong after safely landing in the New Mexico desert. His stock, however, didn't fare so well. Virgin Galactic would fall -15% to compound a -12% loss since late June.
As people have "bought the rumor, sold the news," Moonshot investors have turned their attention back to SPACs, an equally dizzying world of quick gains and potential risks.
And though some of these SPACs are barely worth the cash in the bank, the "people's IPO" has given ordinary investors the chance to buy into some of the highest-risk Moonshots once reserved for venture capitalists.
Today, we'll compare three SPACs and space stocks in a showdown of who will win in the race to the moon.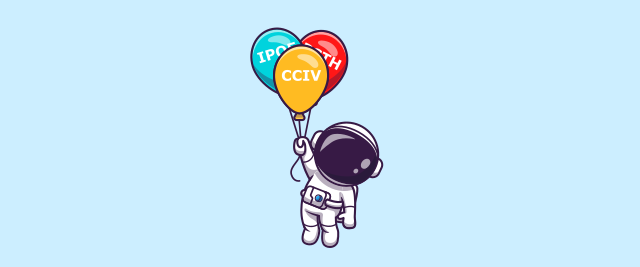 Rising Stars: SPACs, SPACs and More SPACs
After a stunning Q1, investor interest in SPACs has understandably cooled. The CNBC SPAC 50 index, a measure of the 50 largest SPACs, is down 20% from its February highs. Even Chamath Palihapitiya, the "SPAC King," has largely withdrawn from public view.
But the subdued SPAC market has also created a long list of one-sided bets. That's because SPACs are essentially a pile of cash with a tradable ticker attached. Virtually all get listed with $10 of cash per share, so they should theoretically remain close or above that price premerger. (What happens after that is up to the merged entity.)
Consider 10X Capital Venture Acquisition Corp (NASDAQ:VCVC). Last week, the firm agreed to merge with REE automotive — one of the most aggressively marketed e-mobility companies globally.
Had the deal happened last February, the announcement would have sent VCVC stock soaring. Israeli-based Ree is developing an electric vehicle skateboard platform that could join the country's thriving automotive startup scene.
Instead, investors gave a collective yawn. Today, you can still buy VCVC for $9.98.
THE SPECTER OF BAD DEALMAKING
Moonshot investors would immediately sense an opportunity. A study by Wolfe Research found that SPACs with experienced operators outperform by 73% a year after a merger. In other words, focused SPACs like Post Holdings Partnering (NYSE:PSPC) — led by consumer goods industry veteran Robert Vitale — will likely outperform general-purpose ones.
Meanwhile, poorly planned SPACs underperform. Last February's merger mania led to countless strange deals, including a leisure company SPAC merging with a biopharmaceutical startup and a cannabis SPAC with a space company. In aggregate, these types of arrangements lose -14% in value after 12 months.
FINDING MOONSHOTS IN SPACs
Investors looking for high-quality SPACs with strong upside now have a range of choices.
Mirion Technologies. Goldman Sachs is no stranger to SPACs. In late 2019, GS Acquisition Holdings (NYSE:GSAH) bought 20% of Vertiv (NYSE:VRT) in a $690 million deal. Prices have steadily climbed 3x with barely a hiccup.
Today, the Goldman Sachs SPACs team has their sights set on a new target: Mirion Technologies, a California-based provider of radiation detection equipment.
Most investors might not think of Mirion as a Moonshot; the firm expects an 11% revenue growth through next year. But Mirion represents the tip of a highly lucrative energy and healthcare market. As a result, management expects profits to grow at >20%, or more than twice as fast as the median S&P 500 company profit.
Price is also a strong draw. SPAC boredom means that GSAH trades at just $10.45. That values Mirion at 13.3x forward EBITDA — a significant discount to competitor Mettler-Toledo's (NYSE:MTD) 31.2x and Bruker's (NASDAQ:BRKR) 23x. GSAH might not go 10x like some other Moonshots, but it's undoubtedly an excellent way to pick up a low-risk 3x company.
Circle. Investors should have cheered when Bob Diamond's Concord Acquisition Corp. (NYSE:CND) announced its merger with Circle. Mr. Diamond once ran Barclays and would have succeeded in buying Lehman Brothers during the financial crisis had the Bank of England not stepped in. (Mr. Diamond resigned from Barclays in 2012 over a Libor fixing scandal.)
Yet, the investor community treated the news with a yawn — a strange fact given that Circle runs the world's second-largest stablecoin, USD Coin (CCC:USD). Investors can still buy shares of Concord for $10.50, which values Circle at $4.5 billion.
That should get any Moonshot investor excited. Stablecoins are the backbone of cryptocurrencies and are so crucial that the U.S. Fed has labeled rival Tether a "challenge" to financial stability. (Tether settled a lawsuit with New York State earlier this year over criminal cover-ups.)
Meanwhile, Circle has emerged as a solid competitor to Tether's (untethered) dominance. The stablecoin has grown its dominance tenfold and is now 40% the size of its bigger brother. With Mr. Diamond helping steer the board, Circle could become a core piece of crypto infrastructure for decades to come.
Nerdy. Long-term value investors would know TPG by reputation alone. The 30-year-old private equity firm has a long history of scooping up undervalued assets in leveraged buyouts and (unlike other Barbarians at the Gate) is known for paying down corporate debt and selling companies for profit.
That's why TPG Pace's (NYSE:PACE) merger with Nerdy, an online instruction platform, should come as exciting Moonshot news. Nerdy operates in a fast-growing industry that's replacing America's broken for-profit college system. In addition, its TPG merger gives the startup the finances and backing of a firm that's already taken 51 other companies public.
PACE also trades at under $10, valuing Nerdy at $1.4 billion enterprise value. For an unconsolidated, fast-growing market like online learning, it's a price tag that undervalues a high-potential firm. Expect Nerdy to have 10x potential or more.
Falling to Earth: Five Space Stocks Falling Back to Earth
Don't get me wrong — I like spaceship stocks as much as any other Moonshot investor. Had we bought SPCE in mid-May, Virgin Galactic would have turned $10,000 into $37,000 by last month. The $10 billion company could one day become worth $100 billion.
But there's no arguing with slowing momentum. Since peaking in late June, SPCE and other space-related stocks have seen weakening prices as investors have "sold the news."
Perhaps the harsh financial realities of space travel are finally kicking in. If ordinary people wouldn't pay for a $25,000 Concorde flight across the Atlantic, why should they spend 10 times more for an up-and-down trip that leaves you back where you started? Or perhaps retail investors have moved on, focusing their attention on pumping small-cap stocks like SCWorx (NASDAQ:WORX) instead.
No matter the reason, the party's ending for now. Time to take profits and find greener pastures.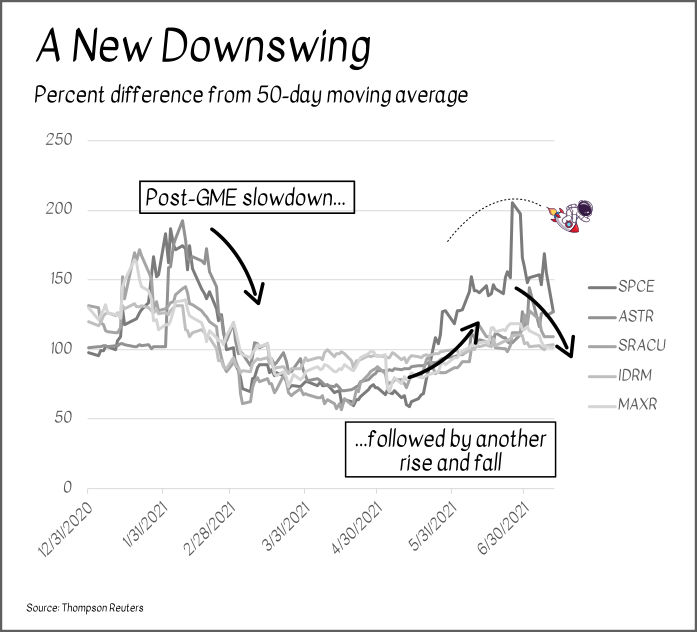 By the Numbers: SPAC vs. Space Stocks
| | |
| --- | --- |
| 46 | Number of SPAC IPOs worldwide in H1 last year, according to data from Thompson Reuters. |
| 685 | SPAC IPOs in the first half of 2021. Combined, SPAC IPOs raised $190 billion. |
| 387 | Number of non-SPAC IPOs in the same period. Combined, they raised just $91 billion for companies. |
| -50% | Decrease in SPAC IPOs since June 2021. At current rates, the second half of 2020 might see just 360 deals. |
Interesting Reads
Joanna Makris' sell call on Palantir (NYSE:PLTR) last month might have touched a nerve with the Reddit crowd. But those who followed her call would have saved themselves the -7% slide. Today, InvestorPlace's top Tech Guru has made a new call that you don't want to miss.
Last month, I wrote about the hidden Moonshots of basic materials stocks. My six picks have since tripled the S&P 500 return. This week, Eric Fry and his team examine a similar vein in one of his best stock ideas for 2021 — a gold miner you wouldn't expect.
Are you looking for new penny stock ideas? Muslim Farooque gives his take on seven stocks you can pick up on the cheap.
Technical analysis can fall flat when markets are highly efficient. But what about crypto? Bret Kenwell examines seven cryptocurrencies with intriguing momentum.
Closing Thoughts: Missing the SPAC Boat?
In 2018, an old friend told me about a new arbitrage opportunity in the market. He had found a stock with $10 of cash per share that was trading at $9.90.
We decided to buy some shares each for a laugh and sold out at $10.50 several months later.
Oops.
It turns out we had stumbled upon IPOA, the fund that would eventually take Virgin Galactic to $62. Had we held on, our "fun money" pool would have been worth far more.
To be fair, IPOA was one of the first significant SPACs of its class. And we sized our bet for merger arbitrage, not for speculation on what Moonshot investors would do afterward.
Still, we've never stopped looking for more opportunities for easy gains. Because in the Moonshot world of SPAC and space stocks, the only guaranteed way to lose out is by giving up and letting these high-potential markets go to someone else.
Questions or comments? Connect with Tom on LinkedIn.
FREE REPORT: 17 Reddit Penny Stocks to Buy Now
Thomas Yeung is an expert when it comes to finding fast-paced growth opportunities on Reddit. He recommended Dogecoin before it skyrocketed over 8,000%, Ripple before it flew up more than 480% and Cardano before it soared 460%. Now, in a new report, he's naming 17 of his favorite Reddit penny stocks. Claim your FREE COPY here!
On the date of publication, Tom Yeung did not have (either directly or indirectly) any positions in the securities mentioned in this article.
Tom Yeung, CFA, is a registered investment advisor on a mission to bring simplicity to the world of investing.