Bears have been crushing the competition in Skillz (NYSE:SKLZ) stock. But is it finally time to wager on the over in front of next week's earnings report? Let's look at what's happening off and on the price chart, then offer a risk-adjusted determination which could lead to outsized prize money while smartly avoiding a game-over scenario.
It's been ugly for most bullish SKLZ investors. There's no way around it. Since completing its SPAC reverse merger with Flying Eagle Acquisition Corp. in December shares have been punished.
Buy-and-hold investors betting on the mobile esports platform from the get-go are sitting on losses of at least 13% to 37% if they purchased SKLZ stock as it began trading under the SKLZ ticker on Dec. 17.
That's far from a great performance.
And caught in squarely in the middle is Skillz's year-to-date loss of 26%. Fairly, the sting likely feels more miserable given the benchmark averages record-setting climbs in 2021.
It gets worse though, for some SKLZ investors. One or more buyers paid to play SKLZ for $46.30 in early February. That ignominious purchase decision marked an all-time-high in shares that's 70% removed from today's market price.
Challenges for SKLZ Stock
So, what's gone wrong for investors, aside of course from Skillz's fairly significant bearish population of about 20% and where the stock's stink has turned up roses?
This year's more challenging market environment for higher multiple growth stocks, which began in earnest during February, has certainly played a key part in the bearish action.
They're everywhere. FuboTV (NYSE:FUBO). C3.ai (NYSE:AI). Opendoor Technologies (NASDAQ:OPEN) or Tesla (NASDAQ:TSLA) to name a few. And comparatively, SKLZ stock is hardly unique in its deep corrective dive this year.
But are bears overstaying their welcome? The body of evidence is hinting strongly that may be the case. And it stands to reason a terrific opportunity for buyers of SKLZ stock could be nearby.
Some Rays of Sunshine
Today, the mobile gaming platform has a lot working in its favor. Not only is Skillz winning over players with its esports games and tournaments, but its model to increase monetization for critical content developers has been a hit.
As well, the outfit's emphasized pay-for-play strategy which SKLZ skims revenues from, is working smartly, too.
Over the past two quarters, Skillz delivered street-topping revenue growth and raised full-year sales guidance to $375 million. And that's been buoyed by SKLZ successfully increasing its paying users rather than focusing resources on its overall base. In Q1 that amounted to year-over-year growth of 81%. Nice, right?
A Key Partnership and Expansion
That's not all Skillz has up its sleeve, either.
SKLZ stock is expanding in other meaningful and attractive ways which should continue to benefit the gamer. Later this year, Skillz is entering India. It's the company's first expansion internationally and needless to say, it's a huge market.
Skillz has also partnered with the NFL to bring football-themed games to the Skillz platform in a co-sponsored developer challenge. Score!
Also and importantly, during Q1's confessional, the possibility Skillz's platform will make a lateral move into the increasingly popular live gaming market was proffered.
All things considered, there's a lot for bullish investors to be upbeat about. And today that includes SKLZ stock's deep sacking near the 14-yard line. Not only is the action far removed its February midfield challenge, but it's also offering buyers stronger value off and on the price chart.
SKLZ Stock Weekly Price Chart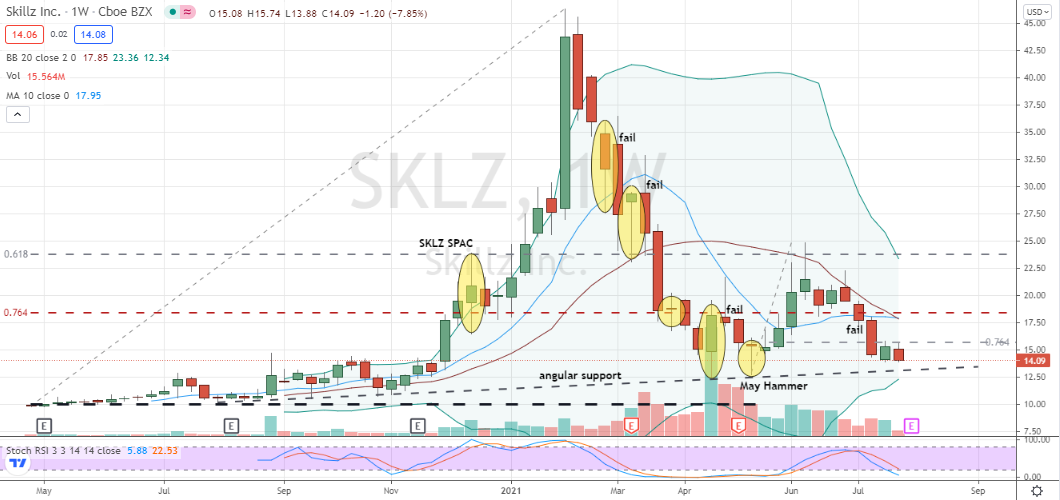 Source:
Charts by TradingView
With SKLZ stock's correction of the past few months shrinking it into a $5.6 billion mid-cap and multiple compression cutting its sales ratio from around 40x to about 16, relative value has undeniably entered the picture. But can SKLZ price chart ensure the absolute health of today's discount?
Technically and toward that end, I'd like to see SKLZ form another pivot low. With angular and Bollinger Band supports nearby, a weekly bottoming candle could be a higher-low, equal or lower-low variation of a double or triple bottom pattern in relation to May's and April's highlighted candlesticks.
Given the earnings report is set to be released after the close of trade on Aug. 3, the desired confirmation could happen quickly. Reasonably, it could also make a clean purchase challenging at best. But for certain, buying SKLZ shares with hedged protection won't be possible in the report's immediate aftermath.
With those real-world limitations in mind and for investors willing to tolerate earnings unique risks, an out-of-the-money bull call spread with its superior leverage and ironclad defensive qualities makes sense.
One favored combination which investors can cheer alongside other turf battles of importance, and which looks good off and on the SKLZ stock price chart is the January $17.50/$25 bull call vertical.
On the date of publication, Chris Tyler does not hold (either directly or indirectly) positions in any securities mentioned in this article. The opinions expressed in this article are those of the writer, subject to the InvestorPlace.com Publishing Guidelines.
Chris Tyler is a former floor-based, derivatives market maker on the American and Pacific exchanges. For additional market insights and related musings, follow Chris on Twitter @Options_CAT and StockTwits.