The market's most-shorted stocks have a bad rap as meme plays for Redditors. But not all heavily shorted companies are created equal. As this quarter's earnings season is proving, some have a great deal more than just high short-interest to fuel future gains.
It's hard at best to keep track of what heavily-shorted stocks are holding court with Reddit's ape population. As a group they've had staying power in 2021 that most would never have thought possible. And that's led to a great deal of trading.
From the first whiff of the apes monkey business in January led by GameStop (NYSE:GME) to more recent short squeeze muscling in NeuroMetrix (NASDAQ:NURO) or Meta Materials (NASDAQ:MMAT), the group's over-the-top signature imprints are found on more than a few price charts of today's most-shorted stocks.
Yet by and large, it hasn't ended well in most of those targeted shares.
Most ape-induced price and volume traces left on those companies price charts point at situations where the bears will likely prevail.
But it would be a mistake to think meme stocks traded by apes and stocks with high short interest are one in the same. They're not.
Let's explore three stocks with above-average levels of bears residing in their shares, combined with earnings beats and pullback entries which offer bullish investors longer-term opportunities beyond today's planet of the ape exploits.
Most-Shorted Stocks to Buy: fuboTV (FUBO)


Source: Charts by TradingView
The first of our most-shorted stocks to buy is fuboTV. The most recent data shows short interest of about 18%, but I suspect some of those bears have rightfully tossed in the towel.
The streaming sports upstart pulled off another all-around solid earnings release offering street-beating, growth-filled metrics and boosting guidance. What's more, initial cheers have turned into profit-taking style jeers worthy of a purchase decision.
Technically, the weekly chart of FUBO shows a steep pullback from the bullish earnings reaction. This puts shares of this most-shorted stock near key support backed by July's patterned low off the 50% Fibonacci level.
With stochastics signaling a bullish crossover in neutral territory, this looks like a great spot to play offensively in FUBO. One way to ensure investors don't get sacked on this most-shorted stock is a fully-hedged September $30/$34 collar combination.
Advanced Micro Devices (AMD)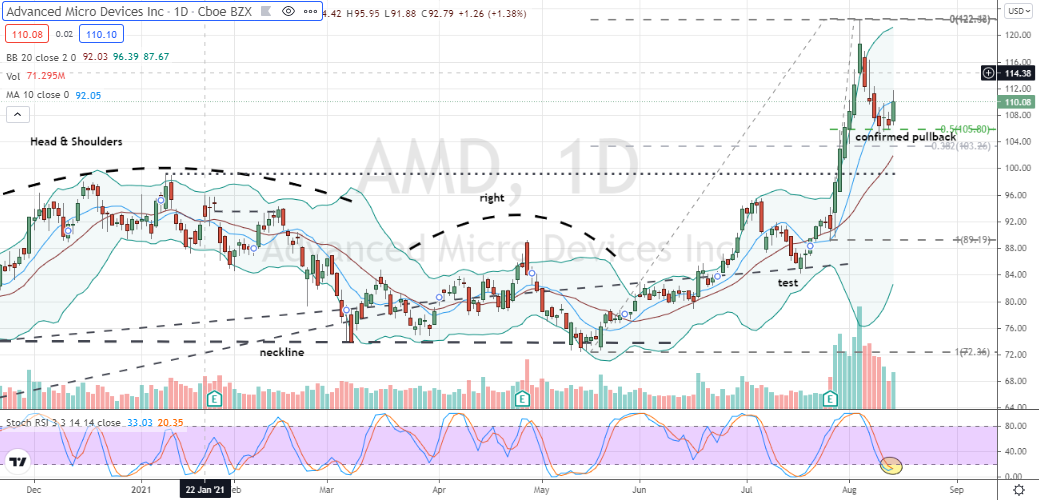 Source: Charts by TradingView
The next of our most-shorted stocks to buy is Advanced Micro Devices. AMD stock isn't your typical high-short interest play as it comes in at roughly 7.5%. That's above-average, but not sounding alarm bells by any means.
On the other hand, AMD's nearly $9.5 billion in shorted stock does make it one of the market's top dollar-weighted bearish plays out there. And those Benjamins are at clear risk.
Late July's earnings unequivocally reaffirmed AMD is a force within the world of semiconductors that's only getting bigger and better with each passing quarter. InvestorPlace's Vandita Jadeja does a nice job of providing additional color on that front.
Technically, a bearish head-and-shoulders pattern which began last summer was cleanly dismembered in the quarterly report's aftermath as this most-shorted stock jumped to new highs.
Today, the aggressive buying binge in AMD has been diffused. Further, with a confirmed pullback test into Fibonacci support and oversold stochastics just now forming a bullish crossover, it's time to buy this most-shorted stock.
One favored approach to gaining leveraged long exposure in AMD stock that looks good off and on the price chart is the October $110/$125 bull call spread.
Most-Shorted Stocks to Buy: AMC (AMC)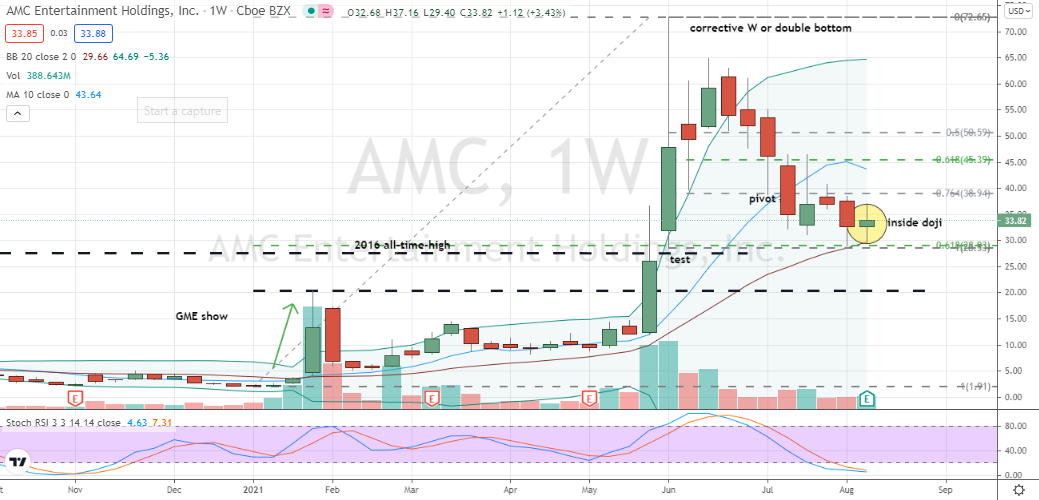 Source: Charts by TradingView
The last of our most-shorted stocks to buy is AMC Entertainment. Not that I saved the best for last, I didn't. But I did keep the most notorious of our earnings-driven purchases as today's closing act.
One of the market's original short-squeeze meme stocks from January sports much lower, but still significant short interest of around 17% as of the end of July. And there's good reason for the reduction.
Courtesy of the apes' bullish escapades this year AMC has been able to vastly improve its financial prospects by tapping the capital markets with secondaries. Now, the show may truly be able to go on following this most-shorted stock's better-than-expected earnings release.
The company freely admits it's "not out of the woods." But if we're to trust in the forward-pricing ability of AMC stock's price chart, a ray of light is poking through which may guide shares into the clear.
Technically, this most-shorted stock could be putting the finishing touches on a hard-hitting correction. Approaching Friday's closing bell shares formed a weekly inside doji decision candle that's testing the 62% Fibonacci level and prior all-time-high from 2016.
With stochastics in oversold territory, bullish pattern confirmation accompanied by a crossover signal looks like a terrific opportunity to buy a collar and cheer on a second act for this most-shorted stock.
On the date of publication, Chris Tyler holds (either directly or indirectly) positions in Advanced Micro Devices (AMD). The opinions expressed in this article are those of the writer, subject to the InvestorPlace.com Publishing Guidelines.
Chris Tyler is a former floor-based, derivatives market maker on the American and Pacific exchanges. For additional market insights and related musings, follow Chris on Twitter @Options_CAT and StockTwits.