Tilray (NASDAQ:TLRY) has been guilty of stinking up the joint as a meme stock in recent months. But following TLRY stock earnings this past week, high times may be on the horizon.
Let's take a look at the Tilray price chart, then offer a risk-adjusted determination aligned with those findings.
It's up on the year. But as with most meme stocks, for every Reddit ape that's profited from TLRY stock in 2021, it's fair to say many more are likely up to their eyeballs in a bad trade.
By the official year-to-date count, Tilray shares have gained an impressive 69% through Wednesday's close. That's the good news.
The other, more glaring eyesore is that TLRY has traded lower in a bearish correction for nearly six months now. And painfully, TLRY's bearish cycle has been six times as long as the period when shares scorched their way higher in a brief over-the-top bull rush.
More challenging for those who thought they were buying a powerful momentum trade ($8.25 to $67 in just a handful of weeks), Tilray has also shed a full 80% from the highs to trade around $14 a share.
Today though, a pleasant whiff of the cannabis producer returning to growth, profitability and promising outlook should have other bullish investors' attention as a stock to own.
Reporting for the first time since merging with fellow Canuck and grow shop Aphria in May, TLRY revealed sales growth of 25% on revenues of about CAD 142 million for its fiscal fourth quarter.
Impressively, Tilray also managed a complete U-turn with its free cash flow, generating CAD 3.3 million compared to 2020's loss of CAD 28.3 million.
Looking ahead, management is forecasting revenues of CAD 4 billion by 2024 and a sizable near seven-fold increase over this fiscal year's CAD 513 million in sales.
As a bonus, there appears to be a great deal more of upside potential to Tilray's estimates than downside risk.
Tilray's popular portfolio spanning its well-distributed CBD products, the SweetWater Brewing operation, a well-entrenched medical marijuana business in Germany and solid Canadian market share suggest any positive relief in the U.S. cannabis market is only icing on the cake for bulls that should be grazing on a well-positioned TLRY stock.
TLRY Stock Weekly Price Chart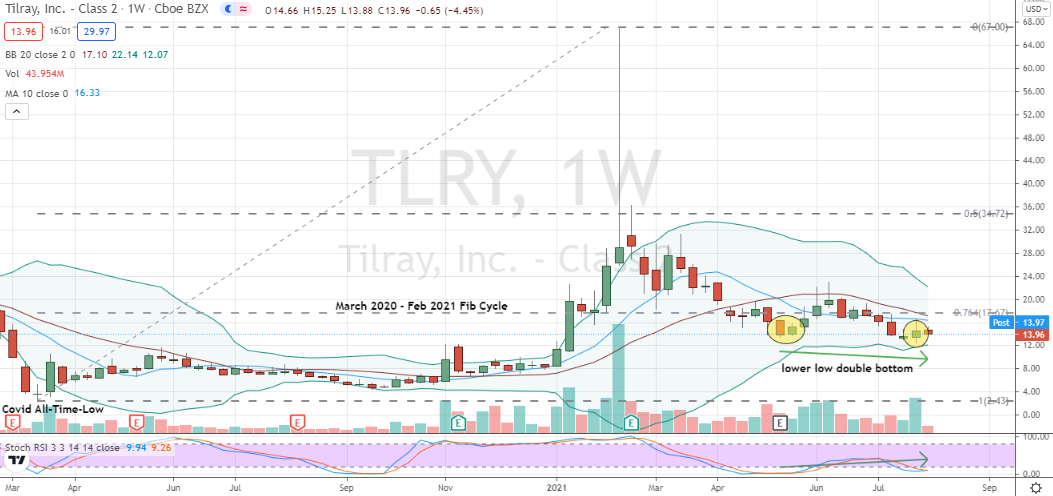 Source:
Charts by TradingView
It's not only Tilray's businesses and products that have an advantaged platform for longer-term growth. Today there's also TLRY stock's price chart.
Technically, shares are in the process of putting together a lower-low, double-bottom variation on the weekly chart. The set up is bullish, though not without flaws. That should be okay though.
For some investors, the pattern's placement beneath the 76% retracement level could be cause for concern. But given the flattening Bollinger Band the formation is using as support, as well as a bullishly-divergent stochastics setup, I'm upbeat shares can rally out of the deep corrective base.
The real problem (or slight challenge) for bulls is TLRY's volatility. If nothing else, the 80% decline since February is an obvious warning. Closer to the action, the sizable dollar width of the current pattern's smallish-looking weekly bottoming candlestick is another.
Given the stock's steep volatility, a common stop-loss strategy of 7% to 10% increases the odds of TRLY stock traders taking a loss inside noisy and less meaningful price action, rather than benefiting from a reliable tool to keep bulls out of harm's way longer-term.
But volatility is a two-way street. And a TLRY stock collar strategy can position investors to take advantage of that price behavior.
Classically, this this type of hedged position leans long deltas and wants the underlying stock to rally. But a collar's long put and short call options can be easily adjusted as shares move violently up and down. And that's key.
Today one collar which looks right as a starting point both off and on the TLRY stock chart is the December $17/$25 combination.
On the date of publication, Chris Tyler did not have (either directly or indirectly) any positions in the securities mentioned in this article. The opinions expressed in this article are those of the writer, subject to the InvestorPlace.com Publishing Guidelines.
Chris Tyler is a former floor-based, derivatives market maker on the American and Pacific exchanges. For additional market insights and related musings, follow Chris on Twitter @Options_CAT and StockTwits.