Gold stocks were reeling Thursday on the heels of widespread selling in precious metals. The losses are coming even as the rest of the stock market is drifting, so it's not as if this is part of a broader risk-off environment. While that should be a comforting fact for those holding a diversified portfolio, it doesn't exactly lessen the sting for traders heavily invested in gold miners.
Gold prices closed down more than 2%, while silver slid just shy of 4%. Unfortunately, the higher beta of gold mining companies has their share prices following closer to silver than gold. Still, with the industry ETF down more than 4% in mid-day trading, there is at least one reason for hope. Some gold-related charts are sitting at major long-term support zones. This provides interesting trading opportunities depending on whether you want to bet that the floor holds or fails.
I've scanned the most liquid candidates in the gold mining space and narrowed it down to three worth trading.
To provide variety, I'll share two bullish-leaning ideas and one bear. Then, you can take your pick depending on whether you want to bet for or against this week's bearish breakout attempt.
Gold Stocks Sinking Like a Stone: Gold Miners ETF (GDX)
GDX was the first and most obvious choice for gaming the gold drop. It's Wall Street's most liquid vehicle for playing gold miners and offers plenty of diversification. The $31 price zone has acted as major resistance and then significant support for the past two years. We've tested it three times previous to this week, and all three saw buyers play defense.
The amount of volume and momentum behind Thursday's selloff could be suggesting the odds of breaching support are high, but GDX's posture during its previous declines to this level was no less scary. While I think selling puts would be the obvious contrarian idea here, I'm disappointed there hasn't been more of a spike in implied volatility accompanying the plunge. As a result, put options aren't all that juicy.
The more attractive play if you're a bear is to buy put spreads.
The Trade: Buy the November $31/$28 put vertical for $1.
You're risking $1 for the chance to make $2 if GDX pushes below $28.
Newmont Mining (NEM)
As one of the largest holdings in GDX, it's hardly surprising that Newmont Mining is also perched on a precipice. Ever since NEM stock blasted above $55 during last year's recovery, it has acted as a major floor. However, with the sharp decline, prices are once again probing support. While the falling 200-day, 50-day, and 20-day moving averages suggest lower prices are coming, it's worth waiting to see if buyers will again step up to defend their turf.
If they do, this could be a good spot to initiate bullish plays. You'll need some bravery to pull the trigger, though. Alternatively, if support cracks, I wouldn't rule out a swift move to $50. If you're willing to bet on the latter, then enter this position.
The Trade: Buy the November $55/$50 put vertical for $1.60
You're risking $1.60 to potentially capture $3.40 if NEM falls to $50 by expiration.
Gold Stocks Sinking Like a Stone: Barrick Gold (GOLD)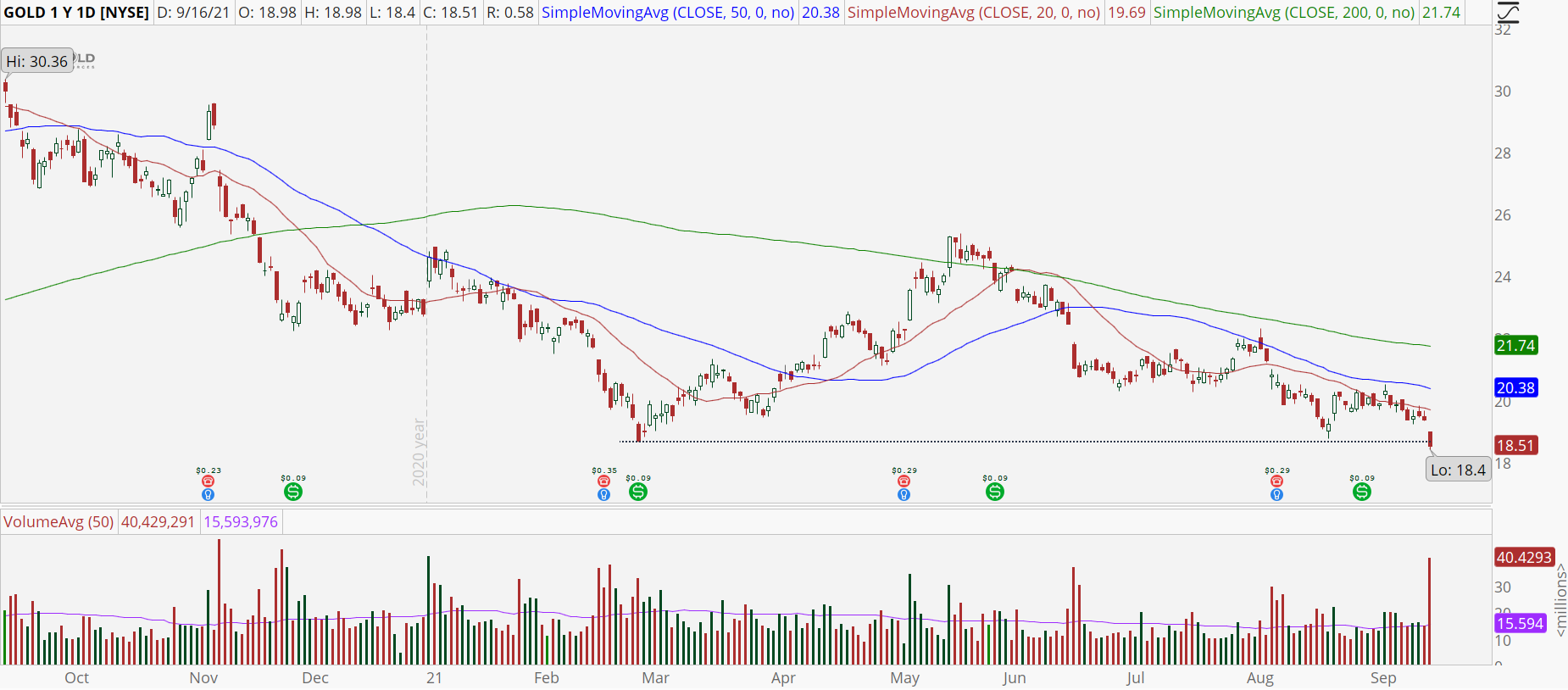 Barrick Gold rounds out our trio of struggling gold stocks. Of the three, GOLD has the most mature downtrend and is furthest from its peak. Thursday's plunge saw over 40 million shares traded, marking the second most active session of the year.
Bears will point to the volume surge as an ominous sign that institutions are abandoning ship. Bulls, on the other hand, might argue the outsized participation suggests capitulation.
Time will tell which path the stock trods. Since we've already provided two bearish ideas, let's take the contrarian route with GOLD by selling naked puts. Its cheap price tag keeps the margin requirement minimal.
The Trade: Sell the October $18 put for 38 cents.
Consider this a bet that GOLD will be above $18 at expiration. If it's not, you will be required to buy 100 shares of stock at an effective purchase price of $17.62.
On the date of publication, Tyler Craig was LONG GDX. The opinions expressed in this article are those of the writer, subject to the InvestorPlace.com Publishing Guidelines.
For a free trial to the best trading community on the planet and Tyler's current home, click here!