Insider Trading Rises Again
In early August, I suggested investors consider online lender GreenSky (NASDAQ:GSKY) as an alternative to high-priced Robinhood (NASDAQ:HOOD).
"Long-short investors would have netted a 100% return after Goldman Sachs (NYSE:GS) announced a $12/share takeover offer last week."
But that wasn't enough for some insiders. On Friday, news broke that at least one investor had entered some suspiciously timed options bets. The calls would have seen gains of 1,700% or more. Too bad no one told them that the Securities and Exchange Commission watches acquisition-related trades like a hawk on Adderall.
But it's just the latest in a long string of recent insider trading busts. Last week, OpenSea suspended an executive over insider trading allegations. And U.S. officials are now expanding their investigation into crypto exchange Binance over "whether Binance or its staff profited by taking advantage of its customers."
Of course, not all "insider" trading is illegal. Corporate officers and directors must publicly disclose insider transactions to the SEC, leaving breadcrumbs for outsiders to follow. And funds must routinely disclose their positions to the same effect.
Today, we'll turn our attention to one such fund — Cathie Wood's ARK Invest — and see what gems Wall Street insiders might have found.
ARKK's Insider Moonshots
Back in June, I suggested that readers look into the key companies on the leading edge of CRISPR research. It turns out that Cathie Wood's team was equally interested. Two of those companies — Intellia (NASDAQ:NTLA) and Editas (NASDAQ:EDIT) — have risen 105% and 74% over the past 3 months, making them ARKK Invest's (NYSEARCA:ARKK) best Q3 performers by a long shot.
That got me thinking: what other Moonshots are hiding in Cathie Wood's ARK Invest funds? After all, it's perfectly legal to copy what Wall Street insiders are doing.
Here are some of the Moonshot gems I've found.
Skillz (SKLZ)
Starting us off is ARKK's worst-performing stock of Q3: Skillz (NYSE:SKLZ).
After breaking through $46 in the spring, shares of the gaming platform have tanked. Prices are now hovering around their $10 SPAC listing level.
Behind the company's well-known growing pains however, is a cheaply valued tech star that's transforming mobile gaming.
Skillz operates an app-based platform that allows players to compete for cash payouts. Its three flagship games — Blackout Bingo, Solitaire Cube, and 21 Blitz — are some of the top-grossing apps on the App Store.
Much like Roblox (NYSE:RBLX) and other "app-platform" companies, Skillz has learned from the mistakes of one-hit-wonder gaming companies. Rather than chase blockbuster hits, the firm offloads the task to its 9,000 affiliate developers and instead focuses on building the underlying code to make it all possible.
Share prices are also down significantly. Skillz's current 14x P/S valuation makes it 20% cheaper than the median ARKK stock despite growing 50% faster. It's a potential Moonshot waiting to rocket back.
UiPath (PATH)
Next is a company owned by all six of Cathie Wood's funds: UiPath (NYSE:PATH).
Taking a closer look, it's not hard to see why.
UiPath creates software that automates repetitive tasks — gathering customer data during calls, converting handwritten documents to text, flagging suspicious transactions and so on. It's an industry that's ripe for change — business outsourcing firms like Conduent (NASDAQ:CNDT) still largely rely on humans to perform these tasks behind the scenes.
And that's why analysts expect UiPath's revenue to increase 33% next year and 30% the year after. Profits are expected to increase sevenfold.
From an insider perspective, there's some reason for concern. Corporate insiders, particularly the CFO, have been cashing out of shares. And UiPath's rapid growth has left holes in its once top-notch management, creating opportunities for competitors to catch up.
Still, UiPath remains one of the best bets on AI-based automation — even IT management firm Gartner agrees. And PATH's falling price is actually a benefit, since companies from Microsoft (NASDAQ:MSFT) to Amazon (NASDAQ:AMZN) might seek to acquire the firm.
Genius Sports (GENI)
Finally, we have one of the fastest-growing companies in the ARK Invest portfolio: Genius Sports (NYSE:GENI).
In April, this London-based firm replaced Sportradar (NASDAQ:SRAD) as the official data provider for the NFL. The deal — potentially worth $1 billion — makes GENI the only authorized source of American football's play-by-play stats and sports-betting data feeds. The tech firm now also controls the rights to the English Premier League and NASCAR, among others.
It's no surprise that many Wall Street insiders and Reddit users are bullish about GENI:
"According to our research… the three major sports betting categories combined could generate 31% revenue growth at a compound annual rate, increasing the online sports betting category from $9.5 billion last year to $37 billion in 2025."
— Nicholas Grous, Analyst, ARK Invest

"$GENI 20K YOLO"
— some Reddit user
Of course, the firm is still a Moonshot. GENI's business model gives sports leagues major leverage over margins. And its $4 billion valuation means management will have to develop platform offerings to become a 10x returner.
Nevertheless, insiders are holding onto their shares post-lockup period. And if that lack of insider selling is any guide, GENI still has room for major growth.
Bottom Line: Despite some headwinds, SKLZ, PATH and GENI look like tempting buys at current prices.
When Moonshots Are a Leap Too Far
Not everything Cathie Wood touches, however, turns to gold. Occasionally, these risky Moonshots can leave investors tasting ashes. And one in particular stands out.
TuSimple (TSP)
Earlier this month, one of my friends received great news: he had been hired by TuSimple's (NASDAQ:TSP) competitor: Tesla's (NASDAQ:TSLA) autonomous driving (AV) unit. As one of the top coders in his industry, he found Tesla a natural fit — Elon Musk's firm has become a leader in driverless cars.
Meanwhile, TuSimple is falling further behind.
First, top engineers are hard to come by. As my good friend shows, the best AV researchers are already working at established firms. Poaching talent can involve multi-million-dollar acquisitions.
Second, TuSimple's safety record is questionable. The firm took more than a year to report one accident, according to industry watcher FreightWaves. And anonymous employee reports — from Glassdoor to Indeed — point to a culture that deprioritizes safety.
Finally, the company has already failed to deliver on promises. Fundraising documents from 2016 suggested revenues of $284 million in 2020 and $1 billion in 2021. Considering that sales are still virtually zero, it's hard to see how the company hopes to deliver $12 billion in revenues by 2026.
Bottom Line: Speculators could pump up TSP shares in the short term. But it isn't a good long-term Moonshot pick.
How Successful is Cathie Wood's ARK Invest?
| | |
| --- | --- |
| 2014 | The year ARK Invest was founded. |
| $1.5 Billion | Total assets under management by all ARK funds by 2018. |
| $52 Billion | Current assets under management by ARK funds. ARKK's 48.65% 5-year return is 3.5x greater than competing funds. |
| 4.5 | The Sharpe Ratio for ARK Innovation ETF (ARKK) in March. (Any figure >2.0 is considered strong, while 1.0 is average). ARKK's Sharpe Ratio has since fallen to 1. |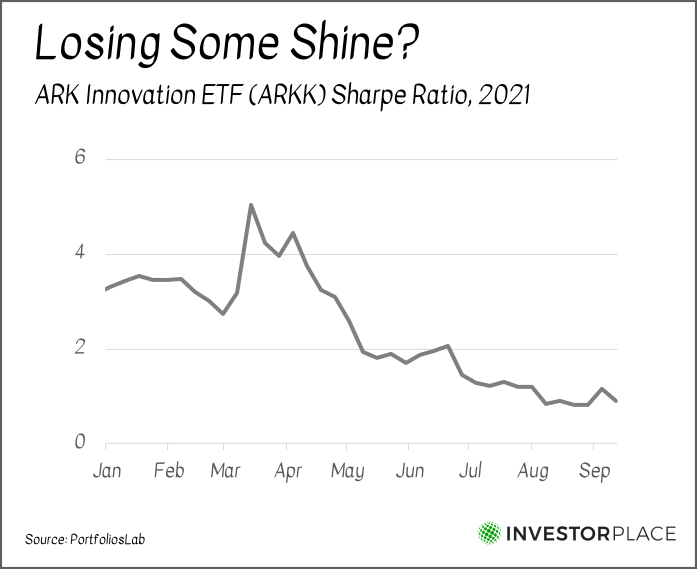 China Vs. the World
Evergrande (OTCMKTS:EGRNY) is NOT the next Lehman Brothers, writes Louis Navellier. Here's why our resident Growth Investor believes that market fears are opening an opportunity to buy the dip in U.S. stocks.
China's troubles are also creating an opening for American-made goods, says Eric Fry. He picks out three tech stocks that are benefiting from the "Yes in My Backyard" movement.
And finally, when it comes to high-growth electric vehicle stocks, retail investors have typically turned to Nio (NYSE:NIO) or other Chinese EV makers. Faisal Humayun makes the case U.S.-based Lucid Motors (NASDAQ:LCID) could be the eventual winner in the world market.
Insider Trading Remains Legal… in Cryptoland
In 1909, the Supreme Court laid ground rules that prohibited stock insider trading.
But the court's legal decision proved toothless. Strong v. Repide "did not address the issue of who was an insider," according to a report by The New York Times. It would take Congress another quarter-century to pass enforceable laws.
Today, cryptocurrency markets are looking much like the go-go days of pre-1934 stock trading. There's no rule banning insiders from trading their own cryptocurrencies, which means developers regularly dump their coins or launch "rug pulls" on unsuspecting investors.
SEC Chairman Gary Gensler would like to change that. The SEC has aggressively hounded Ripple Labs and Coinbase (NASDAQ:COIN), among others, for running unregistered IPOs and unlicensed lending.
But the road to regulation can often take years to come to fruition, as the 1934 Securities Exchange Act proved. Until then, cryptocurrency (and many other new-finance areas) will remain a Wild West of investing. Good luck out there, cowboys (and cowgirls!)
P.S. Do you want to hear more about cryptocurrencies? Penny stocks? Options? Leave me a note at moonshots@investorplace.com or connect with me on LinkedIn and let me know what you'd like to see.
FREE REPORT: 17 Reddit Penny Stocks to Buy Now
Thomas Yeung is an expert when it comes to finding fast-paced growth opportunities on Reddit. He recommended Dogecoin before it skyrocketed over 8,000%, Ripple before it flew up more than 480% and Cardano before it soared 460%. Now, in a new report, he's naming 17 of his favorite Reddit penny stocks. Claim your FREE COPY here!
On the date of publication, Tom Yeung did not have (either directly or indirectly) any positions in the securities mentioned in this article.
Tom Yeung, CFA, is a registered investment advisor on a mission to bring simplicity to the world of investing.