ChargePoint Holdings (NYSE:CHPT) has long since lost any measure of a positive charge with investors. But based on growing evidence off and on the price chart, now may be a terrific time to give CHPT stock a second look for your portfolio.
Electric vehicles (EVs), and just about every publicly-listed technology stock related to them, were all the rage in 2020 with barely a worry about bearish traffic. Just look at Tesla (NASDAQ:TSLA), Arrival (NASDAQ:ARVL), QuantumScape (NYSE:QS) and Velodyne (NASDAQ:VLDR).
That's not exactly breaking news. The bubble-like returns — often at the hands of Reddit users — were a popular precursor to this year's short-squeeze spectacle led by GameStop (NYSE:GME) and AMC Entertainment (NYSE:AMC).
Among those transportation tech companies showcasing a grand finale was ChargePoint, North America's largest EV charging outfit. Shares raced higher by more than 200% in last year's fourth quarter — but it didn't last.
CHPT Stock and the EV Crash
Unsurprising for students of investing, the bullish fever for all things EV turned punishingly asymptomatic. And CHPT, despite its moat-like leadership, wasn't immune to the fallout.
Much of the blame was directed at a dizzyingly fast reassessment of risk. It was easy to see why this happened; many novel EV technologies had yet to put the rubber to the road. Trading for billions on wildly optimistic "what will be" forecasts had become the accepted norm in 2020, and pushback was inevitable.
But more than six months into Wall Street's new bearish normal for CHPT stock, a better tomorrow for the EV charging station leader could be close at hand.
President Joe Biden's administration is aggressively pushing for 40% to 50% of all new cars to be outfitted as EVs by 2030. Notwithstanding the unfinished Congressional haggling and political broken promises, it still stands to be huge.
ChargePoint already has a commanding and diversified infrastructure advantage. The company can claim approximately 30,000 charging ports at roughly 18,000 North American locations, so tens of millions could be up for grabs.
The EV charging buildout is forecasted to balloon to $145 billion in sales over the next five-plus years for a very attractive compounded annual growth rate of 33%.
August's most recent quarterly results already demonstrated Chargepoint's ability to fire on all cylinders. Revenues jumped 61% from the year prior and management hiked its full-year sales guidance by 15%. The road ahead looks to be pointed in the right direction for ChargePoint.
CHPT Stock Monthly Price Chart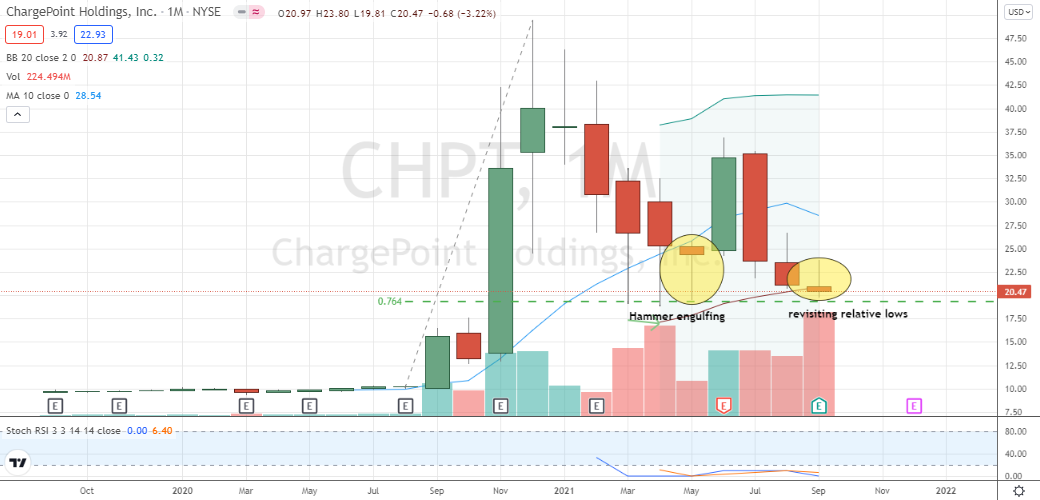 Source: Charts by TradingView
At this point in time, ChargePoint's scale is an advantage. And given management's outlook, as well as the overall political and social will to shift toward EVs, CHPT stock appears to be a certain beneficiary.
And today, the monthly price chart is poised to align itself with a more bullish price cycle leading into next year.
As with much of the broader market, September hasn't been entirely kind to CHPT stock. Shares are down nearly 4% for the period. Still, it's a modest decline for a stock of ChargePoint's caliber.
What's more, this year's correction of around 50% put shares in a double-bottom testing position of the lows seen this past spring and early summer, which formed off CHPT's lifetime 76% retracement level.
Today, and without investors getting ahead of themselves, I'd recommend putting ChargePoint on a watchlist for a buying opportunity come October if the bullish bottoming pattern is confirmed.
This purchase advice might appear to be a ways away. And in some ways, it is. On a percent basis, a rally of nearly 16% would need to happen first. But given CHPT's volatile and recently bearish price history, that day — and a more significant bullish cycle built on something other than despair — appears increasingly likely.
On the date of publication, Chris Tyler does not hold (either directly or indirectly) any positions in securities mentioned in this article. The opinions expressed in this article are those of the writer, subject to the InvestorPlace.com Publishing Guidelines.
The information offered is based upon Christopher Tyler's observations and strictly intended for educational purposes only; the use of which is the responsibility of the individual. For additional market insights and related musings, follow Chris on Twitter @Options_CAT and StockTwits.