It has soared higher and crashed. And for good measure, it has done it on more than one occasion. I'm talking about Joby Aviation (NYSE:JOBY). Looking ahead though, what's the forecast for buyers of JOBY stock?
In its short life as a special-purpose acquisition company (SPAC) and more recent, as a "de-SPAC'ed" JOBY stock, investors have been on quite the treacherous adventure.
Not that Joby's shareholders have been alone, or that today's darker cloud cover hasn't been without warning either.
Trading around its net asset value of $10 per share last November as blank check company Reinvent Technology Partners, shares rocketed approximately 70% to $17 by mid-February.
The stock gained much of its power thanks to carryover from 2020's go-go SPAC days featuring QuantumScape (NYSE:QS), Opendoor Technologies (NASDAQ:OPEN) and a wave of hot newly listed technology companies. Indications that RTP could land Joby Aviation as its targeted acquisition also helped heat things up for investors in the best sort of way.
But if timing is everything, as a first-mover in the still conceptual "all-electric, vertical takeoff" (eVTOL) air-taxi space, Joby Aviation sorta missed the boat.
A Quick Look at JOBY Stock
Mid-February of course marked an undesirable tipping point out of riskier, higher and no-multiple growth stocks and into more cyclical, value plays. And it came at JOBY's expense quickly thereafter.
From modest profit-taking, RTP's official merger with JOBY announced on Feb. 24 turned into a classic sell-the-news event. This shouldn't have been so surprising, however. Wall Street developed newfound scrutiny of high-flying growth narratives. As such, Joby's agreed upon $6.6 billion post-money equity value, unsurprisingly looked less agreeable in a risk-off environment.
By late March into early August, the outfit's partner, Reinvent Technology, hoovered in a holding pattern near $10 a share. Then, in lieu of 2021's SPAC-challenged market, volatility once more became a feature of JOBY stock.
There was a "modest" crash below $10 in front of JOBY's NYSE Aug. 11 debut, then a vertical take-off in shares … shortly followed by price action hitting new lows.
Having the stomach for gut-wrenching volatility has continued to be a prerequisite for JOBY stock investors over the last few weeks. A high-flying bid propelling JOBY shares up more than 60% to a high of $13.30 in just six sessions has been unwound almost entirely over the last couple weeks compounded by the announced registration of $835 million of PIPE shares.
With all of that in mind, let's take a closer look at what to expect from the stock moving forward.
JOBY Stock's Weekly Price Chart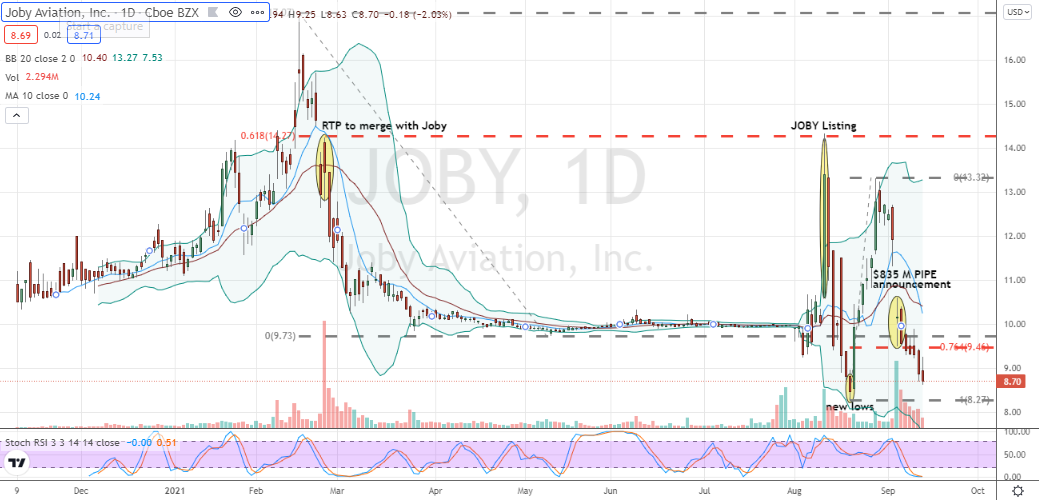 Source: Charts by TradingView
It may seem like JOBY stock's headwinds will never end. But as InvestorPlace's Luke Lango notes, Joby Aviation is the kind of well-positioned, revolutionary growth story that doesn't come along that often.
Luke estimates that by being ahead of the curve in JOBY could lead to the sort of life-changing returns most investors only dream of.
Think what a purchase of Apple (NASDAQ:AAPL) or Amazon (NASDAQ:AMZN) twenty years ago would look like today in your investment account. That's the type of performance Luke sees as possible for a pioneering JOBY stock.
Whether Joby Aviation's current market price of $8.70 and $5.5 billion valuation will look like tarmac-style positioning obviously won't be known for years to come. But JOBY's commercial eVTOL taxi operation is expected to begin in earnest in 2024.
Watch out Uber (NYSE:UBER)! Get out of the way, Lyft (NASDAQ:LYFT)? Joby has a great story and it's an operation run by a top-notch management team. But today I'd opt for a hedged JOBY stock position.
Ultimately, with two-plus years until any paying flights across town are expected, a mid-cap valuation and a history of more dizzying downs than ups in JOBY, an actively managed collar makes the most sense in my opinion.
On the date of publication, Chris Tyler did not have (either directly or indirectly) any positions in the securities mentioned in this article. The opinions expressed in this article are those of the writer, subject to the InvestorPlace.com Publishing Guidelines.
Chris Tyler is a former floor-based, derivatives market maker on the American and Pacific exchanges. For additional market insights and related musings, follow Chris on Twitter @Options_CAT and StockTwits.