Crypto Fans Are Saying #buythedip
In case you didn't notice, Bitcoin (CCC:BTC-USD) prices dipped below $45,000 over the weekend. A combination of Chinese real estate fears and the prospect of greater stablecoin regulation sent crypto prices into a downward spiral.
NFTs are also down. The average Cryptopunk price dropped below $400,000 on relatively muted sales. Artblocks and Bored Ape Yacht Club are sharing the same fate.
"Choppy trading is ahead, and long-term holders will need to batten down the hatches," I wrote last Wednesday. And that's precisely what happened.
But some cryptocurrencies are still rising. My top 2021 Spamcoin pick, Shiba Inu (CCC:SHIB-USD) is up almost 10% after its addition to cryptocurrency exchange Coinbase. And Gravitoken (CCC:GRV-USD) — a coin that operates much like former +4,500% Moonshot pick GoesUpHigher (CCC:GUH-USD) — has more than tripled.
As retail investors scream #buythedip and other calls to action, low-quality Spamcoins and Sh*tcoins will outperform their higher-quality peers — at least temporarily. For risk-seeking investors, it's time to shoot for the stars again.
The #1 Cheapest Crypto Stock Is Coming to the U.S.
I've long told readers that cryptocurrency mining is a lousy business. Firms spend millions of dollars buying up pricey mining rigs, only to see their values go to zero after a couple of years.
But here's the key: when you're running a long-short portfolio, only relative performance matters.
Consider the long-short I set out last spring: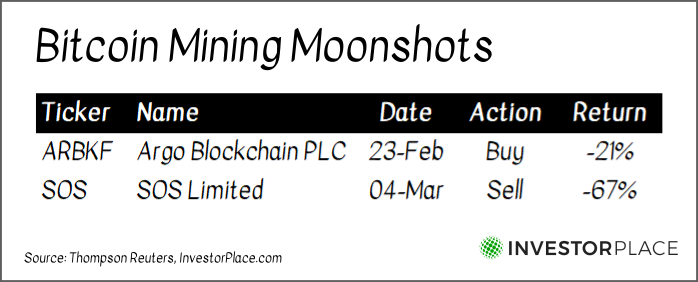 First published in Moonshot Investor on Sept. 15, 2021
Any investor buying that portfolio would have walked away with a 46% gain. Not bad, considering the average Bitcoin miner declined -43% during that period.
Now that same Rising Star — Argo Blockchain (OTCMKTS:ARBKF) — has a new catalyst behind it.
Renewing Buy Rating on Argo Blockchain
Last week, Argo finalized plans to list on the Nasdaq exchange. Each share of the new ticker, ARBK, will represent ten of the U.K. listed firm's OTC shares.
That's great news for the cryptocurrency firm.
Argo Blockchain has long traded at a significant discount to peers despite achieving high profitability. The company's forward price-to-earnings (P/E) ratio sits at 11.5x, around a third of U.S. competitors.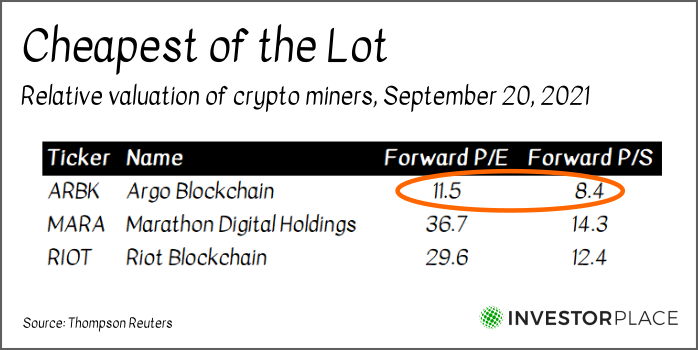 That looks set to change with its Nasdaq ADR listing. Rather than resorting to inefficiently-priced OTC stubs, U.S. investors can now buy listings more directly. As volatility roils the cryptocurrency markets, Argo looks set to outperform its less well-managed peers.
A New British Invasion
From the start, CEO Peter Wall has kept a close eye on expenses. Earlier this year, the firm canceled an order for 5,000 S17s miners, instead opting for 10,000 T17s in a deal that cut their cost-per-hash by 50%. Put simply:
Argo Blockchain: $951 per rig at $4,548 profit per year → 2.5 month ROI.
Marathon (NASDAQ:MARA): $4000 per rig at $10,195 profit per year → 4.7 month ROI.
Add in the fact that Marathon now depreciates mining rigs over 5 years — compared to Argo's 3 years — and it's clear that accounting shenanigans are masking a growing divergence between the U.S. firm and the U.K. one.
Though investors might be fearful of a massive crypto pullback, balancing your portfolio as a hedge fund does can help you ride out the volatility.
Bottom line: Buy Argo Blockchain with an offsetting position in Marathon Digital Holdings.
Gravitoken: Goes Up Higher 2.0
Last Friday, a new token caught my eye — Gravitoken.
"The supply is mathematically guaranteed to increase in price until it reaches a ceiling of 1,337,000 USD per token," according to GRV's whitepaper.
Essentially, the token operates much like Goes Up Higher (or an inflationary currency like the Venezuelan Bolivar in reverse). By burning coins at set intervals, the token will theoretically go up in price as supply decreases, — assuming no change in market capitalization, of course.
Whose coins get burnt, however, isn't so clear. Rebasing a currency means affecting every user unless the token buyback (set at 3.27% of transactions) covers the amount. And careful readers will notice that another 3.27% of transaction fees are unaccounted for.
Both of these issues trigger my "Spamcoin" filter for this token. But as GRV continues to rocket up the charts, you can bet that growth-hungry investors will jump in, at least for the short term.
Bottom Line: Consider Gravitoken for a short-term crypto flip.
SOS Limited
Last Wednesday, my InvestorPlace colleague Mark Hake examined the questionable finances of SOS Limited.
"The problem is that I cannot find where its reported profits have shown up in its balance sheet, either as cash or real money."
Apologies, Reddit fans, but he's right: something seems off.
Though American investors in SOS stock might think of the firm as a crypto miner, the company really looks more like a typical Chinese financier. 84% of its revenues are derived from "commodity trading from a small number of clients." And much like many Chinese financing firms, SOS's balance sheets are an accountant's nightmare.
The firm joins a host of other Chinese financing companies with opaque numbers. Many of these companies — particularly those dealing with Wealth Management Products (WMPs) — are experts at making money disappear. SOS has done it more hamfistedly, parking over $250 million in vague "inventory" and "prepayments" categories, but any Moonshot investor will know that SOS has broken a Golden Rule of Penny Stock Investing.
Bottom Line: Though it's open season for risk-on crypto investing, investors can do better than SOS Limited.
The Future of Driving
Though electric vehicle stocks have had a lousy no-good summer, one Chinese darling looks set to recover, according to InvestorPlace's Louis Navellier. Here's why he believes the slump in Nio (NYSE:NIO) won't last forever.
Autonomous vehicles are still missing one key hardware component: Lidar. But three companies are racing to change that. Joanna Makris dives into the firms leading the charge.
Last week, Baidu (NASDAQ:BIDU) launched its robotaxi service in Shanghai, marking it the latest step in autonomous vehicle adoption. According to Luke Lango, however, finding the grand slam investments will be challenging. He takes a look at potential winners in his Innovation Investor newsletter.
Who Wants to Be a Cryptocurrency Miner?
| | |
| --- | --- |
| $120.7 million | Dollar amount paid by Marathon Digital Holdings last month for 30,000 S19J cryptocurrency miners. |
| 4-10 months | Potential date of delivery for the 30,000 machines. Extreme demand for Bitmain's flagship cryptocurrency miner has limited how quickly companies can receive machines. |
| $180 million | Profits potentially foregone by Marathon due to production delays. |
| 3 | Number of years cryptocurrency mining rigs typically stay profitable. The three-year-old Antminer Z9 now barely breaks even after electricity costs, for instance. |
Choppy Trading Ahead
InvestorPlace's resident tech expert Joanna Makris sent out a warning this week. Q2 earnings look uneven, she noted. Many tech companies will likely miss Street estimates.
Already, these fears are slowly filtering through financial markets. Earlier today, the Dow Jones opened down -500 points for the seventh time this year.
Moonshot readers will know that crypto will follow the same path. When it comes to price movements, Bitcoin looks more like high-beta stocks like Tesla (NASDAQ:TSLA) than low-risk assets like gold (mathematical correlations aside, consider how BTC prices fell out of bed at the start of the Covid-19 pandemic in 2020).
That means careful investors should avoid buying the dip for now, especially for higher-quality assets. Fading momentum in big tech stocks is a bad sign for all other investments.
But those willing to take risks can still find Moonshots, especially as other investors get sick of losing money in Bitcoin and start "reaching for returns."
P.S. Do you want to hear more about cryptocurrencies? Penny stocks? Options? Leave me a note at moonshots@investorplace.com or connect with me on LinkedIn and let me know what you'd like to see.
FREE REPORT: 17 Reddit Penny Stocks to Buy Now
Thomas Yeung is an expert when it comes to finding fast-paced growth opportunities on Reddit. He recommended Dogecoin before it skyrocketed over 8,000%, Ripple before it flew up more than 480% and Cardano before it soared 460%. Now, in a new report, he's naming 17 of his favorite Reddit penny stocks. Claim your FREE COPY here!
On the date of publication, Tom Yeung did not have (either directly or indirectly) any positions in the securities mentioned in this article.
Tom Yeung, CFA, is a registered investment advisor on a mission to bring simplicity to the world of investing.