Pinterest (NYSE:PINS) has been out of style in 2021. But if you think PINS stock is ready for a trendy comeback with Wall Street's bulls think again.
Let's look at some factors weighing in on Pinterest today and why putting any buy decisions on hold for a smarter discount on shares makes sense.
It's September and entering the back half of the month, seasonal weakness has modestly worked its way into the broad-based, large-cap S&P 500. It's not a full-blown lockdown mind you, but it's something.
And given 11 straight months of record highs for the market bellwether, that something could be the start of something more. PINS stock hasn't been immune to the adverse price action either.
PINS Stock Decline Is Not Unique
The visual discovery platform's shares are down about 2.5% compared to the S&P 500's decline of about 1%.
Still, coming into September PINS was already off by more than 15% compared to a gain of nearly 20% in the broader market. It hardly seems fair, right? Hardly.
The weakness in PINS stock is scarcely unique. Most of last year's 'stay-at-home' winners such as Peloton (NASDAQ:PTON), Zoom Video (NASDAQ:ZM), Teladoc (NYSE:TDOC) are suffering adverse stock reactions in 2021. And for good reason too.
As American's and homo sapiens around the globe have dropped the ominous "new normal" lifestyle and largely gone back to living life pre-Covid, a more bearish cycle for PINS and other companies uniquely-positioned to capitalize on the pandemic are suffering. Or Not?
Making a Comparison
The thing is that while 2021 hasn't been easy for investors late to PINS stock's party, shares are still up almost 450% from their March 2020 bottom struck during Wall Street's darkest pandemic-related days.
By comparison, investors in the S&P 500 are only up a mouthwatering 108% over the same period.
What's more, Pinterest shares still fetch a hefty valuation of $35 billion held together with a fairly steep forward price multiple of 42 and sales ratio of nearly 16.
Sure, some investors will quickly point to this or that metric used to support a terrific growth story that stretches well beyond Covid to make today's injustice feel even worse. Or at the same time, an even greater opportunity.
Along those lines one recent writeup at the Motley Fool estimates $50K invested in PINS stock could be worth $1 million inside the next two decades.
Importantly though, it's also appreciated that in a run toward $1,100 in PINS stock in order to capture that million dollars, there's going to be obvious bumps in the road. Moreover, when those challenges look like today's price chart, investors can either do it the hard way or the easy way in PINS stock.
PINS Stock Weekly Price Chart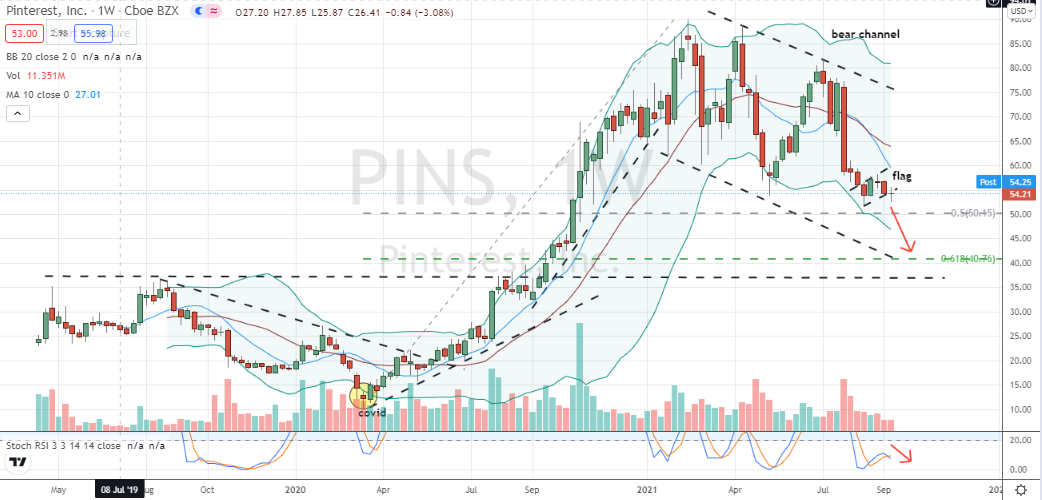 Source:
Charts by TradingView
Technically, the weekly chart in PINS points at unfinished business, which should lead to a substantially larger discount in share price. Specifically, a breach of flag support this week and a fresh bearish stochastics crossover hint strongly at a continuation of PINS stock's downtrend and bear market cycle.
With the bearish developments occurring right above the 50% retracement level and given the size of the bear channel, I'm estimating a challenge of support from $37 to $40 a share into the end of the year in PINS is growing.
All told, it's our belief today's buyers could save themselves a great deal of heartache by standing to the side until more visually appealing price action reveals itself at much lower prices in PINS stock.
Bottom line though, in the event of human error on my part or buyers, for whatever reason, have made up their minds and can't wait on a purchase, a modified and partially hedged December $62.50 call / ($52.5/$42.5 put) combination is a nice-looking compromise without realistically conceding much at all.
On the date of publication, Chris Tyler did not have (either directly or indirectly) any positions in the securities mentioned in this article. The opinions expressed in this article are those of the writer, subject to the InvestorPlace.com Publishing Guidelines.
Chris Tyler is a former floor-based, derivatives market maker on the American and Pacific exchanges. For additional market insights and related musings, follow Chris on Twitter @Options_CAT and StockTwits.