Fear played out like clockwork this past month. And Wall Street's bearish behavior wasn't lost on today's most-shorted stocks. Entering October though, three monthly price charts with larger bear populations are hinting at profitable treats for technical-oriented buyers.
What just happened? If you're wondering about trading accounts tethered to large-cap bellwethers such as the S&P 500 or Nasdaq Composite, it's called seasonal bearish tendencies revealing themselves in grand style in 2021.
And maybe not entirely a surprise, even uncorrelated most-shorted stocks prized by the Reddit crowd were victimized by the broader risk-off campaigning.
Blame aside, and whether it was China's Evergrande or U.S. debt ceiling jitters which forced investors hands to pound the sell button and forcibly sink the major benchmarks by roughly 4.5% to nearly 6% in September, the damage is done.
That's not to say the selling is entirely over. It is October and the calendar's most notorious month for slippery price recalculations. Selectively though, the damage in a couple of the market's most-shorted stocks may be exhausted based on today's bullish monthly price charts.
Most-Shorted Stocks to Buy: Carvana (CVNA)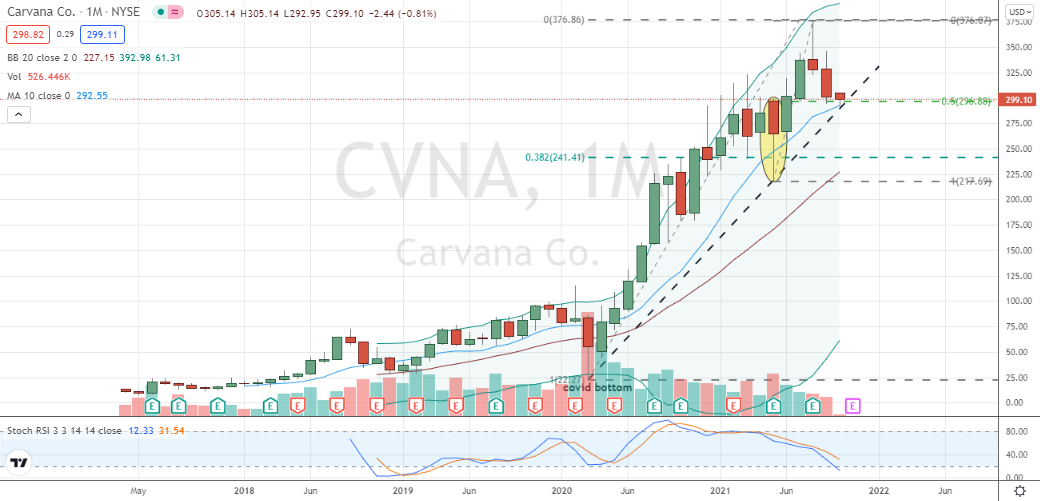 Source: Charts by TradingView
The first of our most-shorted stocks to buy is online auto marketplace Carvana. The $27 billion giant has short-interest of 20%. But a detour within CVNA stock's uptrend should be coming to a finish and that's good news for buyers.
Technically, CVNA's monthly chart shows a pullback that's parked itself into trendline support dating back to its March 2020 Covid bottom.
Bullishly, the retreat in share price is backed by this most-shorted stock's 50% Fibonacci level tied to this past May's bullish hammer pivot. Also CVNA's monthly stochastics are just nearing oversold territory.
Bottom line, I won't proclaim this most-shorted stock is a sure-fire, back-up-the-truck situation. Still, I do see buckling up with a December $310/$340 bull call spread as a safer test drive with solid upside potential in lieu of buying CVNA stock.
American Airlines (AAL)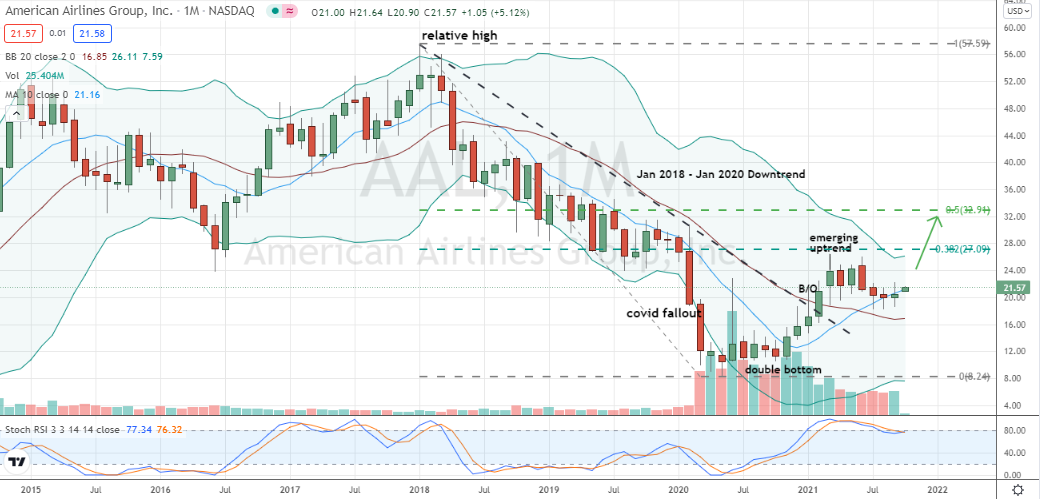 Source: Charts by TradingView
American Airlines is the next of our most-shorted stocks to buy. AAL stock is valued at nearly $13 billion and maintains short interest of about 17%.
Today I'd warn investors not to believe fearful warnings the world has changed for airlines. Instead, it's time to trust a very bullish-looking price chart.
Technically, shares of AAL have put together an emerging monthly uptrend after breaking above a two-year long downtrend. It's bullish, but there's other reasons to prepare for this most-shorted stock to take-off!
Along with September's market bucking price action confirming a low for the pullback pattern, stochastics is signaling a momentum-style setup for this most-shorted stock.
Given the evidence, the 50% retracement level near $33 is a destination today's investors can get on board with using a smartly positioned long January $25 call.
Most-Shorted Stocks to Buy: SunPower (SPWR)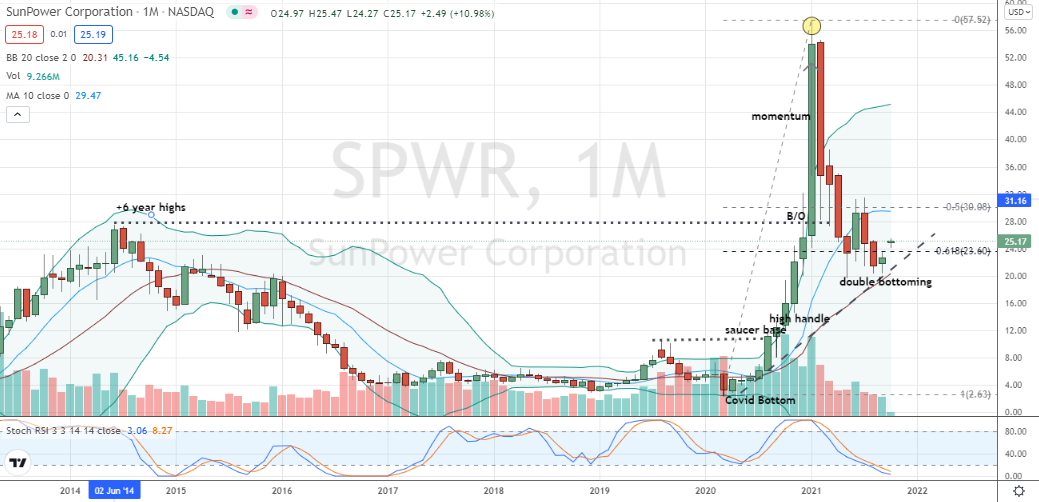 Source: Charts by TradingView
The last of our most-shorted stocks to purchase are shares of SunPower. Bears have piled up short bets in the solar play's shares to the tune of roughly 18% of SPWR's float. But that commitment now appears misplaced.
After a massive valuation heist and bear market of about 65%, those doubters may want to cash out while they can. Following September's demonstration of relative and absolute strength, this most-shorted stock has confirmed a monthly double-bottoming pattern to kickstart October.
With SPWR's oversold stochastics also suggesting bears have overstayed their welcome, there's reasons to be hopeful of a brighter future for SunPower's investors.
To ensure against getting scorched, an actively-managed November $22/$30 collar combination is one favored way to go long this most-shorted stock for intermediate and longer-term bulls.
On the date of publication, Chris Tyler does not hold (either directly or indirectly) any positions in securities mentioned in this article. The opinions expressed in this article are those of the writer, subject to the InvestorPlace.com Publishing Guidelines.
Chris Tyler is a former floor-based, derivatives market maker on the American and Pacific exchanges. For additional market insights and related musings, follow Chris on Twitter @Options_CAT and StockTwits.