Unlike a lot of hot stocks this year, Cloudflare (NYSE:NET) could rightfully be considered the real deal. But is NET stock worth buying today?
Let's look at what's happening off and on the price chart, then offer a risk-adjusted determination to avoid getting burned.
Price is what you pay, and value is what you receive. They're words famously offered by Warren Buffett to guide stock investment decisions.
By some well-viewed and played measures, the proverb has gone out the window in 2021.
I'm referring to meme stocks. GameStop (NYSE:GME) or AMC Entertainment (NYSE:AMC). Sundial Growers (NASDAQ:SNDL) or Koss Corp (NASDAQ:KOSS).
And from the highest profile and maybe surprisingly durable memes to now long-alienated misfires — they're everywhere. But what's that have to do with NET stock, a recent large-cap IPO tech company on the frontlines of cybersecurity?
A Quick Breakdown of NET Stock
Lately, NET stock has been making a name for itself.
Cloudflare's bulls can boast about metrics. They can demonstrate that it's firing on all cylinders. Facts like NET's 50% compounded annual growth rate (CAGR) over the past 3 years and its net revenue retention rate of nearly 125% back up the bullish argument.
But don't be fooled by the conversation in NET stock today. Instead, consider what's mostly missing in action.
For example, looking at yesterday's Amazon (NASDAQ:AMZN) and its past corrections to today's current valuation detour in Zoom Video (NASDAQ:ZM), we can see that this time isn't different for NET investors.
Right now, the NET stock price chart looks increasingly in agreement with that sort of reality.
A Look At Cloudflare's Monthly Price Chart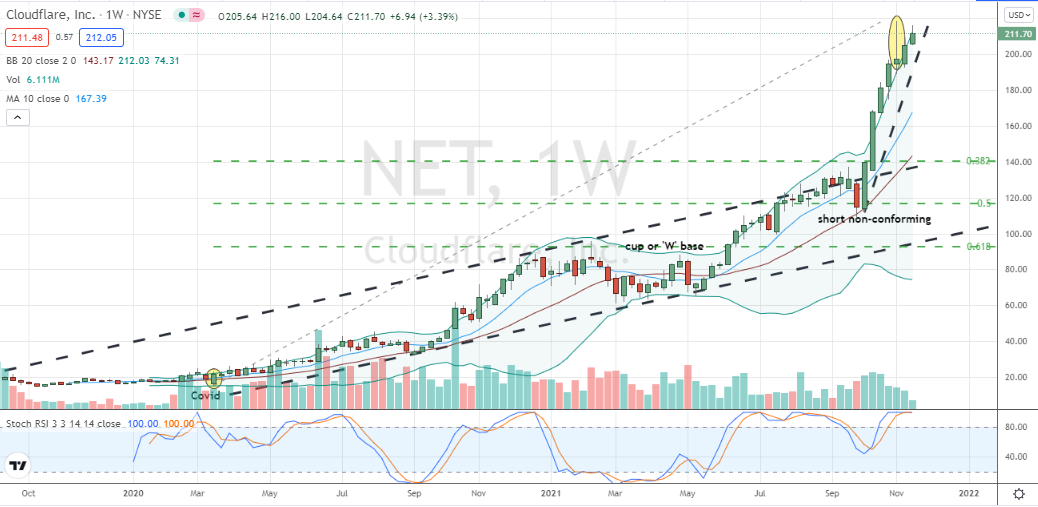 Source: Charts by TradingView
Calling a top is hard. It has been said investors are only allowed one such "I told you so" in their lifetime. Whether or not that's true, technically the indications are that NET stock is setting itself up for a larger bear market cycle.
So, what are we seeing that's so troubling in NET today? A of couple things are problematic.
First, investor enthusiasm has worked its way into NET stock, helping it climb outside a fairly wide Bollinger Band expansion pattern for the past six weeks.
Combine this with NET's angle of ascent and overbought stochastics, and it's still accurate to label the price action as unsustainable (even without calling an exact top).
Second, as expressed above, a painful history lesson that's often ignored is that even the best stocks, without exception, will correct from time to time.
Moreover, those bearish periods often occur after larger rallies that have stretched shares wildly beyond their last basing pattern. In cases like these, bulls control a lopsided narrative of how the stock will grow into its current multiple without faltering.
Sound familiar? Yeah, that's today's NET stock and its mostly guilty as charged.
Ultimately, Buffett's dictum on price and value deserves consideration here. That's especially true given the historical context of great names tumbling and more specific line items such as NET's flaring 107x price-to-sales ratio and fairly hefty $66 billion valuation.
On the date of publication, Chris Tyler did not have (either directly or indirectly) any positions in the securities mentioned in this article. The opinions expressed in this article are those of the writer, subject to the InvestorPlace.com Publishing Guidelines.
Chris Tyler is a former floor-based, derivatives market maker on the American and Pacific exchanges. For additional market insights and related musings, follow Chris on Twitter @Options_CAT and StockTwits.