From putting the pedal to the metal to investors turning into crash test dummies, welcome to Wall Street. But not in Lucid Motors (NASDAQ:LCID) and LCID stock.
Today, and in a market made up of stocks and eyeing the wreckage for survivors, a LCID purchase looks like a smarter way to charge up investors' portfolios.
Tesla (NASDAQ:TSLA). Fisker (NYSE:FSR). QuantumScape (NYSE:QS). ChargePoint Holdings (NYSE:CHPT). It's been a wreck in most electric vehicle stocks of late. Of course, that's not exactly a secret either.
Inflation risks. An undesirable shifting of gears in monetary policy. Omicron's impact on businesses and consumers alike. They've been bad actors for EV stocks.
And in recent weeks EV's of most every flavor have made bearish U-turns to give back, most if not all of November's infrastructure-backed rally with its $7.5 billion in monies allocated to EV infrastructure.
Not that EV plays are alone anymore either.
A tough January for stocks became a great deal more challenging with rising Russia-Ukraine tensions unraveling even the market's most sacred cows during Monday's climatic sell-off.
Coke, is it? Coca-Cola (NYSE:KO) shares certainly weren't to start the workweek. But through it all, LCID stock has been a standout for a growth stock of its caliber.
In January and while the tech-heavy, large-cap Nasdaq has plunged lower by nearly 11.50% and TSLA has skidded by 12%, Lucid shares are off fractionally by 0.79%.
LCID Stock Gets Traction
There's good reason for the relative traction in LCID stock too.
Since confirming its first flagship Air Dream Edition deliveries in late October, Lucid has continued to take what was once thought impossible, prior to Tesla, to the next level.
For one, Lucid Motors did grab MotorTrend's prestigious 2022 Car of the Year crown.
Further, considering the Air Dream Edition's industry leading driving range rating of 520 miles on a single charge, fossil fuel diehards should be eating crow right about now.
Lucid is also forecasted to produce 20,000 Lucid Air sedans this year, take in more than $2.2 billion in revenue and launch three other models inside 2022. Yup. Next level.
The Road Isn't Always Smooth
That's not to say there haven't been company specific bumps in the road for LCID stock.
In early December Lucid received a subpoena from the SEC. Regulators were apparently interested in kicking LCID's proverbial tires regarding "certain projections and statements."
And following some higher profile incidents of misconduct in high-profile names like Nikola (NASDAQ:NKLA) or Lordstown Motors (NASDAQ:RIDE) and others in tow, Lucid investors did more than just simply blink at the news.
LCID stock quickly tumbled around 20% and a verdict remains a waiting game.
Then there's that beefy sales forecast Lucid teased Wall Street with.
Since announcing its beefy production outlook this past summer, Lucid execs have agitated some investors by remaining quiet on deliveries since its first batch of Air Dream Edition's hit the road on Oct. 30.
And you know how Wall Street likes clarity, right? And it's true — unless investors are choosing an alternate route and opting to climb a wall of worry.
LCID's Weekly Price Chart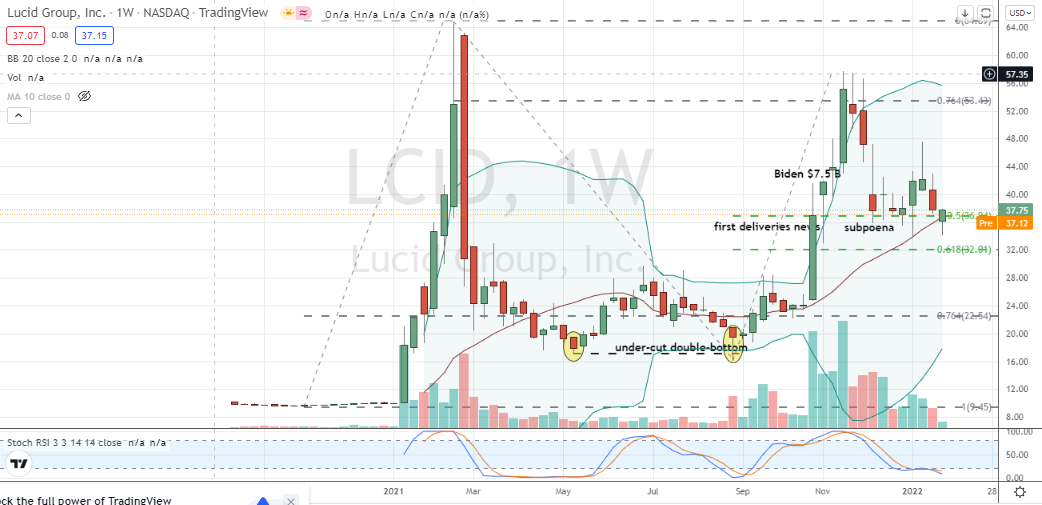 Source:
Charts by TradingView
To be fair to a sacred cow like KO stock, LCID is no Coke. But compared to most all of its immediate growth-oriented peers, Lucid "is it" with EV investors despite its here-and-there flaws.
Right now, that overall strength is setting LCID stock up for a nearby purchase as shares move through a corrective testing phase of about 40%.
As the weekly chart of Lucid reveals, shares are currently challenging Fibonacci support centered on the 50% and 62% retracement levels.
Interestingly, and despite some investor misgivings regarding deliveries updates, LCID stock is also stationed, more or less, on top of its share price following late October's initial key exchange to Air Dream customers.
What's more, shares are, for all intents and purposes, currently lined up with the initial "subpoena" verdict in LCID stock.
All told, Lucid shares are holding their own compared to its growth and EV peer groups.
And today, with the broader market striking historically fearful panic levels which typically produce rarer strong buying opportunities, Lucid's technical leadership is worth considering for the portfolio.
On the date of publication, Chris Tyler did not have (either directly or indirectly) any positions in the securities mentioned in this article. The opinions expressed in this article are those of the writer, subject to the InvestorPlace.com Publishing Guidelines.
Chris Tyler is a former floor-based, derivatives market maker on the American and Pacific exchanges. For additional market insights and related musings, follow Chris on Twitter @Options_CAT and StockTwits.