Not that Novavax (NASDAQ:NVAX) is facing a code red situation just yet. But when it comes to what's happening off and on the price chart, bulls may be well advised to pull the plug on NVAX stock. Let me explain.
Most of us, sans formerly fatigued business travelers, have little, if anything nice to say about Covid-19 and a pandemic now making itself at home in our daily lives for a second year.
The same though can't be said for Novavax and "some" NVAX stock investors.
In 2020 NVAX gained in excess of 2,350% as the stock rallied from $4.44 to a high of $189.40 before finishing the year at $111.51. And the fantastic gains weren't without cause.
NVAX Stock Exits Obscurity
Novavax went from a more obscure micro-cap biotech with a history of hopeful stock booms and busts into a large-cap, household name on the back of the coronavirus. Some households.
As it stands and after receiving $1.6 billion from the U.S. government during the pandemic's first wave, Novavax has in fact gone on to help vaccinate more than a few people.
But those individuals and families are from 170 countries other than the United States. And that failure has proven significant enough to have complicated many other NVAX stock investors lives over the past year.
In 2021 shares of Novavax climbed another 29% to close out the year at $143.07. Not bad, but it's far from the entire story.
A Roller Coaster Ride
Amid U.S. manufacturing snarls roller coaster-like volatility in 2021 was a common feature in NVAX stock.
In no particular order, with a 52-week range of $117.16 to $331.68 and plenty of dizzying ups and downs along the way, it's fair to say NVAX stock obviously means something different to most NVAX shareholders.
Entering 2022 production problems for Novavax's vaccine are in the rearview mirror and the outfit's application for U.S. authorization is about a month out.
And despite mix-and-match booster programs now in effect, and what could turn into an annual shot if Covid continues to evade and evolve, now NVAX stock investors are face-to-face with another menace.
NVAX Stock Monthly Price Chart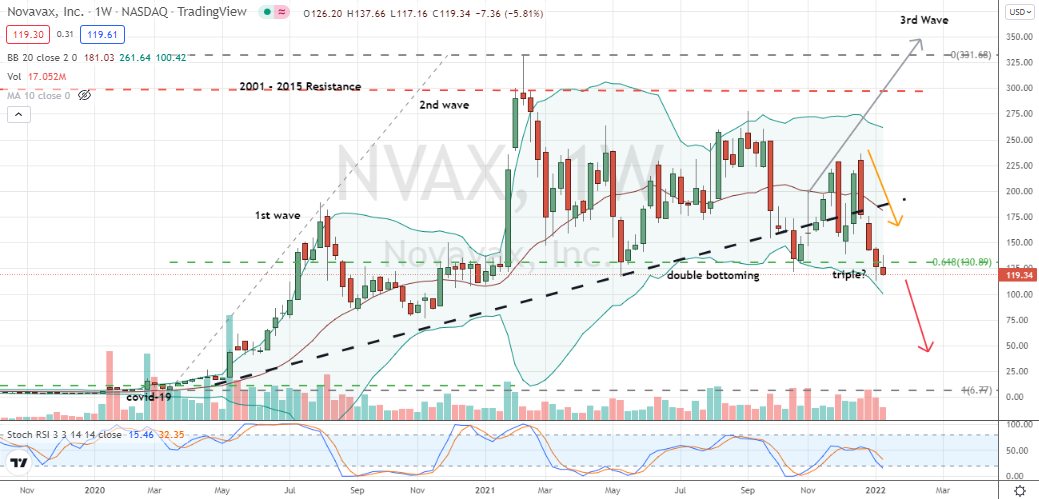 Source:
Charts by TradingView
Today the issue plaguing bullish NVAX stock investors is price action in keeping with Wall Street's elusive buy the rumor, sell the news.
With nary a headline for investors to sink their teeth into, shares of Novavax are finding bears willing to do just that.
More important, Thursday's 8.50% decline appears technically damaging beyond the one-off and brush-off variety.
As the NVAX weekly view reveals, the latest price action is jeopardizing a potential bullish triple bottoming pattern stationed at the 62% Fibonacci retracement level tied to the stock's March 2020 Covid low.
And with the failing reversal formation already suspect given the pattern's weak-looking stochastics, Novavax shareholders could be staring at a code red situation.
If investors are inclined or committed to giving NVAX stock the benefit of the doubt, now is no time to stand idly by given very tenuous price action which could turn detrimentally painful in 2022 and beyond.
But that's not to say NVAX investors have to pull the plug.
Coupled with the stock's proven price volatility, an actively managed, fully-hedged collar strategy can assist with profiting from share ownership no matter if NVAX stock becomes a household name in the U.S. or a victim of other less-desirable circumstances off the price chart.
On the date of publication, Chris Tyler did not have (either directly or indirectly) any positions in the securities mentioned in this article. The opinions expressed in this article are those of the writer, subject to the InvestorPlace.com Publishing Guidelines.
Chris Tyler is a former floor-based, derivatives market maker on the American and Pacific exchanges. For additional market insights and related musings, follow Chris on Twitter @Options_CAT and StockTwits.