To the relief of some, a long fight appears to have been all but won. But when it comes to Ripple (XRP-USD), bulls are still in a tussle with bears, whose victory looks less sure on the price chart.
Ripple Network's XRP token is the crypto market's sixth-largest digital asset. The native crypto helps facilitate transactions on the RippleNet platform.
Simply put, RippleNet acts as an international payment settlement exchange similar to the SWIFT system by banks and financial middlemen. It's big business and it's getting larger by the day.
According to Ripple, it has already settled nearly half a billion transactions on six continents serving more than 55 countries and 120 currency pairs.
And part of that boom involves XRP, which, priced at 0.71006 cents today, commands a valuation north of $36.135 billion.
The hefty market capitalization places the crypto in-between stablecoin USD Coin (USDC-USD) and Ethereum (ETH-USD) killer Cardano (ADA-USD).
Looked at another way that might make more sense to some, if XRP were a stock it would sit impressively between Electronic Arts (NASDAQ:EA) and eBay (NASDAQ:EBAY) in the Nasdaq100. But it's not a stock, it's a token or is it a security after all?
For XRP investors it's a devilish detail that has been at the crux of the Ripple crypto. Should it really matter though?
A Closer Look At XRP
In a nutshell the Securities and Exchange Commission has been investigating whether XRP token is an unregistered security for nearly two years, given its finite supply controlled by Ripple Labs. And that opens up the token to securities violations according to arguments made by regulators.
But this past week memos from a decade ago revealed Ripple received legal advice that Ripple Credits, now known as XRP, and the company's original digital asset, "should not be considered … securities."
The news was enough for XRP bulls to prop the token up for a bit and avoid fully participating in the crypto market's latest bearish pressure. It was also enough for a former Commodities Futures Trading Commission chairman to go on Fox Business stating XRP doesn't qualify as a security.
"Should not" isn't the same as "won't" though. Further, it was also expressed by Ripple's legal counsel that the SEC could differ given potential risks such as a lack of applicable case law.
Again though, does it really matter?
Regardless of future legal verdicts, today XRP's outdated technology has been supplanted by a handful of other faster and cheaper digital assets by Ripple Labs in building out RippleNet. That should be enough to be wary of XRP.
Still, what if you need more to avoid a bad investment in the token? Maybe recognize that one face showing support for XRP on camera was also busy promoting a book. And mind you, the interview was on a pro-business news outlet.
Ripple's Monthly Price Chart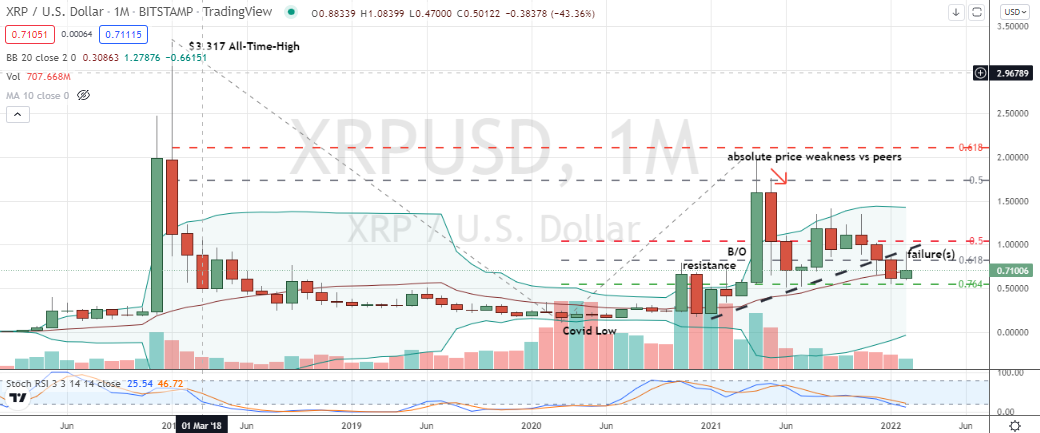 Source: Charts by TradingView
To be fair to Fox and their "friends," as well as XRP's overzealous Reddit ape population that loves their penny stocks, they're not the only ones upbeat on the older token. Apparently the "mega whales" are back.
This small but monied group did well getting in front of an outsized rally in Ripple's XRP which began in late 2020. And the mega whales have been busy accumulating more tokens.
Specifically, XRP addresses with at least 10 million native units have purchased nearly 900 million tokens totaling more than $712 million since December. To be sure, it's enough to be deserved of the bullish or in-the-know title.
But are the mega whales going to be the smart money twice over? They could be. But at this juncture I don't see XRP's upside as particularly appealing relative to the token's downside risk.
As expressed, the understanding is XRP has technological limitations that won't go away, even if the SEC's case is dismissed.
Could my understanding of Ripple's XRP be incorrect? Perhaps it's not like buying a DVD when streaming technology is available? Or is Ripple's XRP Ledger what's keeping mega whales interested?
Regardless of my crypto awareness, after underperforming many top cryptos in the back half of 2021, the token has broken trendline and 62% support while entering oversold territory with stochastics bearishly aligned.
That's not a great starting point for an investment in XRP. To walk the aisle slightly, bulls could point to the token confirming January's bottom this month. Proponents could also rightfully state the token has held a test of the 76% Fibonacci level.
At the end of the day though, charts are never clear-cut. And when it comes to XRP, the ruling is this crypto isn't worth investors' time, without something meaningful, off or on the price chart happening first.
On the date of publication, Chris Tyler holds (either directly or indirectly) positions in Grayscale Bitcoin (GBTC) and Grayscale Ethereum Classic Trust (ETHE) securities. The opinions expressed in this article are those of the writer, subject to the InvestorPlace.com Publishing Guidelines.
Chris Tyler is a former floor-based, derivatives market maker on the American and Pacific exchanges. For additional market insights and related musings, follow Chris on Twitter @Options_CAT and StockTwits.