Electric vehicles are the future and demand for cars that are powered by batteries is rising at a fast clip. And the growth of the EV sector is powering demand for lithium, a key ingredient in electric vehicle batteries.
According to Fortune Business Insights, the global lithium market is forecast to grow from $3.83 billion in 2021 to $6.62 billion by 2028, for a compound annual growth rate (CAGR) of 8.1%. That strong growth is pushing higher stocks of lithium producers.
Over the last year, lithium stocks have been among the best performers in what has been a volatile market. The Global X Lithium & Battery Tech ETF (NYSEARCA:LIT), with 42 lithium-related stocks in its portfolio, is up more than 20% in the last 12 months, compared with a 9.7% gain in the S&P 500 index.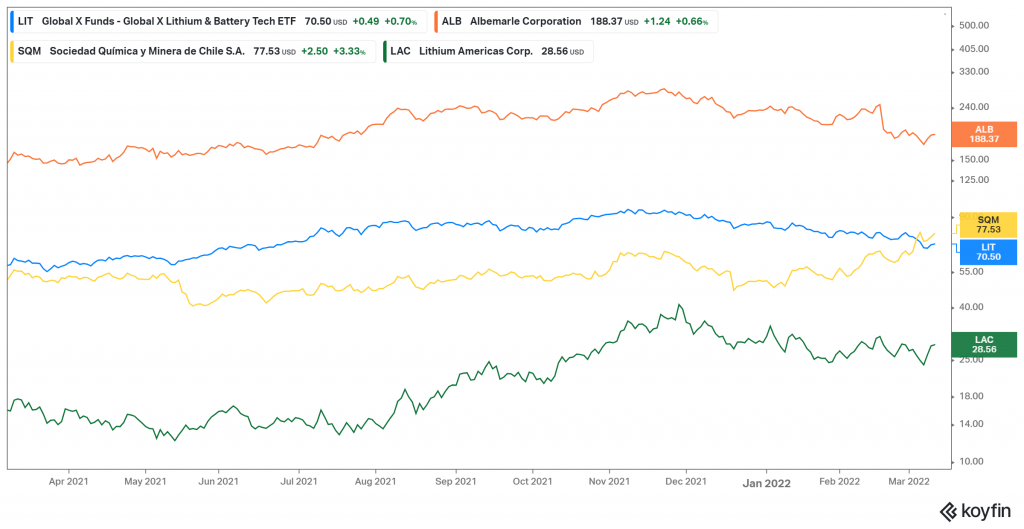 Click to Enlarge
And the outperformance is expected to continue as electric vehicles really takeoff in coming years. Here are three of the best lithium stocks to buy for March of this year.
Lithium Stocks to Buy for March 2022: Albemarle (ALB)
Charlotte, North Carolina-based Albemarle is the world's largest provider of lithium for electric vehicle batteries. As such, investors wanting exposure to the lithium market need to consider taking a position in ALB stock. And it has proven to be a good investment.
In the last 12-months, Albemarle's share price has gained 25% in a very volatile market. At its current price of $176.83, Albemarle's stock has increased 72% over the past five years, with more gains likely as demand for lithium accelerates.
The company's most recent earnings missed analyst expectations, although Wall Street did like that Albemarle guided for revenue of between $4.2 billion and $4.5 billion this year, which would represent 27% growth over 2021. The company is likely to get a lift this year from rising prices for lithium, which are already up more than 50% this year.
Albemarle also continues to invest heavily in growth and expansion, with the company's lithium capacity forecast to rise more than 70% this year.
Sociedad Química y Minera de Chile (SQM)
Sociedad Química y Minera de Chile is a mouthful, so we'll just call it SQM. The important thing for investors to know is that the shares trade on the New York Stock Exchange and are available for purchase.
And SQM stock has been a very good investment so far this year. In the midst of a broad market downturn, SQM stock is up 54% year-to-date at $78 a share, making it a top performer across any sector. In the past five years, the company's share price has increased 142%. It should be noted that, along with Albemarle, SQM accounts for nearly half the world's lithium production.
Much of this year's share appreciation has been due to earnings outperformance on the part of SQM. In the fourth quarter of 2021, SQM earned $2.9 billion in revenue, up 57.5% year-over-year. Earnings per share (EPS) in 2021 tripled from 2020 to $2.05 per diluted share.
Those results made Wall Street analysts and investors sit up and take notice. The pros also liked that SQM forecast that demand for its lithium is likely to grow 30% in 2022.
Lithium Stocks to Buy for March 2022: Lithium Americas (LAC)
LAC stock has been another outperformer. Over the last year, the share price of Lithium Americas has grown 62% to now trade at just under $25. Over the past five years, the stock has gained 619%.
The stock jumped 10% in a single day in mid-February after JPMorgan Chase issued a bullish report on the company, saying Lithium Americas should benefit in the near-term from getting final permits to begin production of lithium at its mine in Thacker Pass, Nevada.
JPMorgan maintained a "buy" rating on the stock and a $42 price target, which would be 68% higher than current levels. Lithium Americas is also expected to bring online two new lithium projects in Argentina by 2024, developments that should further boost the company's operations and share price.
The Vancouver, Canada-based company is expected to see accelerated revenue growth as these lithium mines come online and begin producing over the next few years.
On the date of publication, Joel Baglole did not have (either directly or indirectly) any positions in the securities mentioned in this article. The opinions expressed in this article are those of the writer, subject to the InvestorPlace.com Publishing Guidelines.