Biotech stocks are risky bets, not for the faint-hearted. True, there is disproportionate reward for those willing to ride the risk, but there is an equal probability of losing everything if the catalyst plays out against your expectation.
The sector hasn't really fired ever since the Covid-19-induced boost it received in 2020.
The iShares Biotechnology ETF (NASDAQ:IBB) has picked up some momentum in March, thanks to the broader market recovery. The IBB added about 3.5% in March, nearly as much the 3.8% gain for the SPDR S&P 500 ETF Trust (NYSEArca:SPY).
There are a few things going for the sector currently. M&A activity could pick up pace after a lull, taking advantage of depressed valuations and accumulated war chests. Innovation, meanwhile, is expected to hit top gear, with genomics, precision medicines, gene editing, AI and the like becoming the order of the day.
With expectations that the biopharma sector will inflect higher gaining ground, here are a few stocks that have some key catalysts in April:
| | | |
| --- | --- | --- |
| Blueprint Medicines | BPMC | $67.19 |
| Bristol-Myers Squibb | BMY | $73.79 |
| Coherus | CHRS | $13.23 |
| Tarsus Pharma | TARS | $17.46 |
| Hutchmed | HCM | $20.77 |
| Aptinyx | APTX | $2.58 |
| ImmunityBio | IBRX | $6.14 |
Biotech Stocks to Buy: Blueprint Medicines (BPMC)
Blueprint Medicines is scheduled to present initial results from the Phase 1/2 study, dubbed SYMPHONY, at the annual meeting of the American Association for Cancer Research on April 12.
The study is evaluating BLU-945 in patients with advanced EGFR-mutant non-small cell lung cancer (NSCLC).
BLU-945 is a fourth-generation investigational EGFR inhibitor meant to be used as mono or combination therapy against EGFR-mutant NSCLC.
The sensitizing/activating EGFR exon 19 deletion and L858R mutations are the genomic drivers in about 17% of patients with lung adenocarcinoma, the most common form of NSCLC, according to Blueprint.
Bristol-Myers Squibb (BMY)
Birstol-Myers Squibb awaits FDA decision on mavacamten, which came into its pipeline following its acquisition of Myokardia in November 2020.
The drug is under review for obstructive hypertrophic cardiomyopathy – an inhereited condition when the heart muscles become abnormally thick, making it difficult for the heart to pump blood.
The PDUFA action date is April 28.
The large-cap biopharma faced a minor setback late last year when the drug regulator notified the company regarding a three-month extension in the review period. This was to allow the FDA sufficient time to review additional information in the updates to the Risk Evaluation Mitigation Strategy.
While speaking on the fourth-quarter earnings call, CEO Giovanni Caforio said mavacamten is one of the three drugs the company is pinning its hopes on to keep its growth going.
He sees at least $4 billion in revenue potential for the drug by the end of the decade on a non-risk adjusted basis.
Biotech Stocks to Buy: Coherus BioSciences (CHRS)
Coherus, a small-cap commercial-stage biopharma, has two approved products in Udenyca and Yusimry.
The former is a biosimilar to Amgen's (NASDAQ:AMGN) Neulasta used to prevent abnormal reduction of neutrophils in cancer patients receiving chemotherapy. Meanwhile, the latter is a biosimilar to AbbVie's (NYSE:ABBV) blockbuster inflammatory disease drug Humira.
The next 15 months is likely to be a catalysts-rich one, with planned commercial launches of up to four new products. The company expects these four products, which also include the two already-approved biosimilars, to bring in revenues of over $1.2 billion by 2026.
From being a biosimilar company, Coherus is pivoting to immuno-oncology in a big way.
Coherus has an imminent catalyst in the form of FDA decision on its immune checkpoint inhibitor toripalimab. The drug will be reviewed both as a monotherapy for advanced nasopharyngeal cancer (NPC) in second-line settings and above, as well as a combo therapy with chemo medications for advanced NPC in a first-line setting. The PDUFA goal date is set for April 30.
Coherus is co-developing toripalimab with Chinese biopharma Junshi Biosciences.
HUTCHMED (HCM)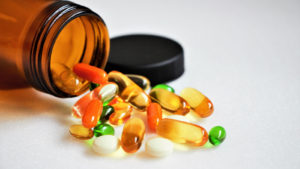 Chinese biopharma Hutchmed has a PDUFA date coming up on April 30 for its surufatinib.
The investigational compound is being evaluated as a treatment option for pancreatic and extra-pancreatic neuroendocrine tumor (pNET and epNET).
NETs are formed in cells interacting with the nervous system or in glands that produce hormones. Although they can form in any part of the body, the most common occurrence is in the gut or lungs, and they can be benign or malignant.
Surufatinib is already approved in China. If cleared by the FDA later this month, it would mark Hutchmed's first approved drug in the U.S. There is one risk, though.
Hutchmed's NDA filed with the FDA is supported by two positive Phase 3 studies in China, both of which were stopped early due to superior efficacy. It, however, is in possession of results from an early-stage bridging study in U.S. patients. The U.S. drug regulator could raise objections to not having done late-stage studies in the U.S.
Hutchmed's new CEO Weiguo Su, who took over the reins in March, reportedly said that surufatinib was better the Novartis' Afinitor and Pfizer's (NYSE:PFE) Sutent, which cover only 70% of NET patients.
Biotech Stocks to Buy: Tarsus Pharma (TARS)
Tarsus Pharma is a clinical-stage biopharma that currently has three investigational assets in its pipeline, focusing on therapeutic categories including eye care, dermatology and infectious disease prevention.
The company's lead asset codenamed TP-03, chemically lotilaner ophthalmic solution, 0.25%, is being evaluated for multiple indications.
The indication for which the investigational therapy is in the most advanced stage of development is demodex blepharitis, caused by the infestation of the demodex mite. This will manifest in the form of inflammation of eyelids and severe eye disease.
Topline data from the second pivotal Phase 3 study, dubbed Saturn-2, is due in April. Tarsus Pharma announced in early February it completed enrollment of patients in the study. The results from the study are important, as a successful NDA submission for TP-03, planned for later this year, is contingent on positive data from the Saturn-2 study.
Aptinyx (APTX)
Aptinyx focuses on developing therapies for central nervous system disorders.
It is scheduled to read out data from the Phase 2b study of NYX-2925 in painful diabetic neuropathy, in April.
NYX-2925 is the company's lead drug, and a positive readout is seen as validation of the company's NMDA receptor-modulation platform.
Earlier in 2019, a failed Phase 2 study of the drug candidate sent the stock into a tailspin. The company persisted with the drug and used data gleaned from the post-hoc analysis to design and carry out the Phase 2a study.
Biotech Stocks to Buy: ImmunityBio
ImmunityBio, a mid-cap, clinical-stage biopharma is developing therapies for advanced cancers and infectious diseases.
The company is planning to file with the FDA a biologic license application for its VesAnktiva, plus BCG, in April. The company is evaluating the combo therapy in patients with BCG-unresponsive, non-muscle-invasive bladder cancer carcinoma in situ (NMIBC CIS).
ImmunityBio is uniquely positioned because its next-generation therapies and vaccines bolster the natural immune system to defeat cancers and infectious diseases. The company is running about 26 trials, with 17 of them being mid- or late-stage studies across 13 indications.
Anktiva is ImmunityBio's lead cytokine fusion protein and it is being evaluated in combination with other therapies for multiple indications.
Late Friday, the company said more than 80 patients enrolled in the Phase 2/3, dubbed QUILT-3.032, in NMIBC CIS have completed at least 12 months of follow-up. Data from the study has shown clinically-meaningful and sustained benefit.
The company also said it has compiled the BLA and is awaiting a final quality review to be completed for filing with the FDA. Reacting to the announcement, the stock has rallied sharply on Monday.
On the date of publication, Shanthi Rexaline did not have (either directly or indirectly) any positions in the securities mentioned in this article. The opinions expressed in this article are those of the writer, subject to the InvestorPlace.com Publishing Guidelines.