Editor's note: "Nvidia Just Confirmed an Emerging AI Boom in Biotech" was previously published in July 2023. It has since been updated to include the most relevant information available.
We've long said that artificial intelligence (AI) will have the most profound economic impact in the medical industry, where it can be used to accelerate and cheapen everything from drug discovery to patient treatment.
And Nvidia (NVDA), the world's preeminent AI company, may have just confirmed that sentiment last month.
The trillion-dollar AI chipmaker announced a huge new partnership with biotech AI startup Recursion Pharmaceuticals (RXRX), which has developed a novel AI-driven platform for drug development and discovery.
Recursion will train its AI models on Nvidia's cloud platform, which Nvidia will then license through its newly announced BioNeMo generative AI cloud service for drug discovery.
Nvidia will also pour $50 million into Recursion in exchange for a ~4% stake in the company.
This is a massive deal. Look no further than how much RXRX stock rallied before and after the deal was announced.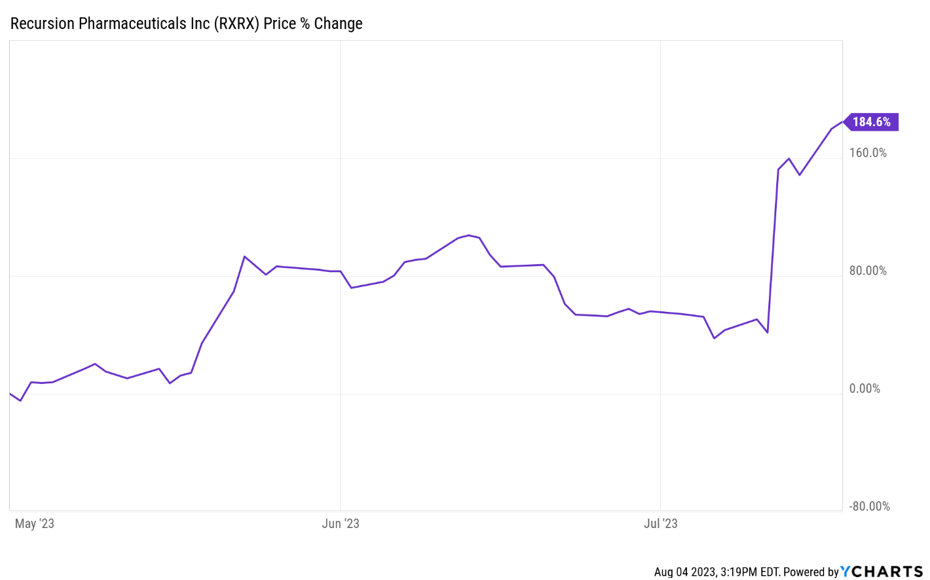 But this is likely just the start of the big boom at the convergence of AI and medicine.
Nvidia is a trillion-dollar juggernaut in the world of AI. It could've chosen any industry to commit its money and resources to. And of all industries, it chose biotechnology.
Why?
Data.
In a World of Data, Today's AI Is Just the Beginning
Like computers, humans are nothing more than a bunch of data strung together.
At their core, computers are just a bunch of 1s and 0s coded in sequence, with each number corresponding to a certain action for the computer to perform. Human DNA is much the same. We're just a bunch of As, Gs, Cs, and Ts strung together. Those are the four base types found in human DNA molecules, each determining a person's characteristics, traits, and even actions.
Essentially, the connecting element here is data.
That means AI can have an especially profound impact on the human body.
After all, at the end of the day, what is AI? It is just a machine learning algorithm processing tons of data to learn how to perform a certain task or variety of tasks. It's all just algorithms and data, with data acting as the model's "fuel."
The quantity and quality of data an AI model has access to determines the quality of the model itself.
When it comes to the human body, there is no dearth of quality data. As mentioned above, we are nothing more than a bunch of quality genetic data strung together.
Apply AI to all that data, and you will change the world.
Seriously.
Consider the value proposition of Recursion's core AI technology.
Currently, it takes about $900 million and 13.5 years to develop a new successful drug. With AI constantly running simulations, drug development could happen in months and for less than $100 million.
That may sound hard to believe, but it's true. Drugs are already being discovered by AI that quickly.
AI Meets Biotech
Earlier this year, Japanese pharma giant Takeda Pharmaceutical bought an experimental psoriasis drug for $4 billion – a drug that was created in only six months by using artificial intelligence.
And it isn't alone.
Other pharma giants like Bayer (BAYRY), Roche (RHHBY), Sanofi (SNY), and AstraZeneca (AZN) are actively using AI technology for drug discovery purposes.
The future of drug discovery starts now.
Research firm Deep Pharma Intelligence estimates that investments in the field of AI-powered drug discovery have tripled over the past four years to nearly $25 billion. Morgan Stanley believes that AI-powered drug discovery will lead to an additional 50 novel therapies being brought to market over the next decade, with annual sales in excess of $50 billion!
In other words, a $50 billion drug discovery revolution starts now.
Is your portfolio positioned for it?
The Final Word
If not, I want to tell you about one of my favorite investments for this new bull market.
One great prospective investment is the very company that started this whole stock boom – OpenAI, the creator of ChatGPT.
Since ChatGPT's launch in November 2022, the company's valuation has doubled!
But that's just the start.
I truly believe OpenAI could be one of the world's largest companies in the near future – if not the largest.
OpenAI represents the potential investment opportunity of a lifetime.
Too bad it is a startup that you can't buy on a public exchange like a big stock…
Though I did manage to unearth an investment 'loophole' that allows you to take a stake in OpenAI now – before its highly anticipated IPO.
This is your chance to invest in the next big thing. Like investing in Apple (AAPL) in the 1980s or Amazon (AMZN) in the 1990s, this is an opportunity you can't afford to miss.
On the date of publication, Luke Lango did not have (either directly or indirectly) any positions in the securities mentioned in this article.