I mentioned last week that the FAANG stocks had lost their bite this year. After this week, they look even more like a jack-o'-lantern. You can still see a couple fangs, but there are more holes than there are teeth.
Four of the five fabled stocks reported earnings this week, and it was a week of big price swings. Only one of those swings – from Apple Inc. (NASDAQ:AAPL) – was to the upside.
A couple of the FAANGs have changed their names in recent years – Google to Alphabet Inc. (NASDAQ:GOOG) and Facebook to Meta Platforms Inc. (NASDAQ:META) – so the acronym doesn't work anymore. And the MAANAs doesn't have quite the same ring to it.
Neither do the stocks. Once the market's highflyers and Wall Street's darlings, these five tech giants have taken a beating this year. Only Apple's 18% decline beats the Nasdaq's 30% loss.

If you look at the right side of that chart, you see the sharp drops this week from Amazon.com Inc. (NASDAQ:AMZN), Alphabet, and especially Meta Platforms.
As you may recall, Netflix Inc. (NASDAQ:NFLX) took off after reporting earnings last week that beat estimates and with significantly higher subscriber growth than expected. The stock is up more than 20% since then.
Let me update you on this eventful week for the rest of the group.
Alphabet Inc. (GOOG)
Alphabet was first out of the gate on Tuesday, reporting record earnings for its third quarter but falling short of expectations for both sales and earnings. The stock fell nearly 10% as a result. Sales continue to grow – up 6.1% over last year – but the rate of growth has slowed for five-consecutive quarters. In this same quarter a year ago, sales grew 41%.
Search revenue grew just 4.3%, and advertising revenue on YouTube actually declined nearly 2% over last year. That's the first time that has happened since 2020, when Alphabet started breaking out YouTube's financial performance in its reports.
On the bottom line, Alphabet earned $1.06 per share, which was well below analysts' expectations for $1.25 per share. That's the third quarter in a row earnings declined over the previous year and the company missed expectations.
GOOG continues to rate a "Hold" in Portfolio Grader with its "C" grade.
Meta Platforms Inc. (META)
Ouch.
The former Facebook got hammered yesterday after missing Wall Street's expectations, reporting declining revenue for the second straight quarter, and saying it would pump more money into its metaverse initiatives next year. The stock plummeted 25%, obliterating nearly $85 billion in market capitalization.
It's hard to believe, but META is down a whopping 70% this year, taking its market cap below $300 million for the first time in almost seven years.
That's why it rates a "D" in my Portfolio Grader, a "Sell." Its quantitative grade, which measures institutional buying pressure, is a bottom-of-the-barrel "F." The fundamental grade of "D" is only a slight improvement. There's really nothing positive to call out right now.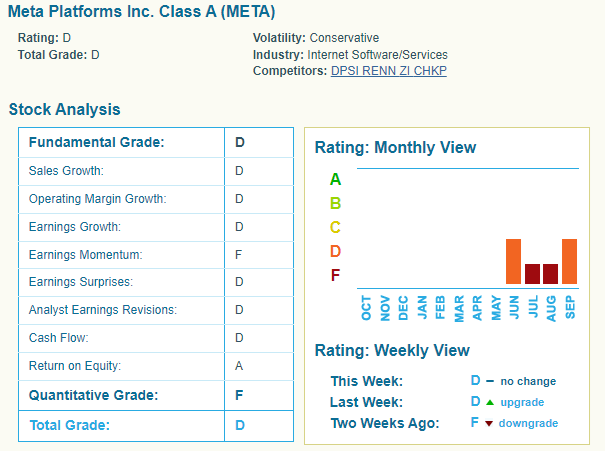 Amazon.com Inc. (AMZN)
Today was Amazon.com Inc.'s (NASDAQ:AMZN) turn to take the walk of shame, but its 8% drop following its earnings report last night doesn't look so bad after Meta and Google.
Results weren't as bad either. Amazon grew sales by 15% and was profitable again after two quarters of losses. Still, net income was down from the same quarter a year ago, and revenue guidance for the current fourth quarter was well below estimates. That's a major concern, as this is the big shopping time of the year.
Amazon's "C" grade makes it a "Hold" in my Portfolio Grader.
Apple Inc. (AAPL)
Apple Inc. (NASDAQ:AAPL) was unquestionably the big "winner" this week, gaining more than 8% today after reporting results last night. It was another record quarter for sales at $90.1 billion, and net income was also an all-time high at $20.7 billion.
The iPhone still makes up about half of the company's sales, generating $42.6 billion in revenue. That's 10% higher than last year, which was a little below expectations, but Wall Street was pleased with the overall number and the company's strength in tough economic conditions.
AAPL is the only one of the FAANG stocks with a "B" grade and "Buy" rating in Portfolio Grader. It has been able to maintain that rating for a full year, which is pretty impressive given how difficult the year has been.
Floundering Fundamentals
This was a pretty telling week for these tech bellwethers, and the common theme is unfortunately weaker fundamentals. That resulted in some pretty steep losses. Alphabet saw $127 billion shaved off its valuation after reporting earnings. Meta, as I mentioned, lost roughly $85 billion. And Microsoft Corp. (NASDAQ:MSFT) took a $144 billion hit after its results. (You can read yesterday's review of Microsoft's earnings here.)
These aren't necessarily bad companies, but for now at least, they lack the strong fundamentals and earnings growth that ultimately dropkick stocks higher. That's why their ratings are generally low in my system.
The fact of the matter is, to be rewarded by Wall Street right now, companies must top analysts' earnings and revenue expectations and provide positive future guidance. In other words, they need superior fundamentals. Wall Street's flight from the tech flagships tells us that fundamentals are again becoming key to its stock's success or failure.
That's my kind of market, as these are exactly the kinds of companies my system identifies that I recommend in my Growth Investor service. It may seem hard to believe, but even in this slower economy, my Buy List is full of companies growing their sales and earnings.
It's my favorite kind of market and my favorite time of the year with earnings season moving at full speed and the market heading into the strongest time of the year. The next couple of weeks have a lot going on – the Federal Reserve next week and the midterm election the following week – but earnings will continue to come out.
If you invest in companies forecast to post stunning earnings and sales growth, it will be your favorite market and time of the year, too.
It's not too late. If you are interested in the stocks I am confident will emerge as market leaders, click here to learn how to get started with Growth Investor today.
Sincerely,
Louis Navellier
P.S. There is a great divide opening up in America – and investing in my Growth Investor stocks will help get you on the right side of it. On one side is a new aristocracy that's amassing more wealth more quickly than any other group in American history. For people like me, the one percent, life has never been better, more prosperous.
On the other side, the opposite is happening. Wealth is flowing out of the pockets of ordinary Americans at an unprecedented rate.
What's happening is only going to gather in strength over the coming decades. It certainly won't weaken.
Few Americans even know that any of this is going on. I've never seen anyone from my side of the chasm step forward to explain any of these things.
It's why I put together this video. In it, I'll lay out exactly what is happening, including several key steps every American should take right now.
The Editor hereby discloses that as of the date of this email, the Editor, directly or indirectly, owns the following securities that are the subject of the commentary, analysis, opinions, advice, or recommendations in, or which are otherwise mentioned in, the essay set forth below:
Amazon.com Inc. (AMZN), Alphabet Inc. (GOOG), Meta Platforms Inc. (META)