NVIDIA Corp. (NVDA), one of the world's leading chipmakers, is one of the most heavily traded stocks in the world. Nearly 60 million shares change hands daily on average, which is not far behind market leaders like Apple Inc. (AAPL), Tesla Inc. (TSLA), and Amazon.com Inc. (AMZN).
I like NVIDIA and still think it is well positioned as a leading manufacturer of semiconductors used in graphics, data centers, artificial intelligence, and more. It has even gotten boosts from time to time with its chips used to power machines mining cryptocurrency. (I won't get started on the whole cryptocurrency mess.)
The stock is a huge long-term winner, up more than 5,000% over the last decade – and nearly 40,000% since it went public in 1991. But 2022 has been a tough year, with NVDA hit hard in the bear market with many other high-growth tech stocks.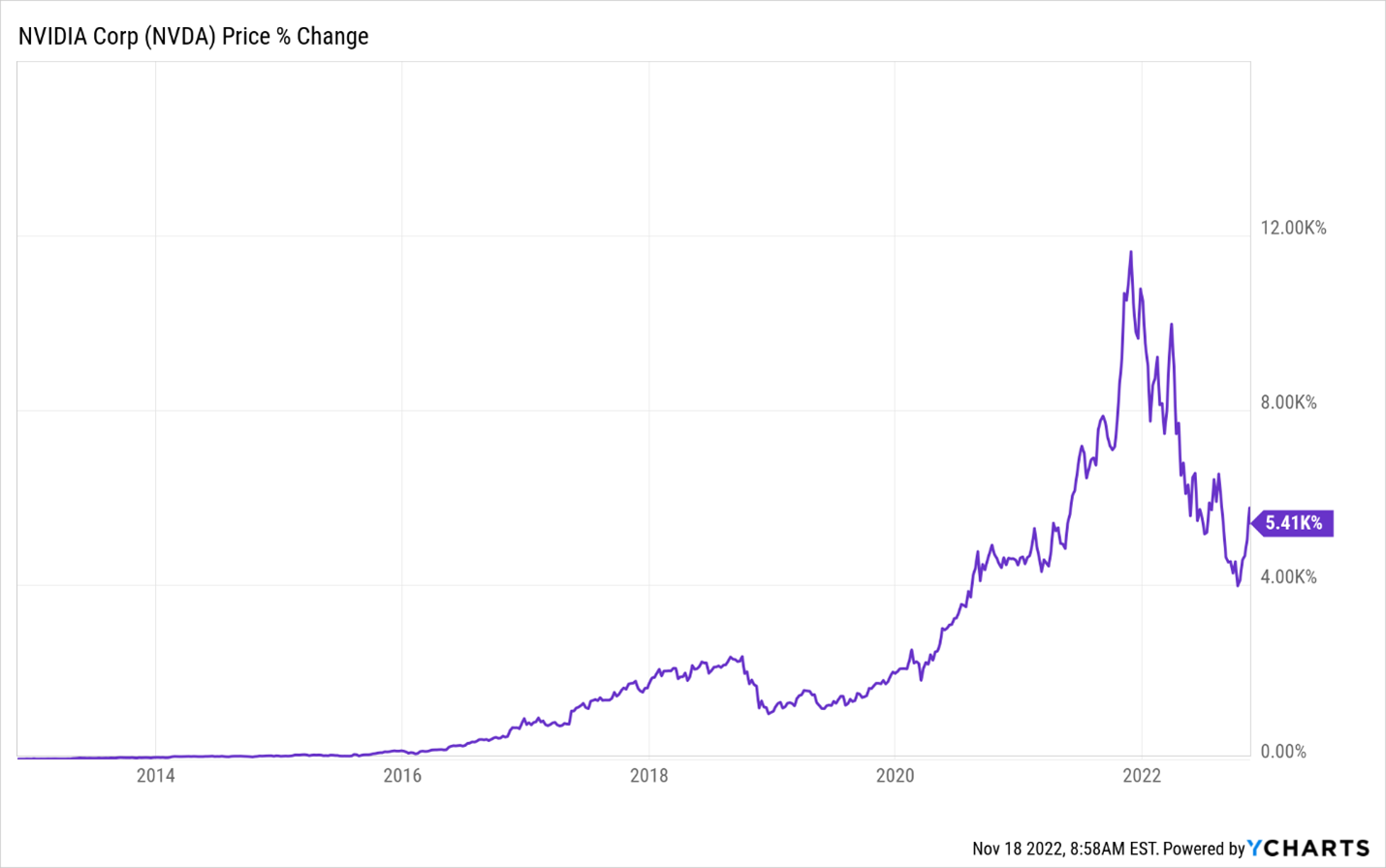 At the same time, you also see a significant bounce at the very end of the chart. NVDA has rallied nearly 50% in just five weeks since its recent low on October 13.
Wall Street closely watches the company's earnings reports all the time, but with the stock at a potentially critical juncture, the latest report released this week got even more attention than usual. Let's dive into the results, look at how the stock rates in my propriety system, and what it all means for the stock…
Mixed Results
One takeaway from the latest report is that NVIDIA has taken steps to adapt its business to the current environment by adjusting inventory levels and introducing new products. However, earnings and revenue once again declined in the third quarter.
NVIDIA earned $1.46 billion, or $0.58 per share, on revenue of $5.93 billion. Those were down from $2.97 billion, or $1.17 per share, and $7.1 billion in the third quarter of 2021. Earnings fell short of Wall Street's estimate for $0.69 per share, but revenue soundly beat expectations for $5.77 billion.
The company noted that its data center business remained a bright spot, with revenue rising 31% year-over-year to $3.83 billion, and that demand for its data center and artificial intelligence (AI) chips was strong. The company's automotive business also experienced strong demand in the quarter, with revenue jumping 86% year-over-year to $251 million, and NVIDIA announced several strategic partnerships, including multi-year collaborations with Microsoft Corp. (MSFT) and Oracle Corp. (ORCL).
Strength in those areas helped offset the ongoing slowdown in the company's graphics processing units (GPUs), which are used in gaming. The gaming unit dropped 51% in the last quarter, in part because personal computer sales in general are down. Industry research firm Gartner reported that global PC shipments decreased 19.5% in the third quarter, which is the most in nine years. This weakness in PCs follows record sales during the pandemic as people stocked up on technology to work remotely.
The strong demand for AI chips is helping NVIDIA in the current environment, as it also deals with the slower overall economy and ongoing Covid-related shutdowns in China. CEO Jensen Huang said that once excessive chip inventory is cleared, revenue in the current quarter should increase from last quarter but still be down from a year ago. NVIDIA expects revenue of about $6.0 billion this quarter, which is slightly below analysts' estimates but not enough to hit the stock hard.
Next Steps
What should investors do with NVDA? It's not a black-and-white answer right now.
On the one hand, the stock has been a big moneymaker. Looking back at the past three years, it's up more than 260%. That's well ahead of the NASDAQ's 36% gain in that time. On the other hand, its fundamentals have weakened as the price has also fallen, and the stock recently dropped to a "D" rating in my system.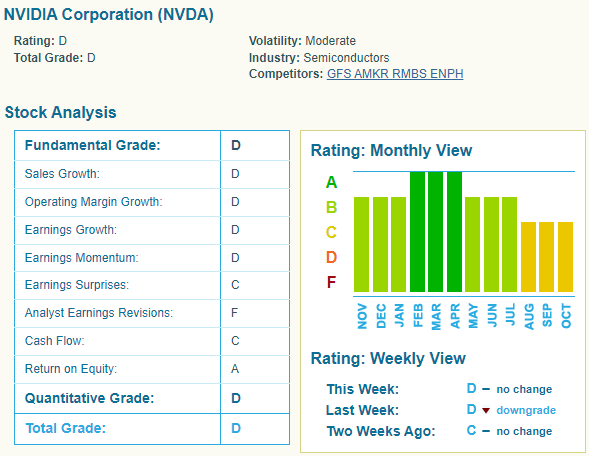 That is considered a Sell, but I'll be honest with you. As of today, I'm not selling. I want to spend some time diving deeper into the financial before pulling the trigger. The reality is it has a monopoly on AI, and AI isn't going away anytime soon. However, it's not a stock I would recommend buying right now.
If you do have cash to invest, I would consider elsewhere. Personally, I believe the stocks that are best positioned for growth are ones with superior fundamentals. But if you're not sure how to find them, that's perfectly fine, my Project Oracle will do it for you!
With the biggest innovation to my system to date, which includes the addition of artificial intelligence, I see strong opportunities even in a challenging market.
We've talked before about how energy stocks are the undisputed leaders when it comes to earnings and sales growth right now. But my system is finding it elsewhere, too. Just this week, I recommended a healthcare company that quintupled its earnings in the last quarter while nearly doubling its sales. More growth is anticipated, and the stock is on the move.
I recommend you invest new money in companies able to maintain robust earnings and sales growth. There may be fewer of them now than there used to be, but they are out there if you know where to look.
Sincerely,
Louis Navellier
P.S. I recently released Project Oracle, and the stocks it targets are explosive. Each one has the potential to skyrocket 100% or more in the near term.
It just targeted another potential winner, which I released as a recommendation two days ago.
To learn how to access it – and all my research and recommendations based on insights from Project Oracle – simply click here.
The Editor hereby discloses that as of the date of this email, the Editor, directly or indirectly, owns the following securities that are the subject of the commentary, analysis, opinions, advice, or recommendations in, or which are otherwise mentioned in, the essay set forth below:
NVIDIA Corp. (NVDA), Microsoft Corp. (MSFT)