Hasbro, Inc. (NASDAQ:HAS) shareholders have had nothing to complain about for years as HAS stock continually "thwomped" the return of the broader market since the lows of 2009.
In July, Hasbro shares climbed 450% to an all-time high. And at that point, it appeared as though the run would continue indefinitely.
But all of that came to end just one day after the shares hit their highest level. The company released its second-quarter earnings report on July 24 and by the end of the day, HAS stock gave back 9.5%.
The stock continued to fall before appearing to form a base above $95, but once again earnings threw a wrench in the action. Hasbro released its third-quarter report on Monday and once again the shares tanked — this time by about 8.5%.
The only major difference between the second quarter and the third was the fact that HAS stock fell from a much-lower starting price.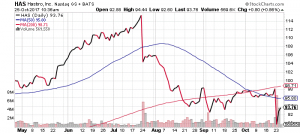 Click to Enlarge The big gap down on Monday did come as a bit of a surprise since the company beat on both the top and bottom lines.
Earnings of $2.09 a share were 15 cents better than expected, revenue grew 7% to $1.8 billion and net income bested the consensus by 3%.
Sure, the numbers weren't attention-grabbing, but they still should have garnered some praise.
Not to get off topic, but this is a perfect example of why I try not to trade around a company's earnings report. Even if your bet is right and the numbers are strong, the stock could still get hit on guidance, management's comments or something else altogether.
Lower Sales, Lower Stock Price
Back to HAS stock, I think the reason the shares were hit so hard was two-fold.
First, margins decreased and there were some business divisions that didn't report great numbers. And the second reason could have to do with the Toys 'R' Us bankruptcy filing. The eventual closing of a lot of retail stores will have a direct effect on HAS' sales, and even though the company is expected to keep supplying the stores with merchandise over the holidays, there is a black cloud over the sector.
Hasbro's CEO has tried to play down the Toys 'R' Us situation, but when management still guided for holiday sales to increase 4%-7% versus analysts' expectations of 11%; it was a sign that he may be looking through rose-colored glasses.
In my opinion, two consecutive quarters of big post-earnings gaps to the downside is a major red flag. And considering HAS stock continued to languish in the three months following the second quarter report, it's likely this time will be no different.
As a result, I'm staying away from HAS stock this holiday season.