Editor's Note: Eric here – today, I have a special guest issue from InvestorPlace's own Luke Lango. The stock market was struggling, even before Fed Chairman Jerome Powell triggered a 4% selloff last Friday with his stark, anti-inflation speech at Jackson Hole. And the market continues to struggle today. But in the midst of the gloom, Luke and his team offer a ray of hope… and a new path forward.
Hey there, my name's Luke Lango.
There's always a bull market somewhere.
And there's one happening right now.
Yes, even just days after the U.S. Federal Reserve promised that the U.S. economy would experience "pain" and the Dow Jones dropped 1,000 points. Even in the midst of that, there were still bull markets out there. On Friday, when the Dow dropped a thousand points, still 1,296 U.S. stocks rose on that day – and two rose more than 1,000%!
Just like in 2008, when the Great Financial Crisis caused a widespread crash on Wall Street, still a dozen U.S. stocks more than doubled.
Also like in 2001, when stocks were reeling from the dot-com crash, still more than 25 stocks rose more than 300% in that year.
You get the point.
No matter the macroeconomic conditions – boom or bust, expansion or recession, bull market or bear market, rally or crash – there's always a bull market happening somewhere.
We just have to find it.
There's Always a Market Going Up
No matter what's happening in the world or with the broad market indices… no matter how many crises might be popping up around the globe… there is always a sector, an asset class, or a group of stocks that's surging – and making its investors fistfuls of money.
Why? Because we live in an $80 TRILLION global economy.
Not $80 million. Or even $80 billion. $80 trillion. That's a lot of money. So much money, in fact, that you can guarantee that not all $80 trillion are going to always move in the same direction.
Let's pull out the sports analogies.
Even the worst free throw shooter in the world will hit at least a few free throws… if you give him or her 80 trillion shots. Even the worst batter will hit the ball a few times… if you pitch to him or her 80 trillion times.
By the same token, even a few stocks will rise in the worst of macroeconomic conditions… if you give those stocks $80 TRILLION to work with.
In our global economy, something is always going up, and something is always going down. Both are always true.
That's why, instead of focusing on what "the market" is doing, I recommend you keep in mind that it's not so much a stock market as it is a market of individual stocks.
And thanks to these individual stocks' wildly differing fates, there's always a bull market printing money for investors who know where to look.
Huge Opportunity in the "Hidden Bull Markets"
Let's take this a step further to make sure we're on the same page.
When I write "bull market," I don't mean gains of 25%, 30%, or even 50%.
Now, I'm not scoffing at those returns. Who doesn't want to make 50% on an investment?
But when I write "bull market," I'm talking about 100%-plus returns in a single year – and again, this is regardless of what's happening in the S&P 500 or the Nasdaq, in the commodities market, or elsewhere.
Let's put real numbers on this so that you can see for yourself…
In 2018, the S&P fell by 6.24% for the entire year.
Meanwhile, over that same 12-month period, Bright Mountain Media (BMTM) soared 360%… Twilio (TWLO) climbed 278%… Vericel (VCEL) rose 219%… and American Superconductor (AMSC) jumped 207%.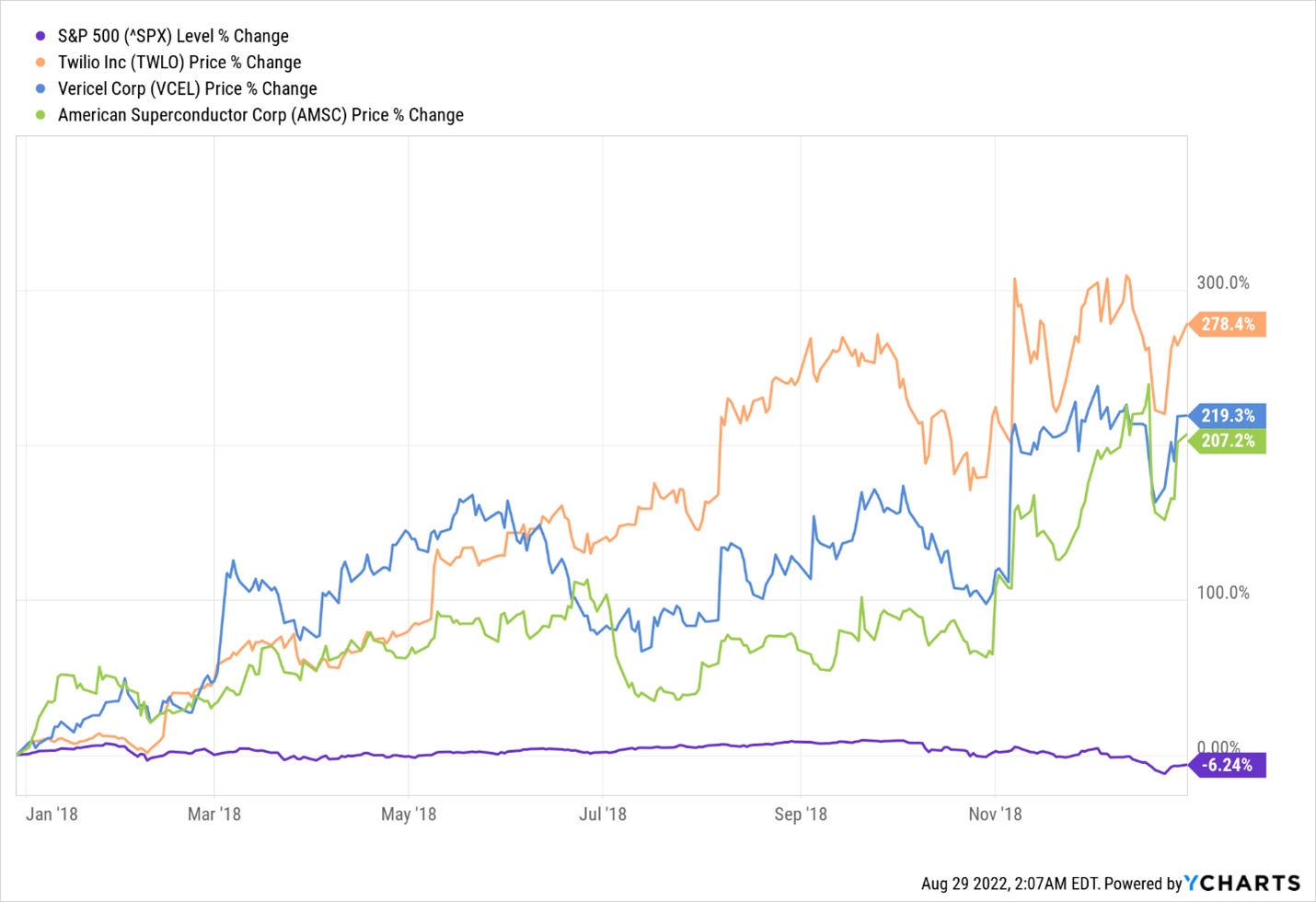 In 2019, the S&P had a great year, up 29%.
But that bull market was nothing compared to what happened in Axsome Therapeutics (AXSM), which erupted 3,565% over those same 12 months… or Relmada Therapeutics (RLMD), up 748%… or EverQuote (EVER), which climbed 722%… or AVITA Medical (RCEL), up 713%.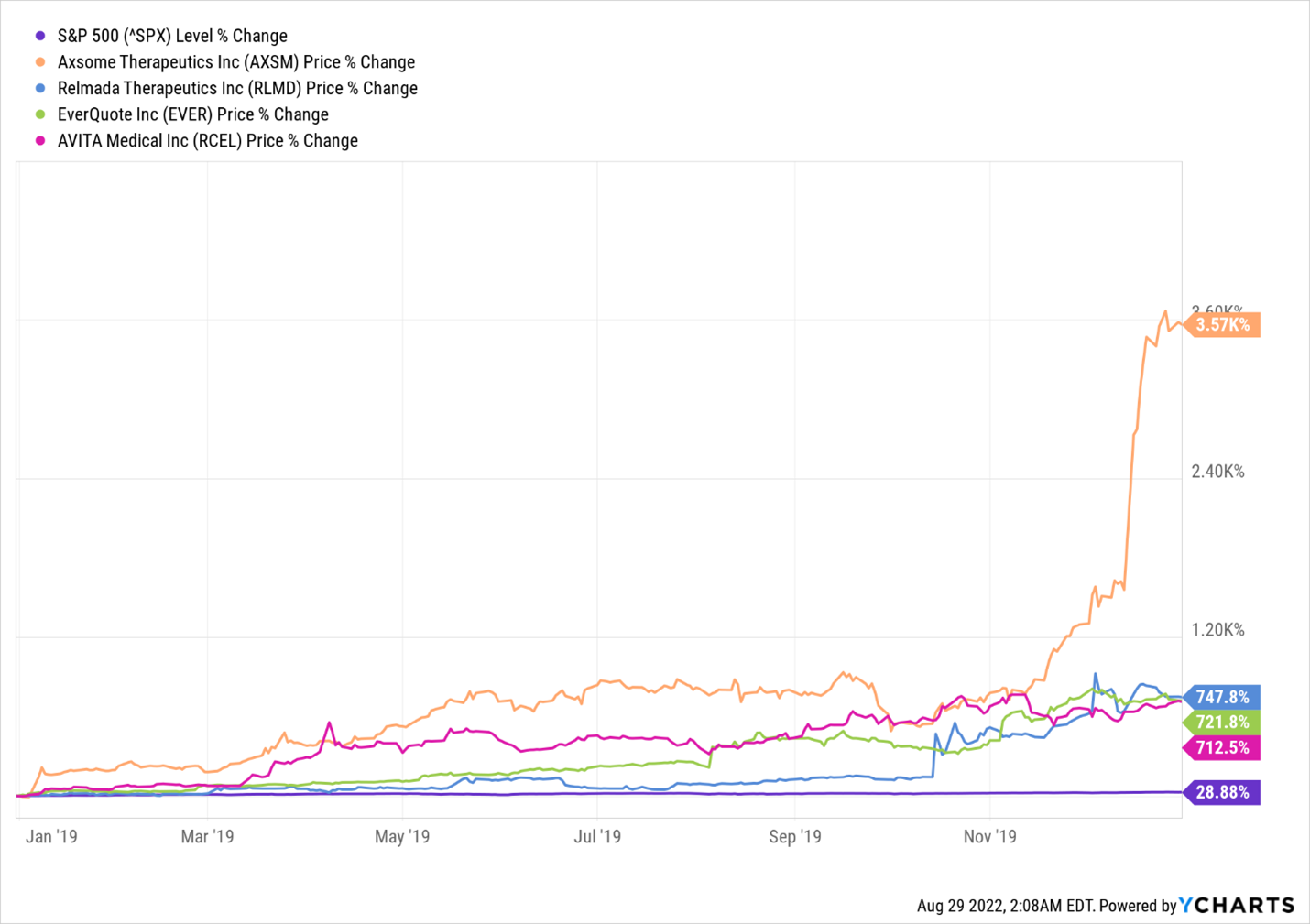 And that brings us to 2020 and the COVID-19 pandemic. Despite falling more than 30% during the bear-market low, the S&P climbed 16% on the year.
Meanwhile, Blink Charging (BLNK) made its investors 2,190%… Voyager Digital (VYGVQ) returned 1,983%… Beam Global (BEEM) soared 1,483%… FingerMotion (FNGR) added 1,084%… and Plug Power (PLUG) climbed 973%…
All in just one year.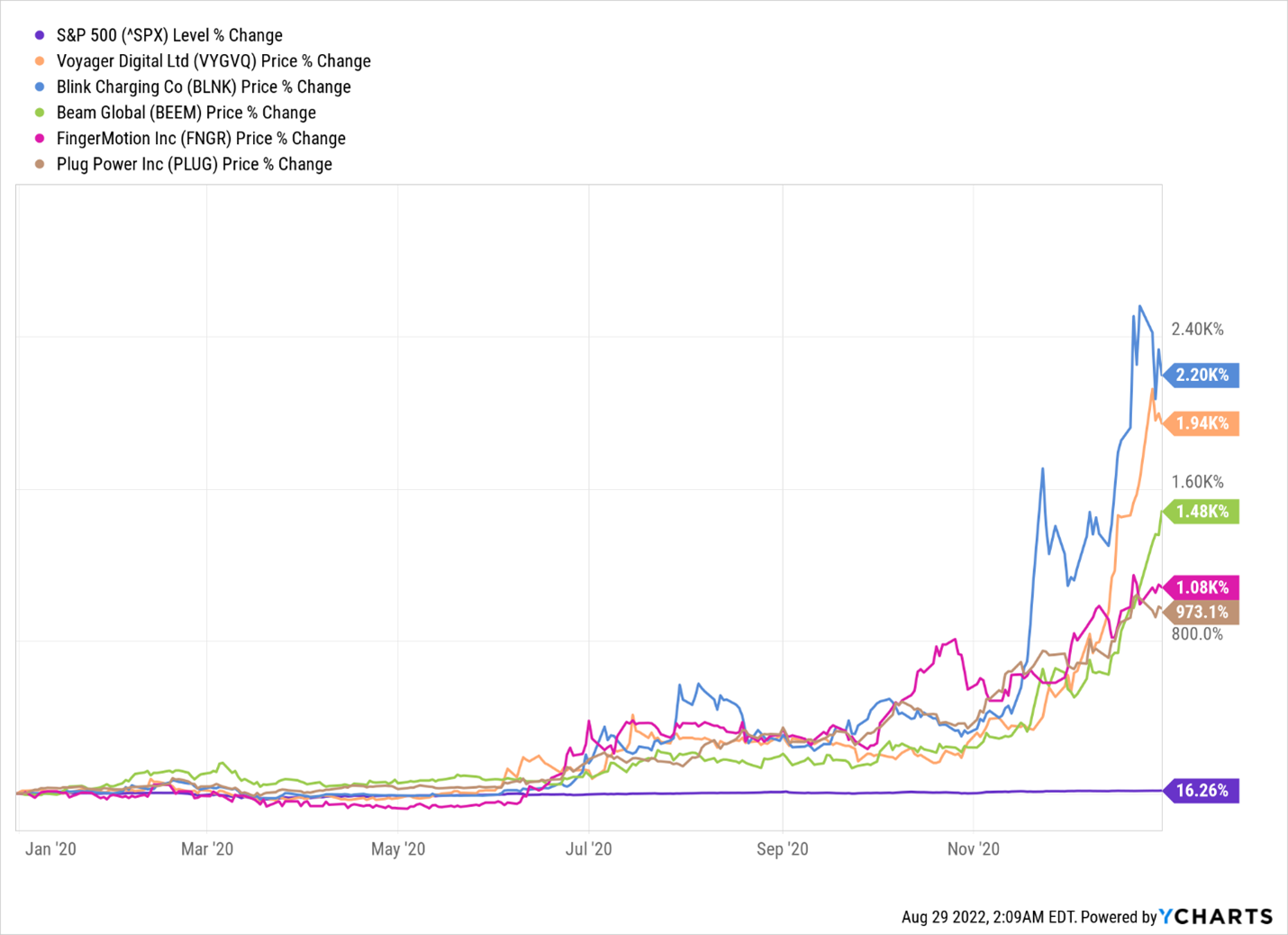 Even here in 2022, with the worst inflation in 40 years and stocks getting pummeled, you're kidding yourself if you think there haven't been localized bull markets.
Take energy and shipping stocks, for instance.
Thanks to severe tightness in the oil market and the Russia-Ukraine war, the price of oil stayed high in Q1 and Q2 of 2022… which sent oil and gas stocks soaring… and allowed some traders to make a lot of money in oil stocks.
This was also a huge boon for certain shipping stocks that load exports of diesel and gasoline.
You could have done well with any of the big oil names – Exxon (XOM), Chevron (CVX), or BP (BP). In the first half of the year, they gained between roughly 30% and 50%.
But a moment ago, we talked about 100%-plus returns.
Well, as I write this in late summer, ProShares Ultra Natural Gas (BOIL) has popped 306% on the year… BP Prudhoe Bay Royalty Trust (BPT) is up 249%… and Scorpio Tankers (STNG) has risen 190%.
Again, this is in less than eight months – and during a broad bear market.
This is not an anomaly.
These individualized bull markets happen all the time, and they make their investors life-changing returns.
So, the question becomes: how do you find these mega winners?
Well, that brings us to our brand-new quantitative system.
The Final Word
Everyone has a "system" when it comes to the stock market.
An investor may not think of their investment approach that way, but that's what it is.
Are you a blue-chip investor?
Your system involves finding veteran stocks with beloved brands and loyal customers that stand the test of time.
Are you a value investor?
Your system involves finding companies with stock prices that appear undervalued relative to the intrinsic value of the company's assets and cash flows.
Maybe your system is more sector-based. You find cutting-edge technology stocks.
Well, the new system that I've developed with my team of quants focuses on the one and only thing that really matters to your wealth…
A price breakout.
Specifically, we've designed a first-of-its-kind system that finds all the stocks in the market in the early stages of making meaningful price breakouts. It finds all the stocks entering their own personal bull markets.
In so doing, this is a system literally programmed to make you money in any market. Our back-test of the model to 1980 shows that it works in bull markets and bear markets, economic expansions and recessions, and more.
This is the tool you need to have at your side today to beat the Fed, beat inflation, beat this bear market, and still make money – lots of money – in 2022.
That's why, on Wednesday, Aug. 31, we are going to unveil this breakthrough trading system to the public for the first time ever.
Don't miss out on your chance to reserve your seat to the grand unveiling.
Sincerely,
Luke Lango
Editor, Hypergrowth Investing
On the date of publication, Eric Fry did not have (either directly or indirectly) any positions in the securities mentioned in this article.