Regardless of the broader political and economic implications, the new year has brought happy faces to legions of lower-wage workers. In effect January 1, nineteen states have increased their minimum wage. The average gain in salaries is just under 7%, which implies that several state lawmakers are taking this effort seriously. More importantly, 38% of the union have voted on upping the minimum wage — clearly, this is no whimsical fad.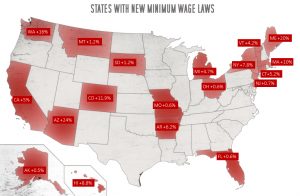 That should have companies — particularly those in the retail services sector — that predominantly hire lower wage workers shaking.
No matter how you slice it, raising the minimum wage increases overhead costs. That affects operating margins negatively, which hurts the bottom line. Worse yet, this is a coercive action with no associated benefits.
At a time when many industries are struggling, these and similar legislation in the future could put several names in the stocks to sell list. Unfortunately, there's not much that businesses can do with the rising minimum wage. The most obvious action is to reduce workers' hours. But that impedes growth. Furthermore, a business requires a certain number of employees to properly operate. Management could pass on the cost to consumers, but that is always an unpopular choice. And eating it would only accelerate the "stocks to sell" nomination.
For some states, the minimum wage is a non-issue. For example, Alaska, Florida, Missouri, and Ohio are each raising the salary floor by a nickel. In contrast, Arizona, Colorado, Maine and Washington have bumped up their base standard by a hefty average margin of 18%. Arizona is the most generous state, giving workers an additional $1.95, or a more than 24% bonus.
That might garner political favor, but here's the catch — according to the Wall Street Journal, approximately 328,000 Arizona workers will be affected by their state's new minimum wage. Assuming that they are all full-time employees, this would amount to more than $4,000 additional pay per capita, or more than $1.3 billion in total. Roughly speaking, this is 0.4% of Arizona's gross state product. That's not a crippling number, per say; however, that could make several companies that hire minimum wage workers in Arizona "stocks to sell" targets.
For now, businesses are adapting to these new laws. Unfortunately, if the trend continues — and every reasonable indicator suggests that it will — management will have to find drastic ways to cope, if they can.
Here are three stocks to sell amid the minimum wage madness!