Stocks are still skittish as the Dow Jones Industrial Average came about as close to 20,000 as it could last week. Now, the failure to break through has traders wondering still, "is it time to sidestep any volatility?" Well, the answer to that question is easier to answer as the market heads into one of the more volatile periods that happens every four months — earnings Season.
The market continues to flash short-term bearish signs, as it has been for weeks now. The addition of earnings results is likely to kick the volatility up a few notches, offering nimble traders even more opportunities to profit from swings in stock prices. The only thing left is a catalyst of some sort, like earnings, which kick off today as Alcoa Corporation (NYSE:AA) enters the earnings confessional after the close.
That in mind, let's look at Three Big Stock Charts of companies providing their earnings results this week CSX Corporation (NASDAQ:CSX), Intel Corporation (NASDAQ:INTC) and Bank of America Corp (NYSE:BAC).
CSX Corporation (CSX)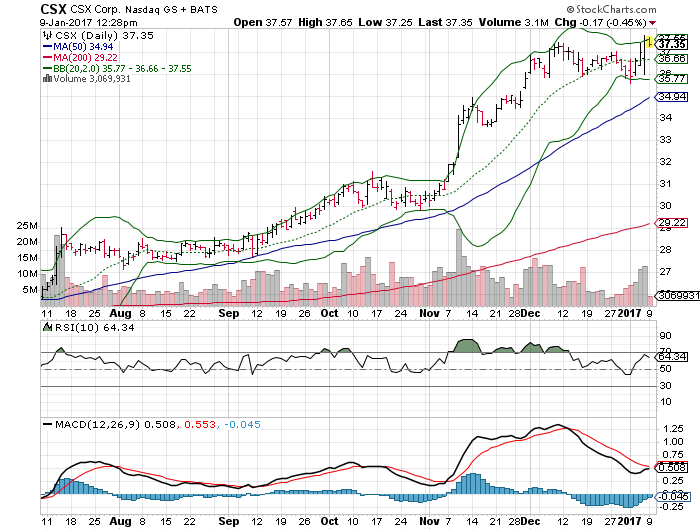 Transportation companies have been taking a leadership role in the market since the November elections. This is usually a sign that the economy is fundamentally growing. Shares of CSX are leading the way, returning almost 60% over the past twelve months, with more than 20% of that coming in the last two months.
Shares head into their earnings announcement trading at their all-time highs and potentially setting traders up for a bullish volatility spike as a move above $38 will set off the "New High" alerts and attract more buyers into CSX stock.
Shares are reaching an overbought reading from their long-term RSI. This suggests that the stock may be getting a little frothy from a technical perspective. However, there's a catch.
The last time the stock broke into new high territory it was also hitting overbought readings. Despite that, the strong trend could push CSX stock 12% higher within the next 60 trading days. We see similarities in the charts now which suggests that any in line or better earnings results will push CSX considerable higher over the next one to two months.
Intel Corporation (INTC)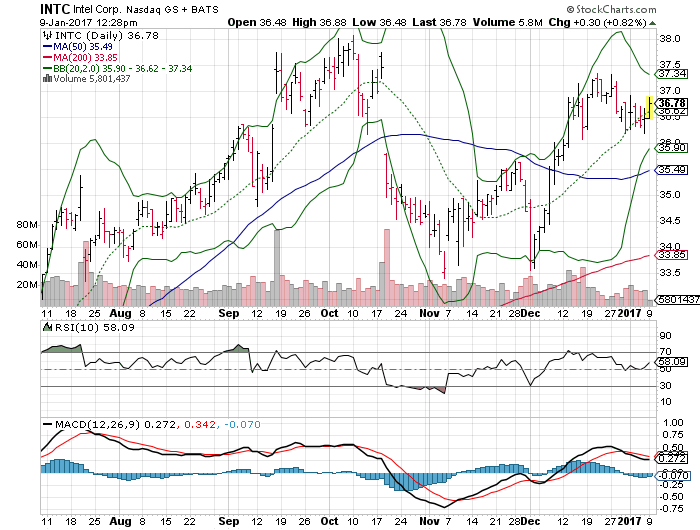 Intel is set to announce its quarterly results after the close on Wednesday. The semiconductor pioneer has been able to beat earnings expectations consistently since January 2014 and has shown revenue growth that has been in line with the industry.
Alas, Intel shares have lagged the sector and market in posting 12 month returns of 15%, less than a third of the semiconductor sector's performance.
Shares head into the earnings announcement on technically thin ice as we've seen a consolidation above key support. Over the past three weeks, Intel shares have traded between $36 and $37 with the 20- and 50-day moving averages hovering less than 3% below.
The lack of confidence in the daily activity suggests that traders aren't taking sides ahead of the announcement, meaning that we're likely to see a volatile reaction from the earnings report. The last two earnings reports have seen weakness in the three to five days following, suggesting that the crowd is really looking for something special from Intel. This suggests that the downside risks may outweigh potential upside.
Sentiment towards Intel is mixed, suggesting that the stock is not likely to make any huge moves on a beat or miss. Instead, the stock is more likely to maintain its range-bound trading.