For anybody who thought the era of mega-deals for Warren Buffett's Berkshire Hathaway (BRK.B, BRK.A) was over, it isn't. The $350 billion holding company and investment fund is forking over a big chunk of its current cash position to outright acquire aerospace parts-maker Precision Castparts (PCP).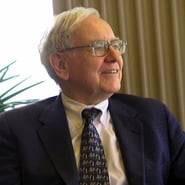 While the deal itself is quite typical of the ones Warren Buffett is known for, it is the first major acquisition Berkshire Hathaway has seen in years.
In fact, technically speaking, Precision Castparts is the biggest acquisition Berkshire has ever done, taking at least a few BRK.B owners by surprise.
The question most of them (and most of the market, for that matter) is asking is: What is Buffett getting for Berkshire's $37.2 billion?
Berkshire Hathaway Thinks Big
The buyout (first rumored late last week and confirmed Monday morning) offers $235 per share to current PCP owners. That translates into a valuation of $32.3 billion, and tacking on Precision Castparts' $4.9 billion worth of debt to be absorbed by Berkshire Hathaway, that brings the value of the transaction to $37.2 billion. PCP shares are up about 20% following the offer.
The acquisition is also one being made in Buffett's typical value-seeking fashion. PCP stock is down roughly 30% since the mid-2014 peak, largely on the heels of oil's demise. Precision Castparts had been making an effort to better target the then-lucrative market.
And don't worry — Berkshire Hathaway can afford it: BRK.B was sitting on $66 billion worth of cash, as of the end of June. Even so, Buffett said he expects to borrow $10 billion to facilitate the deal.
Precision Castparts, Up Close and Personal
While falling oil and gas prices may have sparked the stock's pullback, in that regard Buffett may have once again seen the opportunity few others noticed.
First and foremost, Precision Castparts is a maker of aerospace and other industrial parts. Three-fourths of its revenue is driven by sales to the aerospace market, which buys its fasteners and turbine blades. The other fourth of its sales is driven by the oil and gas sector, which purchases PCP's pipes and related equipment.
Warren Buffett said of Precision Castparts:
"I've admired PCC's operation for a long time. For good reasons, it is the supplier of choice for the world's aerospace industry, one of the largest sources of American exports."
PCP is also the type of cash cow that Warren Buffett loves to file away in the Berkshire Hathaway portfolio. Last year, Precision Castparts turned $10 billion in revenue into a profit of $1.5 billion — a fairly typical year — despite the deterioration of its oil and gas business. Analysts presently expect earnings of $12.61 per share this year on a 1.6% improvement in the top line, while next year's anticipated revenue of growth of 5.2% is expected to drive per-share profits to $14.22.
That projected profit of $14.22 per share of PCP translates into a forward price-to-earnings of 16.2, which is a bit frothy by Buffett's historical standards, but still cost-effective relative to the broad market right now.
Bottom Line for Berkshire Shareholders
While the metal parts-maker appears to be a value as well as a reliable cash generator, it's possible there may be even more to the acquisition of Precision Castparts than Warren Buffett is letting on.
This may actually be part of a sector-specific strategy being deployed after lackluster Q2 results from Berkshire Hathaway, thanks to shrinking earnings from its insurance and energy holdings.
Specifically, Berkshire Hathaway saw year-over-year operating profits fall 10% during the second quarter of 2015, as its Geico unit swung to a loss on surprisingly high claims levels. It's not tough to believe, as Allstate (ALL) hit a similar wall last quarter.
Meanwhile, aerospace names like Boeing (BA) and Lockheed Martin (LMT) have both been soaring, topping last quarter's earnings estimates with relative ease.
In that light, the acquisition of Precision Castparts may be as much of a hedge as it is a pure value play.
As of this writing, James Brumley did not hold a position in any of the aforementioned securities.
More From InvestorPlace