U.S. equities chopped around the unchanged line on Tuesday amid volatile trading — something traders haven't really experienced since the post-election melt up started in early November. Headlines were filled with political machinations out of Washington as President-elect Donald Trump's cabinet picks move through the Senate while the House considers what to do about Obamacare.
The big headline was the explosion in small business optimism, posting the biggest monthly gain on record, in the aftermath of Trump's surprise win.
In the end, the Dow Jones Industrial Average lost 0.2%, the S&P 500 was unchanged, the Nasdaq Composite gained 0.4% and the Russell 2000 gained 1%. Treasury bonds were unchanged, the dollar was mixed, gold was little changes and oil lost 2.2% after losing 4% on Monday on fears OPEC nations will cheat on their recent production agreement amid evidence of increased U.S. drilling activity.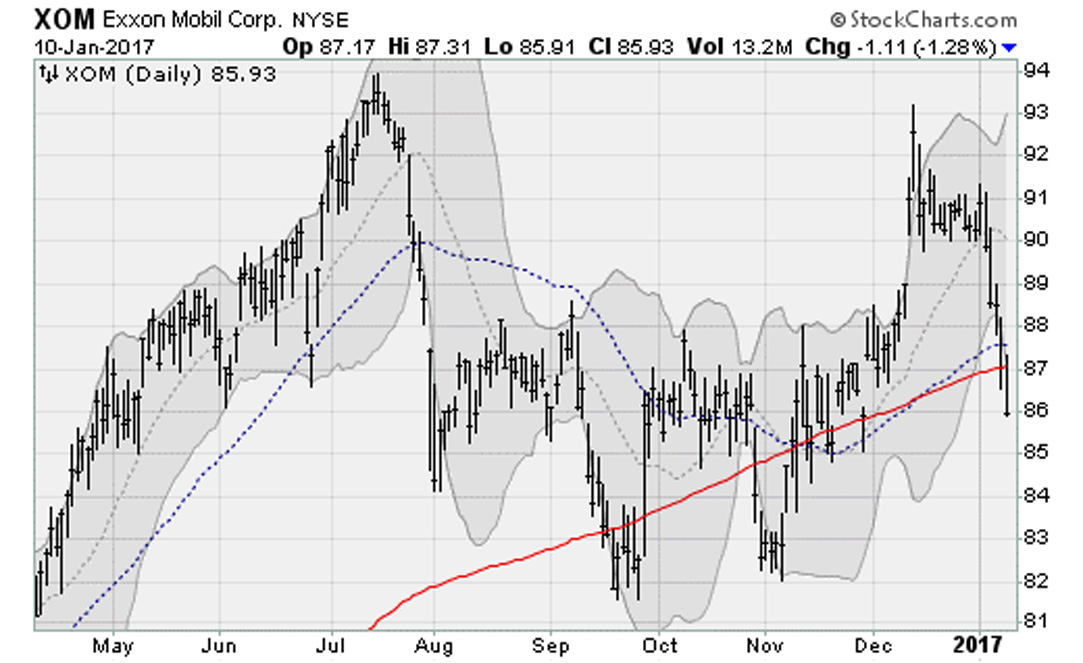 There was a bid in safe haven assets, with precious metals stocks attracting some interest. That boosted the Vectors Junior Gold Miners (GDXJ) to a 2.4% gain for Edge subscribers.
Consumer discretionary stocks led the way with a 0.4% gain while REITs were the laggards, down 1.3%. Energy stocks were also weak, down 1%, as heavyweights like Exxon Mobil Corporation (NYSE:XOM) tip into new downtrends. XOM has fallen back below its 200-day moving average, as shown above.
Airline stocks were a highlight with Alaska Air Group, Inc. (NYSE:ALK) up 5.2% on an upgrade by analysts at Bank of America Merrill Lynch while Southwest Airlines Co (NYSE:LUV) gained 2.1% on boosted Q4 profitability guidance. Biotechs were on the move as well, enjoying a surge of buying interest in the last few weeks, with Valeant Pharmaceuticals Intl Inc (NYSE:VRX) up 6.8% on multiple asset sales and debt reduction.
Heading into the start of the fourth-quarter earnings reporting season on Jan. 24, there was a bevy of corporate updates. General Motors Company (NYSE:GM) gained 3.7% after guiding fiscal 2017 earnings per share 9% above Street estimates. Auto suppliers including Lear Corporation (NYSE:LEA) and Dana Inc (NYSE:DAN) rose on earnings guidance boosts as well.
On the economic front, the NFIB small business optimism index jumped to 105.8 in December from 98.4 in November, well ahead of the 99.6 expected to hit the highest level since 2004. A net 50% of respondents expect the economy to improve while 31% highlighted expectations for increased revenue.
While economic tailwinds are great, market breadth remains a problem for stocks as buying interest narrows as earnings expectations may have come too far too fast.
In fact, as noted by Jason Goepfert at SentimenTrader, breadth has narrowed to such a degree that Monday marked only the third time since at least 1984 that the Nasdaq Composite closed at a new high despite the fact there were more declining issues than advancing ones.
The other two times were July 1998 and February 2012. Both times, stocks declined almost immediately.
In 1998, the index went on to lose a quarter of its value in the months that followed as Federal Reserve interest rate hikes destabilized foreign currency and bond markets. There are some similarities to what's happening now as the surge in the U.S. dollar and U.S. interest rates since the presidential election has unnerved markets from China to Mexico.
In 2012, the index recovered from a short-lived pullback to hit new highs before rolling over and losing 12% over the next couple of months.
It's not just the Nasdaq that's suffering from narrow breadth. The 20-day moving average of the NYSE advance-decline line has rolled over to levels not seen since late November, down 75% from the highs seen in early December. The NYSE up volume ratio has been below 45% for the past three days while stocks overall have barely budged, something that has only happened one other time in the last 50 years (January 1970).
Seasonality is also shifting negative as we exit the "Santa Claus" tailwind and hit the headwinds stocks have faced in the second half of January in recent years. Not only that, but investors will need to contend with the start of the Q4 earnings season and the end of the honeymoon period with president-elect Trump, who will be inaugurated next Friday.
That's a lot to chew through, so it's no surprise that economic uncertainty has reached its highest level in years based on a media-based index created by economists from Stanford, the University of Chicago, and Northwestern that uses mentions of uncertainty in major newspapers. Yet market-based measures of confidence — from equities to bonds and the CBOE Volatility Index — remain ebullient. Consumers are demonstrating a similar disconnect, with survey-based measures of confidence surging while retail sales over the holiday shopping season were rather tepid based on early indications.
To put it plainly, there is a lot of hope and optimism out there as the prospect of "America first" nationalism mixed with tax cuts and deregulation seem poised to accelerate GDP growth and job creation. But there is a disconnect, a nagging doubt, that is keeping shoppers, many investors (given narrowing breadth), and the media cautious.
The tension can be seen in the market's inability to cross the Dow 20,000 threshold over the past five weeks.
Anthony Mirhaydari is founder of the Edge and Edge Pro investment advisory newsletters. A two-week and four-week free trial offer has been extended to InvestorPlace readers.