After being the laughing stock of Wall Street for several years, Advanced Micro Devices, Inc. (NASDAQ:AMD) enjoyed a stunning 2016. In that banner year, AMD stock returned a gargantuan 309%. In the history of AMD as a publicly-traded entity, that was the greatest performance ever. With shares back in a positive light, investors are naturally hoping for a repeat effort.
On the surface, the bullish argument for AMD stock is logical, even tempting. Only five other times besides last year did Advanced Micro Devices return triple-digit profits. No other time besides 2009 produced a 300% gain.
To be fair, last year's massive rally was far more impressive than the 2009 rally simply because everybody was in "recovery mode" from the Great Recession. Between 2010 through the end of 2015, the average annual return for AMD stock was -13%.
Thanks to the 309% slingshot, however, Advanced Micro Devices now claims nearly 33% returns for the current decade. If you look up the phrase "paradigm shift," you'll find a picture of the AMD logo. Thus, the belief in a repeat performance is not out of the question.
But the circumstances surrounding AMD stock and the broader semiconductor industry reminds me of something my friends always tells me: "You can wish in one hand, and poop in the other…which one will fill up faster?"
AMD Stock Races to the Bottom
Criticizing AMD stock is a tough business due to the vitriol it arouses from its fan base. InvestorPlace contributor Nicolas Chahine had to justify even writing about a short trade on AMD. I suspect this has something to do with the chipmaker's close relationship with gaming guru Sony Corp (ADR) (NYSE:SNE). After all, gamers wield considerable leverage, as evidenced by sales of the classic Nintendo Co., Ltd (ADR) (OTCMKTS:NTDOY) console.
Buyers can't exist without sellers. The irony, of course, is that the markets are like a game. In the game of semiconductors, we can't all play Mario — somebody has to be Luigi. Analysts have attributed the industry's comeback to the easing of a supply glut. Although it's a tremendous boost for AMD stock, it's only part of the story. The critical driver is that semiconductors are in a race to the bottom.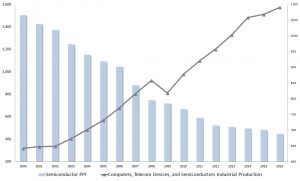 Click to Enlarge According to the U.S. Bureau of Labor Statistics, the producer price index for semiconductors has declined since the mid-1990s. This is completely natural. As an industry progresses, advanced technologies help make production more efficient. That's why our smartphones have considerably more computing power than older PCs.
Simultaneously, according to the Board of Governors of the Federal Reserve System, industrial production of semiconductors has been rising vigorously. Again, this is completely normal, and is what you want to see.
To feed demand, however, firms like AMD must meet it at lower and lower prices. Obviously, that puts tremendous pressure on margins. But it also sets the stage for power players like Intel Corporation (NASDAQ:INTC) to cannibalize the industry.