U.S. equities came under pressure on Tuesday, keeping the Dow Jones Industrial Average below its 50-day moving average. Geopolitics and the lack of legislative action on tax reform and healthcare fixes remain a concern, but the main catalyst for the decline is the increasing flow of first-quarter earnings results and an ongoing batch of weak economic data.
Healthcare stocks in particular are under pressure after a major sector component wet the bed, so to speak, with a revenue miss. Bank earnings were also underwhelming amid evidence of slowing loan growth.
In the end, the Dow Jones Industrial Average lost 0.6%, the S&P 500 lost 0.3%, the Nasdaq Composite lost 0.1% and the Russell 2000 gained a fraction.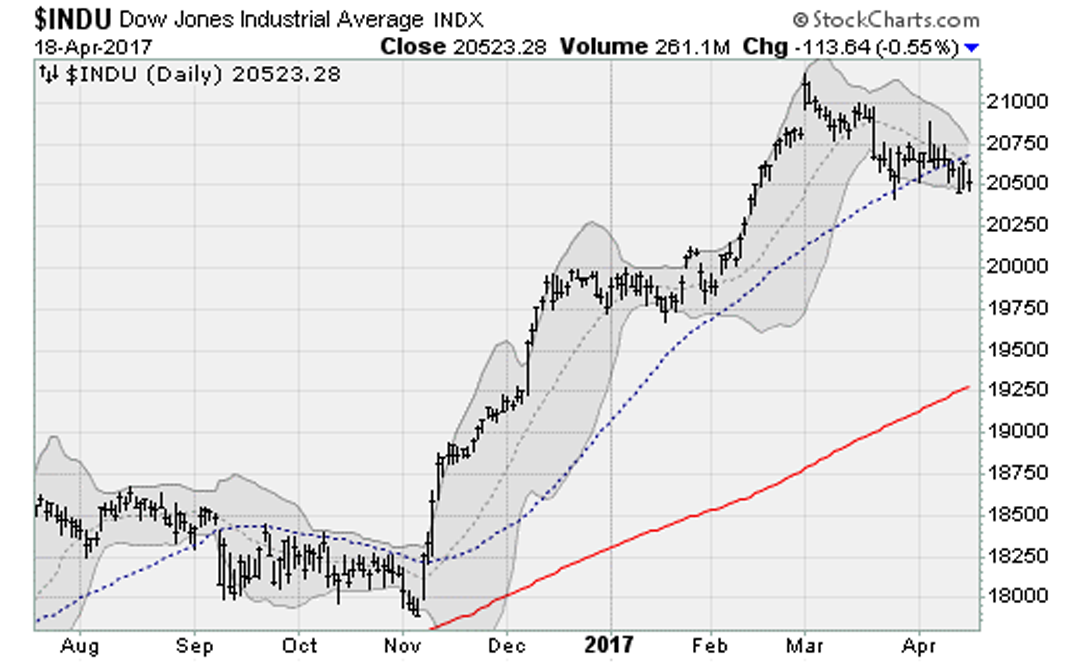 Treasury bonds rallied on a safe haven bid, pushing the ProShares Ultra Treasury Bond (NYSEARCA:UBT) recommended to Edge subscribers to a gain 5.3% gain for the month. The dollar was under pressure, gold reversed early weakness to gain 0.2% and oil extended its recent move lower finishing down 0.5%.
Volume was again light, with 762 million shares trading on the NYSE (86% of the 30-day average) with breadth negative, with 1.1 decliner for every advancing issue. Consumer staples led the way with a 0.5% gain while healthcare, energy, and financials were the laggards down 1%, 0.9%, and 0.8% respectively.
Protein powder purveyor and recent turnaround play GNC Holdings Inc (NYSE:GNC) surged nearly 25% after posting a Q1 earnings beat with revenues 3% ahead of consensus estimates. Company-owned comp-store sales declined just 3.9% vs. the 8.3% decline expected. Cabela's Inc (NYSE:CAB) gained 7.2% after selling its bank subsidiary to free assets to continue its pursuit of Bass Pro Shops, increasing its offer to nearly a 15% premium to Monday's close.
On the downside, Goldman Sachs Group Inc (NYSE:GS) fell 4.7% on light first-quarter earnings as fixed income, commodities, and currencies trading revenue missed by more than 25%. Management highlighted challenged client activity in certain market-producing businesses.
Bank of America Corp (NYSE:BAC) lost 0.4% — oscillating within a 3% daily range — after reporting better-than-expected earnings of 41 cents per share that were six cents ahead of estimates on revenues of $22.45 vs. the $21.77 expected (up 6.9% from last year). Average loan balances increased 6% to $819 billion while net interest income increased 5% to $11.1 billion.
Investors seemed disappointed when management's comments on the conference call that mortgage originations declined, echoing the drop in mortgage activity cited by Wells Fargo & Co (NYSE:WFC) last week. There was also a continued drop in loan loss reserves, which will make the balance sheet vulnerable to a souring of loan performance should credit risks rise.
Harley-Davidson Inc (NYSE:HOG) lost 4.2% despite a Q1 earnings beat on stronger revenues as global retail sales fell 4.2% vs. estimate of a 1.7% increase. U.S. sales were weak and Q2 shipment guidance was light. Johnson & Johnson (NYSE:JNJ) lost 3.1% despite beating Q1 estimates by 3%, but lower expenses and taxes did the lifting as revenues were light.
There was some more weak economic data as well, with March housing starts falling 6.8% month-over-month and industrial production up just 0.5% after a flat reading in February mainly due to utility demand for heating. Manufacturing output fell 0.4%.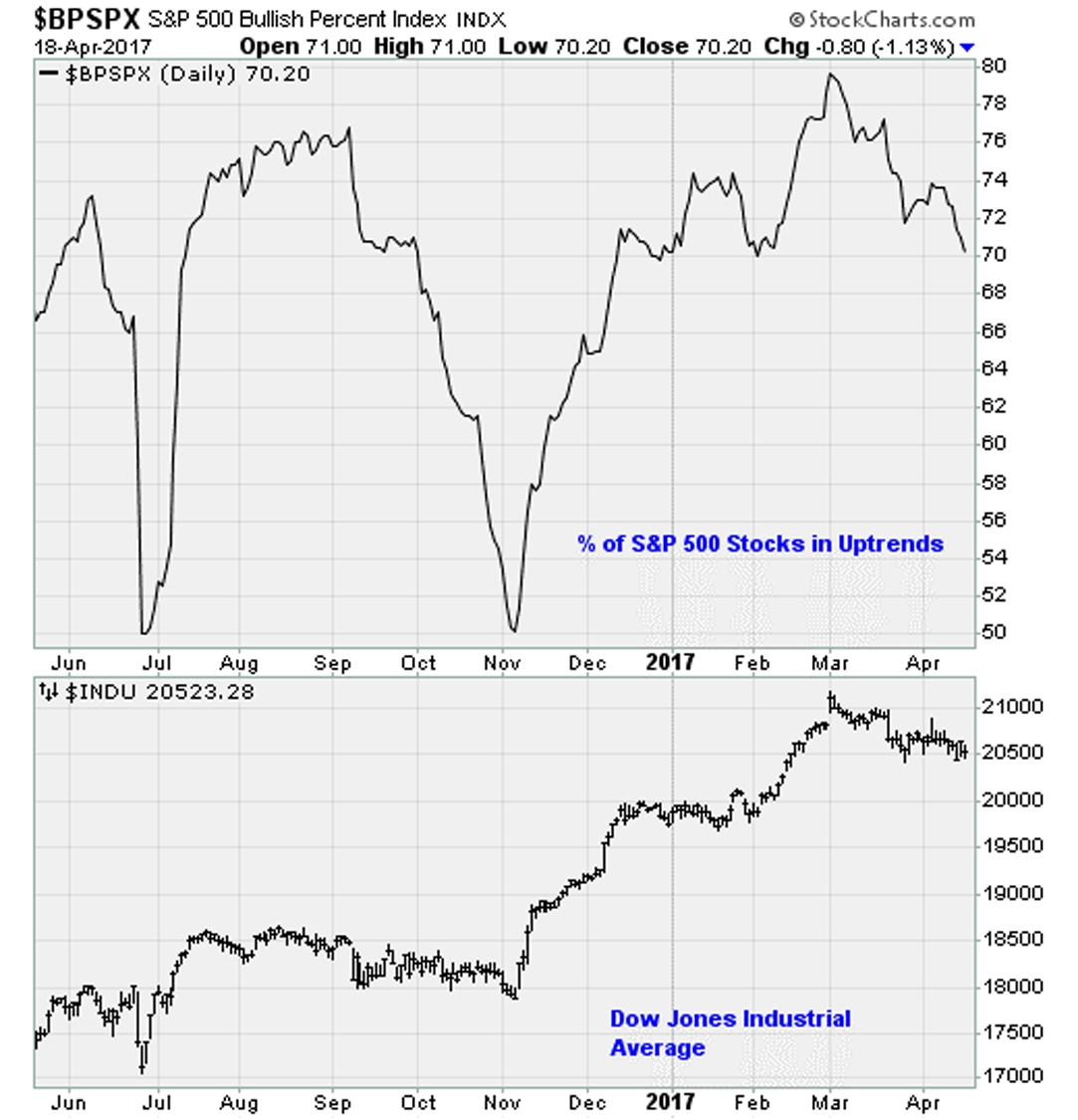 Overall, the technical outlook is very weak as breadth continues to narrow and stocks look vulnerable to a downside break out of a tight two-month consolidation range as the Q1 earnings season rolls on.
Anthony Mirhaydari is founder of the Edge (ETFs) and Edge Pro (Options) investment advisory newsletters. A two-week and four-week free trial offer has been extended to Investorplace readers. Redeem by clicking the links above.